If you are a hardcore gamer or just play for a few hours on weekends, you probably know that a monitor is one of the most important components for an ideal gaming setup. Nowadays QHD resolution in monitors slowly becoming a new standard, because with most mid-range gaming setup being able to maintain a stable 30FPS in that resolution.
Many gamers spend thousands of dollars on the internal components like SSDs, graphics card or Memory and they miss out while choosing a monitor, which can ruin your whole gaming experience.
Also, read: best ultra-wide monitors for gaming
This post will tell you exactly, which features you should look into while choosing the best 1440p monitors for gaming. Also, you will get my top-rated recommendations, whether you are on the tight budget or looking for the best.
Whether you have a powerful GPU or just mid-range gaming setup, in most cases going with a QHD monitor is a really good idea, because it can provide a decent visual with great performance. However, if you prefer smooth visual quality regardless of performance then you can go with above UHD or 4K resolution.
Before we go further, I would like to show my hand-picked recommendations first. Although If you want to read the buyer's guide you can jump to anytime by navigation link or scrolling below.
Best 1440p Monitors for Gaming – Reviews
 1. AOC AGON AG271QX (Most Recommended Monitor)
18.3 lbs | 27 |" 2560×1440 | TN Panel | 16.09 | 1 ms | 144Hz | Adaptive SYNC / G-Sync
The AOC AGON AG271QX is offering all features which may be desired by a gamer, for example, rapid 1ms response time, 144Hz refresh rate, extensive connectivity options, and sharp display quality.
This variant which I am talking about is coming with FreeSync technology. So, you can connect your compatible AMD graphic card to the DisplayPort of the monitor for getting a well-synchronized frame rate from 30Hz to 144Hz range. If it is your first gaming monitor, it will definitely be going to amaze you with its high refresh rate, even you can feel this difference with cursor motion.
This monitor is also available for those who have Nvidia based setup, you can check out its G-Sync variant here.
Besides that, with the 1ms fast response time, it is capable to eliminate smearing and ghosting effect for the fast-moving objects. This response time plays a crucial role in the efficient gaming. Additionally, AOC Shadow Control is another quite useful utility for gamers, which helps to see better in the dark areas of the games.
When we talk about the display, this monitor is featuring a TN panel which delivers a vibrant and beautiful picture quality. Even though these TN panel monitor colors aren't as consistent and precise as those of an IPS panel monitor, they are still vivid enough for an immersive gaming and movie watching experience.
Since the colors aren't very accurate, professional photographers and designers won't be able to work with this monitor, as it is a gaming monitor such a thing is not expected from it anyway.
Furthermore, the bezel of this monitor is pretty thin and its 27-inch screen covered with an anti-glare matte finish which eliminates the sunlight but preserves the quality of the image.
The stand of this monitor is quite steady and versatile made of an aluminum material which curved into a V shape that provides modern gaming appearance. Therefore, this monitor can be smoothly swiveled to the right and left by 20 degrees, pivoted by 90 degrees into a portrait position, height adjusted by 130mm, and tilted by 25 degrees, which makes it easy to keep the ideal height for different purposes. Additionally, The AOC AGON AG271QX is also VESA compatible if you choose to securely place it on the wall.
The AOC AGON AG271QX offers a wide range of connectivity including HDMI1.4, HDMI 2.0, DisplayPort 1.2, Dual Link DVI, VGA along with MHL support which allows you to stream content from your mobile or tablet device onto the screen. Additionally, there are two USB 3.0 and two USB 2.0 ports are equipped along with audio line-out ports.
The price of the monitor is pretty reasonable considering its Quad HD 1440p resolution, 144Hz refresh rate, 1ms response time, FreeSync technology and other various gaming features.
Overall, the AOC AGON AG271QX is one of the best QHD monitors for gaming with is offering maximum features for less price. Also, it is available in G-Sync, if you have Nvidia based gaming setup.
PROS
Most reasonable price
Extensive connectivity option
Lowest response time
Faster refresh rate
Fully adjustable stand and VESA mount
Inbuilt 3W speaker
MHL supported
Micro bezel ideal for dual-setup
Available in G-Sync also
CONS
 2. ASUS ROG SWIFT PG278QR (Professional's Choice)
15.5 lbs | 27″ | 2560x 1440 |  TN Panel | 16.09 | 1ms | 144-165 Hz | NVIDIA G-SYNC
If you have high-end Nvidia gaming rig and have better budget, the ASUS ROG SWIFT PG278QR monitor could be the perfect choice for you. This WQHD monitors is also coming with a 27-inch TN panel, but it is powered by Nvidia's G-Sync technology and have 165Hz of higher refresh rate.
ASUS ROG SWIFT PG278QR is a new updated version of the ASUS ROG SWIFT PG278Q, the "R" works of its name represent the ability to overclock the refresh rate from 144Hz to 165Hz.
For connectivity concern, it is offering a DisplayPort 1.2 for Nvidia G-Sync feature. Moreover, you will be getting two USB3.0 port for mouse and keyboard devices and an audio line-out port.
The ASUS PG278QR has a nice black color cabinet, which gives the monitor a modern look. The screen covered with the matte finish which eliminates glaring.
With very thin bezels, this monitor looks gorgeous and so is the image it produces. Additionally, it is VESA mount compatible, which allows you to securely and effortlessly to be placed it on the wall.
As a professional gamer, the ASUS PG276QR is the perfect monitor which is offering the Highest refresh rate, immersive image quality and solid build quality.
Also, keep in mind it is slightly expensive monitor and mostly recommended for professional gamers.
PROS
Nvidia G-Sync
ULMB supported (Ultra Low Motion Blur)
Outstanding picture quality
Highest refresh rate
Quick response time
ASUS Eye Care Technology
Tearing-free gaming
VESA mount
Thin bezel for immersive gaming
USB 3.0 ports
CONS
 3. Samsung C27HG70 (Amazing Curved Monitor with HDR)
15 lbs | 27″ | 2560 x 1440 | VA | 16.09 | 1ms | 144Hz | FreeSync 2, HDR
Unlike the previous monitors, the Samsung C27HG70 is a curved display, and It is offering some extra features along with all usual gaming features.
This monitor has been highlighted as the first high-dynamic range (HDR) gaming monitor to go on sale. Moreover, it uses Samsung's quantum-dot technology, which helps to produce a wider range of colors gamut demanded by HDR.
As I said above the Samsung C27HG70 is coming with the curved panel (1880R) and support the AMD FreeSync 2 technology (which also backward compatible with FreeSync 1). The Samsung's VA quantum-dot panel promises more than the just quick response time. Moreover, this gaming monitor is also capable of displaying a wider range of color than standard VA panels.
That's why this monitor can be also used for video of photo editing. Moreover, there are no such any problem regarding the quality of the backlighting Samsung C27HG70 has excellent brightness-uniformity.
This 1440p monitors equipped with a wide curved panel and "Y" shape stand with the double-jointed arm design, it provides full height, pivot, tilt and swivel adjustments for getting the monitor in the perfect position.
On the bottom side, there is one DisplayPort 1.4, two HDMI 2.0 ports, one 3.5 mm audio output jack and two USB 3.0 ports are given, the USB ports are capable of delivering up to 1.5A per port when the fast charging mode is enabled through OSD menu.
Additionally, Samsung added a strip of LED lights, which provides the gentle blue glow behind this monitor for the gaming environment. This monitor is VESA compatible too, therefore if you want to hand it on the wall then you can do it easily.
Overall, the Samsung C27HD70 is an outstanding gaming monitor, which is offering a leading color accuracy, quick response time and higher refresh rate, so it would be enough to win many gamer's hearts. The price looks a lot more reasonable than it would for a QHD curved monitor.
PROS
Higher color accuracy with 1 billion color support
Quantum dot VA curved panel with HDR support
Quicker response time
Faster refresh rate
FreeSync 2 (compatible with 1 also)
 VESA mount supported
CONS
Only for FreeSync devices
 4. Acer Predator XB241YU (Budget G-Sync Gaming Monitor)
14.55 lbs | 23.8″ | 2560 x 1440 | TN Pane |l 16.09 | 1 ms | 144-165 Hz | NVIDIA G-Sync
The Acer Predator XB241YU is an amazing budget monitor with is offering G-Sync support. This 24-inch screen size WQHD monitor might be the best choice for those, who just need a portable or budget gaming display. Acer Predator XB241YU comes with stunning 2560 x 1440 resolution out of the box, ready to connect to your gaming setup.
Aesthetically, this monitor almost looks similar to other gaming monitors in the predator lineup, such as the wide V-shaped, but you can notice a clear difference in the middle of the stand.
Furthermore, the Acer Predator XB241YU features 144Hz refresh rate and supports Nvidia G-Sync technology. When the G-Sync feature is enabled you can boost this refresh rate up to 165Hz. Therefore, if you have NVidia gaming rigs you will be able to achieve a 165Hz refresh rate. Additionally, the Ultra-Low Motion Blur (ULMB) feature is already cocked up for you, which makes objects appear perfectly sharp without smearing or ghosting effects.
when we look at the other specification of Acer Predator XB241YU, it features a TN panel which results in a higher response time of 1 millisecond.
In facts, TN panel's monitors don't have good view angle and color quality like an IPS or VA panels, but these are very good for fast-paced games. For other purposes, IPS and VA panels are favorable.
Next, this monitor features a fully ergonomic stand with tilt, swivel, pivot and height adjustment. It is VESA mount compatible and supports 100% of the sRGB color spectrum and also having a 6-axis color adjustment setting.
In contrast to the previous monitor, there is inbuilt speakers are given which can be used for watching movies or light music listening, although you should probably get some dedicated PC speakers if you want the enhanced audio.
If you are looking for a small display with amazing picture quality, the Acer Predator XB241YU could be a great deal for you. Because it is one of the amazing budget monitors which is coming with Nvidia G-Sync support.
PROS
Great Price
ULMB (Ultra Low Motion Blur) enabled
Nvidia G-Sync supported
Integrated 2W speakers
Up to 165Hz refresh rate with overclocking
A quicker response time of 1ms
Fully adjustable stand and VESA mount enabled
6-axis color adjustment
CONS
The bezels are thicker compared to the modern displays
 5. Dell Gaming S2716DGR (Professional looks and Great Performance)
15.2 lbs | 27″ | 2560 x 1440 | TN Panel | 16.09 | 1 ms | 144Hz | NVIDIA G-SYNC
Personally, I am a big fan of Dell's products design, they just make things simple, clean and professions. The Dell S2716DGR is one of their best examples. Powered by Nvidia G-Sync technology it can deliver an outstanding performance along with amazing picture quality. The 27-inch screen of this monitor is coated with 3H hardness and a matte finish which will eliminate any reflections and glare.
Furthermore, The Dell S2716DGR 2K monitor is having a professional look because there aren't any cartoonish or colorful logos and writing but rather simple and dark color. The bezels are very thin which makes the monitor looks like it has no frame at all and just perfect for dual monitor setup.
This professional monitor loaded with 3.68 million pixels will ensure rich picture and vivid colors that are almost two times more detailed than Full HD. Additionally, the Dell s2716DGR is Nvidia 3D ready but emitter and the 3D goggles are not included in the packages.
If your computer is running with a compatible Nvidia graphics card you'll be able to feel the full performance of this monitor. When you utilize the DisplayPort and connects it with Nvidia cards, then you can enable G-Sync option in the Nvidia control panel, which will help you to maintain frame per second from dropping and avoid images from tearing and shuttering.
Additionally, in fast-paced videos games you won't feel blur behind any motion, thank its quick response time. This 1ms of quick response time and low input lag will ensure, that you don't only see your enemies quicker but it gives you the ability to shoot them down faster as well.
With the adjustable stand, the Dell S2716DGR can be pivoted by 90° into the portrait position, tilted by 26°, swiveled by 45° right and left and height adjusted by 130mm. Additionally, there is also a hole placed on the stand of this monitor, which you can neatly route the cables to avoid untidiness of cable tangling.
Need to hand your monitor on the wall, this monitor supports the VESA mount and can make things easy for you.
As I said above the Dell S2716DG is having a very thin bezel which makes this monitor ideal for a multi-display setup as they effortlessly blend in together. On the back-left side, there are two USB 3.0 ports and a 3.5 mm jack, which makes easier connecting your keyboard, mouse, and headphones.
This 1440p monitor doesn't have built-in speakers, however, there an audio line in and a headphone jack provided since most of the competitive gamers choose either a speaker system or a headphone.
As Dell S2716DG gaming monitor, it doesn't have an IPS display which provides most accurate colors, professional photographers and designers will lack the accuracy of colors they need for their work. But as a TN panel monitor, this is best for gamers.
If you are looking for a high performance 1440p gaming monitor without any fancy stuff then you might love the Dell S2716DG. It is one of the most professional looking monitors which is delivering an amazing picture quality while maintaining performance.
If you have an AMD graphics card then you might need to see our other picks.
PROS
Professional and clean design
Ultra-slim bezel
Higher refresh rate with stunning image quality
Nvidia G-Sync enabled
Quick response time
USB 3.0 hub
Anti-Glare screen with 3H hardness
Fully customizable stand with VESA mount
CONS
No inbuilt speaker, not a big deal though
 6. BenQ ZOWIE XL2730 (Premium E-sports Gaming Monitor)
16.31 lbs | 27″ | 2560×1440 |  TN Panel | 16.09 | 1 ms | 144Hz | FreeSync
Taiwan- based famous producer BenQ has added a ZOWIE series monitor in their lineup after buying Denmark-base ZOWIE brand. The BenQ ZOWIE XL2730 1440p E-sport gaming monitors making a successful appeal to several competitive brands. This monitor features 144Hz 27-inch QHD display which is compatible with AMD's FreeSync technology. This latest Esports monitor aims to offer a better refresh rate and no lag display, to ensure ultra-smooth performance.
As you know now, the BenQ XL2730 monitor is an E-sports gaming device for the professional and hardcore gamers who are looking for a monitor with high performance. Therefore, this 2560×1440 TN panel having 1ms response time with 144Hz refresh rate, which delivers crisp and sharp detail, although not as detailed as a 4K display.
The adjustable stand with red accents which help in saving the different adjustment angles for quick restore once the monitor has shifted to a new location. This comes in handy, especially for eSports competitors who carry monitors and intend to have the same setup at different events.
Finally, this high-performance gaming monitor is for those gamers who do have AMD GPU-based gaming rigs and looking for a monitor with a higher refresh rate without any input lag.
Unlike other competitors, this QHD monitor performs commendably well, in terms of the color quality and contrast ratio without compromising performance and speed, so the BenQ ZOWIE XL2730 is a great choice.
However, due to the TN panel, there is some minor problem with view angle, but they are acceptable keeping in mind the performance and resolution. If you'll calibrate it accurately, the monitor delivers an ultra-smooth gaming experience.
The BenQ Zowie XL2730 monitor is the best 1440p E-sports gaming monitor which made for exclusively for PC competitors. It is capable to deliver the most flawless and responsive experiences along with clearest and crispest picture quality during your competition.
PROS
AMD FreeSync
Adjustable stand
Higher refresh rate with quick response time
Amazing performances and low input lag
Durable body
Special for E-sports gamer
Black Equalizer technology for better picture quality
CONS
Slightly heavy due to solid build quality
 7. LG 32GK850G-B (32-inch Beast with G-Sync)
14.8 lbs | 32″ | 3840 x 2160 | VA | 16.09 | 5ms | 144-165 Hz | NVIDIA G-SYNC
Nowadays gaming monitors are all about high speed. G-Sync/FreeSync support ensures the clearer pictures even with fast-spade scenes, while a high refresh rate and less response time provide tearing free and ultra-fast gaming experience.
But some users like to have a bigger screen on their desk for an immersive experience. The LG 32GK850G-B is an absolute beast for a gaming monitor. It is 32 inches (31.5″ diagonally) monitor equipped with 2560 x 1440 resolution. With the refresh rate of 165Hz (overclocked) it can deliver an outstanding performance.
The LG 32GK850G-B is featuring a VA panel, which sits comfortably between the color-rich in-plane switching (IPS) panels and Faster Twisted Nematic (TN). Colors are commendable accurate with almost no calibration required out of the box, but honestly, they're not quite as vibrant as an IPS display.
In fact, VA panels do tend to have a slower response time, and this was occasionally viewed on the LG 32GK850G-B.
Further, to the innovation, LG has implemented a "Sphere Lighting" features on the backside, which simply is an RGB circle.
The gaming experience on the 32″ size display is really immersive because everything is bigger but less sharp. However, this monitor is having 93.25 PPI and the 24″ monitor has a PPI of 91.97 so that the sharpness is almost nearly the same.
In fact, the sharpness of this monitor is worse than a 1440p monitor 27″ size, but if you are not using the 4K monitor as primary then you won't able to notice this problem anymore.
The LG 32GK850G-B is s bigger and gorgeous display monitor, which doesn't lack speed.
It is currently the only 32-inch monitor that features G-Sync and a 144/165 Hz refresh rate for this great price. If we take a look at other brands like ASUS, their above 27″ models are too expensive.
PROS
Amazing price
Large 32-inch bigger display
G-Sync supported
144-165 Hz refresh rate
Fancy RGB circle on the back side
Good picture quality
Thin bezel
CONS
VESA mount not available
Slightly slow response time
No Adjustable stand
 8. Pixio PX276 (Amazing Free-Sync Monitor for Budget)
10.25 lbs | 27″ | 2560 x 1440 | TN Panel | 16.09 | 1ms | 144Hz | Adaptive SYNC
We always love to review those products, which fulfills user requirements without being Heavy on the pocket. The Pixio PX276 is one of the best budgets monitors that features WQHD display with 144Hz refresh rate, and 1ms of response time, which allow you to perform at your best. you won't feel any tearing, input lag, and blur in the pictures, so you can play like a pro.
The PX276 is of 27 inches monitor which is just enough for most user's gaming need, and with WQHD resolution it can provide stunning image quality. Considering it's a TN panel the viewing angles are decent (170˚Vert. and 160˚Hor.), although this not comparable to those of an IPS display.
Out of the box, you are getting very thin bezels design, which is quite useful when you place multiple monitors side by side. And this display appears larger than it is. On the back side, you are getting 1 Display Port,2 HDMI, 1 DVI port, audio in and audio ports.
Here, noticeable thing is that the HDMI 1.4 port can't achieve the 144Hz refresh rate.
Honestly, Pixio is not the too big company and will take some time to recognized by everyone. But Pixio has still done a great job when it comes to delivering quality, usually, you are getting no more than five dead pixels, which is considered acceptable in the industry. Nowadays, all manufacturers are working hard to make their products perfect, thanks to the increasingly competitive market they are in.
The Pixio PX276 gaming monitor powered by Adaptive-Sync technology which works with AMD Radeon series Graphic Card and provides smooth performance without screen tearing.
However, limitation to AMD Radeon series Graphics cards of this monitors keeps it at arm's length away from users with Nvidia Graphic cards, which are owing to compatibility issue.
Unlike the Dell Gaming S2716DGR and ASUS ROG SWIFT PG278QR that can make by with Nvidia cards, the Pixio PX276 cannot.
Despite this, the Pixio PX276 still stands out as powerful 1440p monitors for gaming that we can comfortably recommend to our readers.
The Pixio PX276 is the most affordable 27-inch monitor which is coming with 144Hz TN panel, Adaptive Sync,1ms response time and thin bezels.
PROS
Budget price
Fast response time and refresh rate
Adaptive-Sync enabled
Ultra-slim bezel design and VESA mount
Anti-glare screen
CONS
View-angles are not great
 9. HP Omen 27 (Premium Quality and Performance but Expensive)
14 lbs | 27″ | 2560×1440 | TN Panel | 16.09 | 1 ms | 165hz NVIDIA G-SYNC
In our list, the next device is from HP. Yes! HP, I know when thinking about this brand first thought came to our mind – versatile printers and best in class workstation and server. But HP also makes gaming screens and high-end laptops. They have created a different brand name for gaming products, that is Omen. And HP Omen 27 is a monitor from their gaming series lineup.
The HP Omen monitor is having 27″ WQHD 144 Hz display which can be overclocked up to 165Hz. Additionally, this monitor equipped with Nvidia G-Sync technology, so connecting with DisplayPort this will provide tearing-free gaming experience along with maintaining FPS.
Furthermore, there no problem with height adjustment, it really works great. But when we try to swivel or tilt, disappointingly there is no option available.
Aesthetically, there's a customizable LED provided at the bottom edge of this monitor, which is capable to cycle through six colors, and you can set according to your gaming setup. Besides that, this LED light is very customizable you can create custom RGB colors using slider from the menu, which is amazing. This light is very convenient when you need something to read in the darkened room.
Under the hood, the HP Omen 27 paired with a Twisted Nematic (TN) panel, which offers a fast refresh rate and commendable response time. But on the Negative side, TN panels have poor viewing angles, and somewhat low color accuracy, when we compare with the IPS panel.
On the back of this gaming monitor, there are one DisplayPort 1.2 and one HDMI 1.4 port provided along with two USB 3.0 ports. However, in this price range, you might get four USB ports into other monitors.
When we talk about performance, the Omen 27 provides tearing-free gaming experience, as well as it supports ULMB functionality, so there is no motion blur on the fast-moving object. Apart from this, using this monitor with overclocked 165 Hz refresh rate with G-Sync, ULMB likely a feature that can't be used.
The HP Omen 27 is a fantastic gaming monitor, which offers Nvidia G-Sync technology with WQHD resolution.
Personally, I think there are some better options out there, which offers similar speed and better panels at a low price but keeping in mind the brand value the price is understandable.
PROS
Amazing Display and performance
Higher 165Hz refresh rate
Nvidia G-Sync
Quick 1ms response time
ULMB supported
Customizable LED provided
Micro bezel
VESA mount
CONS
Comparatively Pricier
Only height adjustment available
Only 2 USB ports
 10. Lenovo L27q (Amazing IPS Monitor for the budget)
10.89 lbs | 27″ | 2560×1440 | IPS | 16.09 | 4-6 ms | 47 Hz – 63 Hz
Previously, we have reviewed some fast performances monitors, they are offering the lowest response time with ultra-fast refresh rate. But somewhere we have lack of IPS panel on our list, which features the top view angles, most accurate and vivid colors. Honestly, this monitor which we are going to discuss here might not perform well on fast-spade games, but in terms of picture quality, this IPS display won't disappoint you. The Lenovo L27q is a sleek-looking 27-inch monitor which features IN-Plane Switching (IPS) technology, it delivers a sharp picture quality with wide view angles.
The Lenovo L27q monitor is made with silver, bezel-free design, which stands on a round silver base with a thin metal arm. This arm allows you to tilt panel backward and forward. But there are no swivel, pivot and height adjustments, which personally, I don't like about this monitor.
On the back side, this monitor is equipped with one HDMI, one DisplayPort, and an audio output port, but there are no USB ports and inbuilt speaker provided.
Unfortunately, the L27q doesn't offer support FreeSync or G-Sync technology like our other monitor in the list does.
As I mentioned above this monitor does not perform well on fast-spade gaming, it is ideal for everyday use which can deliver sharp WQHD picture quality with wide view angles. However, you are not a hardcore gamer and play a light game occasionally, then at this price, you are getting an awesome deal.
PROS
The brilliant IPS panel with Ultra-thin bezel
Very Cheap price
Lightweight
Sleek design
Sharp picture quality with Wide view angles
Anti-Glare screen
CONS
No USB ports
No Height, swivel, or tilt adjustment
Not ideal for heavy gamers
Best WQHD Gaming Monitors – Buyer's Guide
Which features you should care about when purchasing a gaming monitor, and what are the advantages of them?
Advantages of having a gaming monitor.
Smooth Gaming Experience
Have you ever tried to play heavy games with the ordinary monitor (Which have low refresh rate and slow response time)? If you do so, you will see the image tearing and blurring effects often.
Why this problem occurs?
Well, when games deliver much FPS (Frame Per Second – In general, FPS is the rate at which consecutive images called frames appear on a display) which the monitor does not support and it fails to display it properly.
Faster Control
It doesn't matter how expensive your gaming rig, without a supported monitor you can't enough utilize your devices.
Gaming monitors come with the faster response time, which instantly represents images on your monitor's display. Your input commands and GPU output will blend together as much that you won't feel any lag with your controls, therefore, the performance will be smoother.
Freedom of Adjustability
Unlike other ordinary monitors, most of the gaming monitors come with adjustable stands, which allow you to set their position according to your choice. This is a really interesting feature, you can work or play as you want. However, you can purchase many custom adjustable stands for any monitors nowadays.
The important factors that should be considered before choosing a gaming monitor.
Panel Type
Unlike photo editing monitor, gamers need a faster refresh rate and quick response time. So, considering these aspects, the TN panel is the perfect candidate, because it provides all that we need – from quick response time to high refresh rate. Luckily, this panel is quite cheaper too. In terms of image quality and view angle, the TN panel is not as great as other, but it is still the perfect choice.
While the IPS panel is the best in terms of display quality, color accuracy, and view angle but it has a high response time and low refresh rate. However, there are many latest monitors with IPS panel are coming with wonderful refresh rate. In most of the cases, the IPS panel are not recommended for professional gamers.
There is another display technology is popular nowadays, which is VA (Vertical Alignment) – it is the balanced panel which sits between the IPS and TN panel. It delivers better display quality than the TN panel and better refresh rate & response time than the IPS panel.
Resolution and Size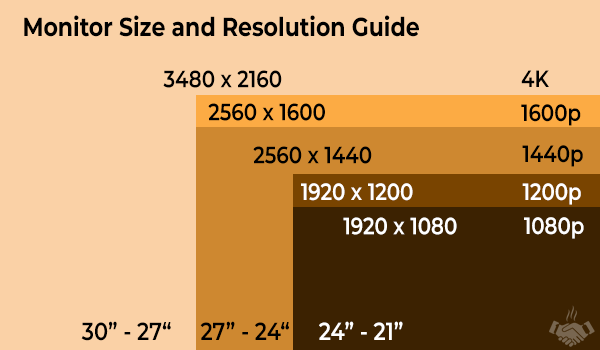 When choosing a monitor, resolution is also an important factor. You have to just keep in mind that, as much high the resolution, clearer the picture will be. As we are talking about the 1440P monitor, therefore, it is perfect for a 27-inch display. This size is physically enough to see what you're doing without UI scaling, but not so large to dominates your desk.
If you don't have any budgets problem then you can go with the 4K monitor, but personally, I don't recommend it because if you want a monitor with 27″ or lower, than QHD or 2K resolution is perfect because human eyes are not able to see these ultra-small pixels. Therefore, you might not get a noticeable difference.
Image Quality
No doubt, the IPS (In-Plane-Switching) panels provide richest image quality with wide view angle, but TN (Twisted Nematic) panels are the most common in gaming monitors which offer great response time and refresh rates. So, if you want a really higher performance then you may need to compromise with image quality a little bit.
Further, you have to identify your graphics card manufacturer – if you have AMD based gaming rig you should pick a monitor with Free-Sync technology, while Nvidia users will need G-Sync technology. These technologies allow syncing your monitor screen with your graphics card for optimal performance. Some monitors come with a High Dynamic Range, which produces even better color and brightness, so if you are getting an HDR display it would be great.
As I said above, the syncing technology should be chosen according to your graphics card manufacturers. Here, I want to tell you the Nvidia G-Sync based monitors are pricier than AMD FreeSync base monitors because manufacturers have to pay to Nvidia for working G-Sync into their monitors.
Besides of refresh rate, the response time also play a crucial role for smoother picture quality and better control, it is measured in the ms (milliseconds) – the lower number is better.
Ports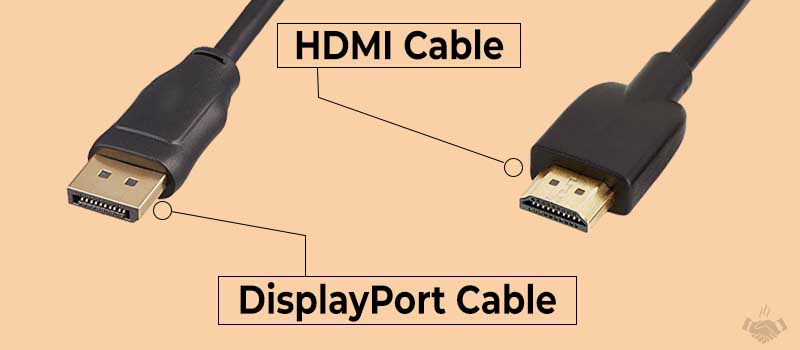 The most common port which founds in the monitor is HDMI. Apart from that, the DisplayPort can be only found in the high-resolution monitors for driving more bandwidth which support a higher refresh rate and quick response time.
Some high-end monitor offers a USB 3.0 hub as well which comes in handy for charging smartphones or connecting flash drives. While, some monitor manufacturers offer a wide range of connectivity option including, DisplayPort, HDMI, VGA, DVI, USB3.0, USB 2.0, and wireless connectivity.
Nowadays, the 3.5mm jack is quite popular, therefore, it can be found in many monitors, while some monitors come with inbuilt speakers. However Usually, most of the gamers prefer a deep bass headphone or high-quality multimedia speakers for better sound quality.
FreeSync or G-Sync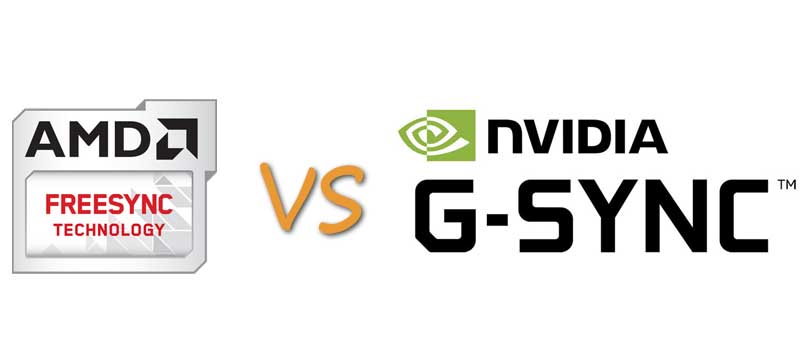 These syncs technologies match your monitor's refresh rate to your game's frame rate and should be chosen according to your gaming hardware. Nvidia G-Sync technology is more expensive than the AMD's FreeSync because the manufacturers need to pay to Nvidia for the hardware that makes G-Sync work. This technology support from 30 Hz to the maximum refresh rate of the monitor.
Both technologies are great, if you are AMD user then you'll need a FreeSync supported monitor, while for Nvidia users will need the G-Sync technology for optimum gaming performance.
Adjustability
Monitor adjustability depends on the stands. Some manufacturers offer a fully adjustable stand while some don't. An ideal stand should support to pivot, tilt, rotate and height customization. However, there are many third-party stands are available on the market and they allow even more flexibility.
If you are very conscious with your monitor safety – most of the gaming monitors offer VESA mount holes on the back, which allow to hang them safely on the wall.
Wrapping it up
Well, we have discussed almost all types of WQHD gaming monitor, like slow to fast response time, worse to best image quality, cheap to expensive, and ordinary to advanced design.
Overall, the AOC AGON is the best 1440p monitor on our list, which is not only the affordable but offers a wide range of features that a gamer's need.
However, if you want to spend more on your gaming monitor, then don't forget to check out ASUS ROG SWIFT, Samsung LC27HG70 and HP OMEN 27.They are the premium quality monitors in the high price range.
On the other hand, if you have a low budget, then Pixio PX276 would be a solid choice.
For big screen lovers, the LG 32GK850G is the only choice, which is the perfect blend of amazing big screen and performance.
What do you think about these gaming displays, have you any questions regarding them? Let me know in the comment below. Do you know I have a very quick "response time"? You can try me out.
Thank you very much for reading, have a great day!