Looking for the best computer monitors for photography? You've landed in the right place.  No, matter if you are a professional or a beginner one, I've gathered the best computer monitors for photographers, for all budget and requirements.
In contrast to gaming displays, here the refresh rate, frame syncing technologies and response time are not too important, you'll need something a little different for your efficient working.
Don't worry, this post will also tell you exactly that what thing you'll need to consider before purchasing the best computer monitors for photo editing.
As usual, we will start with the buyer's guide and end up with the recommendation of the best photography display.
So, let's dive into the most critical factors that you'll need to know for before making your purchase.
Screen Size
This is the first most basic thing that you'll need to see before choosing any monitor. But what is special about that, just go for a bigger screen, it is always a better choice. No, it's not as that simple – screen size should be chosen very carefully.
Only that bigger size is better until it remains ideal to look from one side to the other without turning your head around. Make sense! But, 21-inch displays are definitely too small, and you would rarely want to go with them.
Overall, in my opinion, a 24-inch or 27-inch displays are ideal for photographers, they are not too big to dominate over the desk and provide a bit more visual breathing room. However, 32-inch displays are not terrible either but you might need to maintain a bit extra distance for comfortable viewing.
Now, what is aspect ratios? Everyone is talking about it, whether we talk about the laptops, monitors or even smartphones. Actually, the aspect ratio describes the proportional relationship between the width and height of the display. It is expressed as two numbers separated by a colon, for example – 5:4, 4:3,16:10 or 16:9.
Among all of them, the 16:9 aspect ratio has become the new standard, and it fits perfectly with the full HD and 4K movies. As compared to the old 4:3 monitor, this aspect ratio provides a bit more space in photo-editing software either side for tools panels or palettes. If you are still using 4:3 monitor then it definitely needs to upgrade.
Also, keep in mind, you may find some monitor with wider aspect ratio than the 16:9, they are designed for gaming purpose. It means they are generally optimized for delivering higher refresh rate and immersive video rather than photographic accuracy.
Resolution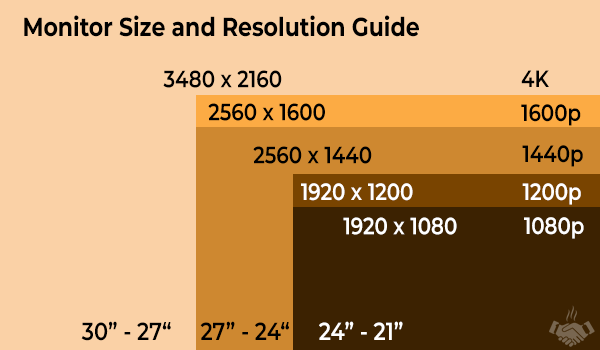 Resolution and size are like a wheel of a bicycle if anyone is having a problem you may need to walk.
I mean, if you have picked the right size monitor, but an inappropriate resolution can cause pixelated display. And it works same for the display size, especially bigger displays need more resolution to maintain their pixel density.
The higher resolution is always on the safer side, the attached infographic shows the ideal display resolution according to the display size. And for photographers, you are strictly prohibited to go below this for good picture quality. If you can go higher that will be the best.
Overall, according to me, for best computer monitors for photography, you should go for the 3840 x 2160 (4K) of pixels resolution. Which will provide the proper accuracy and true sense of an image's resolution without the need to zoom in and pixel-peep.
In this rundown, I have only included 4K monitors, so you don't need to worry about that.
Panel Technology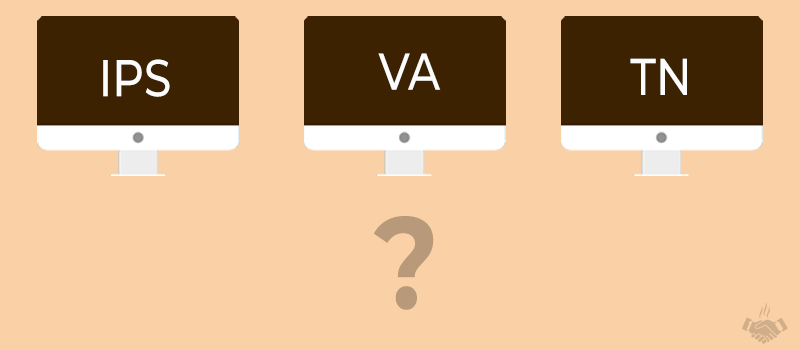 There are mainly three types of panels are available for the computer monitors, and all of them has their own distinct characteristics according to usage.
IPS (In-Plane-Switching) – This is the only recommended panel technology for the best photography display. The IPS panels tend to provide the best color accuracy and vivid colors. Moreover, they offer the widest view angle than all display technology except E-ink Displays (E-ink is only available in black and white only, and ideal only for reading, you can read more about these displays in this article – best monitors for text reading).
Overall, the IPS panel is the best choice for the photo editing task, and you can find a wide range of IPS display in the current market nowadays.
TN (Twisted Nematic) – This panel is totally prohibited for the photographers. This panel has poorest view angle and color accuracy and optimized for high refresh rate and response time. Resulting there is no ghosting or tearing effect occur on display during fast shading movement, that's why gamers love them.
VA (Vertical Alignment) – Unfortunately, the VA panel is also not as good as IPS panel. However, they are a lot better than the TN panels in terms of picture quality but they are still not qualified for the best photography display. So, I don't recommend them.
Color Gamut
Basically, Color Gamut is a range of colors a device can display, and there are certain industry standards. The sRGB is the base level standard for all devices and displays, and you can't go wrong with this because every device supports it. However, its only display a limited range of colors. Probably, you might never notice (really, you might not), but in the higher demands like commercial publishing, the larger Adobe RGB color space used. That's why many digital cameras have both sRGB and Adobe RGB options.
A regular monitor is not capable to show Adobe RGB color space properly without any kind of conversion, it will look flat and dull. If you'll work on an Adobe RGB image, then you'll need a color-management tool to approximate their appearance on the sRGB screen. However, proper photographic displays, like those we have included in this article, can display most/nearly all of the Adobe RGB color gamut, so there will not be any problem.
Best Computer Monitors for Photographers – Reviews
 1. Dell P2715Q (Most Affordable Monitor for Photographers)
The Dell P2715Q is the most affordable photography 4K display, you can get today. If you don't want to spend more on your photo editing monitor, it'll be the perfect pick for you.
Despite an inexpensive monitor, it offers a wide range of features and meets our expectations.
Like our other monitors, it has a 27-inch 4K IPS panel, which is very sharp and provides a good brightness level. Moreover, the view angles are also great, it means there'll be no color shifting when viewing from sides (up to 178°/ 178°).
According to the manufacturer, each monitor is factory tuned at 99% sRGB color calibration and certified with delta E <3.
Do you know, a delta E between 3 and 6 typically considered as the acceptable match in the commercial production and printing process. It means you'll get precise color coverage at an amazing high-color depth of 1.07 billion colors.
The Dell P2715Q comes with a fully adjustable stand, which offers pivot, swivel, tilt, and height adjustability. Most of the dell monitors provide a built cable management feature including this one, and it can be wall mounted too (VESA compatible).
As for connectivity concern, this affordable display offers 1x DisplayPort, 1x Display Port (Out), 1x Mini DisplayPort, 1x HDMI, 5x USB (4 Down/ 1 UP), and Audio-line out ports. With the DisplayPort, you can make daisy-chain of two monitor side by side, which reduce cable cluttering (You don't need to link every monitor with PC). Unfortunately, there'll be lack USB Type-C port here.
Overall, the Dell Ultra HD 4K P2415Q monitor is the most inexpensive and great monitor for photo editing you can get on the current market today.
Great features for the money
99% sRGB color coverage
Fully adjustable stand
Extensive connectivity options
No USB Type-C
Patchy brightness uniformity
Average color accuracy
 2. LG 27UD88-W (Budget Photography Display with USB Type-C)
After spending a few more bucks, the LG 27UD88-DW is a much better option. No! it is still a budget display.
Unlike the previous monitor, you'll be getting the hardware Color Calibration with Color Calibration Pro, which ensures optimal color accuracy. Moreover, color mode preset adapt a variety of specific needs.
The LG 27UD88-DW also offers a 4K IPS panel which covers over 99% sRGB color spectrum, which is a great solution for professional photographers and designers. Because it is an IPS panel, so it offers the wider view angles without color changing.
As I said above, this monitor has a USB Type-C Port support along with 2x HDMI (2.0), 1x DP (1.4), 2xUSB 3.0 ports. There is a noticeable thing is that – the USB 3.0 ports have the capability of Quick Charging, but you'll also need a fast charging compatible device for that.
Additionally, there are various features like On-Screen Control, Split Screen 2.0 provided, which help us to manage the multiple windows, customizing monitor layout, and many monitor settings with few clicks.
Despite a great photography display, this monitor can be used for stable and clearer gaming, thanks to its FreeSync capability.
If you are looking for an affordable monitor for photo editing that should provide a decent color accuracy then LG 27UD88-W will be your best bet for sure. Moreover, this monitor comes with a USB Type-C port and can provide a rich gaming experience with FreeSync and 4K display.
Excellent sRGB accuracy
Slim and lightweight design
Color calibration Pro
USB 3.0 Quick Charge capability
USB Type-C support
Portrait mode
FreeSync supported
Only average brightness uniformity
Adobe RGB gamut less good
Only height adjustment
 3. BenQ PD3200U (Great 32-inch Monitor for Photographers)
This BenQ PD3200U is mid-range photography monitor, which covers more color ranges and offers some extra features too.
First of all, the BenQ PD3200U has a big screen size of 32-inch, which is IPS panel having 4K resolution. Unlike our previous monitors, this monitor support 10bit, 100% sRGB and Rec.709 colors gamut. It means you can work confidently, because all PD series monitors of BenQ are color certified, ensure consistent and accurate color.
This BenQ monitor has some inbuilt Image mode for optimal image quality according to the work requirements. The Darkroom mode gives clarity and sharpness to the image by adjusting the brightness and contrast. While CAD/CAM Mode offers a superior contrast on lines and shapes to ensure the smallest details to view. And lastly, the Animation Mode helps to better visualize the details hiding in the dark areas.
In terms of connectivity, there are 2x HDMI (2.0), 1x DP (1.2), mini DP (1.2) x1, 3.5mm, 5x USB (4 UP/1 Down) ports are given.
There is a special thing about this monitor – it has a KVM (Keyboard Video Mouse) feature, which helps to control two PC systems using only one set of mouse and keyboard.
The Ergonomic Design allows to work more efficiently, a fully adjustable stand (support swivel, tilt, height, and pivot adjustments) and portrait mode compatibility are the good implementations here. Moreover, when you'll be using the monitor in the vertical orientation, then the screen content will be auto pivoted with screen orientation detector.
Overall, the BenQ PD3200U is the great photo editing monitor for the mid-price range which offers 10bit 100% sRGB and Rec.709 color gamut to ensure the higher color accuracy.
KVM (Keyboard Video Mouse) feature
Good color accuracy
100% sRGB and Rec.709 Color Gamut
Fully ergonomic stand with portrait mode support
Hotkey Puck for switching mode
Available in multiple sizes
Lightweight
 4. ViewSonic VP2768 (Great Display with HDR10 for Mid-Range)
The ViewSonic VP2768 is our next contestant of the best computer monitors for photo editing. This is also a mid-range display that offers 100% sRGB and Rec.709 color gamut, and 4.39 trillion colors for lifelike color accuracy. This monitor also supports the Hardware Calibration feature that ensures that the colors are displayed correctly and matches with the original file. Moreover, unlike our previous monitors, this display has HDR10 content support. It is another plus point to consider this display over the BenQ PD3200 if you have some higher budget.
In the connectivity department, you have a wide range of options – you'll be getting 2x HDMI (2.0), 1x DP, mini DP x1, 3.5mm, 5x USB (4 UP/1 Down). But, unfortunately, there is no USB Type-C support here.
Overall, the ViewSonic VP2768 is the perfect monitor for photography in the mid-price range, that has %100 sRGB and Rec.709 color gamut, LUT Hardware calibration, HDR10 support and a wide range of connectivity.
But, it still not enough to qualify for the best computer monitor for digital photography. To find that one, look below.
100% sRGB and Rec.709 Color Gamut
Good color accuracy
Supports HDR10
3D LUT color calibration
USB Type-C port has given
Available in multiple sizes
Lightweight
Only 77% Adobe RGB coverage
Average brightness uniformity
 5. BenQ SW271 (Overall Best Monitor for Photographers)
This is what I was talking about – the BenQ SW271 ticks every box those are required for a professional level photo editing with highest color accuracy: 4K resolution, HDR, Hardware calibration and amazing color supports. According to the BenQ is has 100% sRGB, %99 Adobe RGB color gamut, which is just phenomenal. Trust me, you'll be getting more color accuracy than that you are hoping for.
Thanks to its IPS panel it has nearly 180-degree of view angles. And it is a 27-inch variant which is ideal in most of the cases. However, if you want something bigger, you can go with 32-inch instead.
With extensive connectivity options from USB Type-C, HDMI2.0, DisplayPort 1.4, you have your choice of how you will connect it with your system.
Factory preset sRGB and Adobe RGB modes are available along with Palette Master Element Calibration software (included) ensure the optimum color accuracy.
To work more efficiently the Hotkey Puck is very helpful, allows you to switch between Adobe RGB, sRGB and Black & White mode and even you can map them for other mode or OSD settings.
Included detachable Shading Hood avoids from the glare to ensure superb color accuracy from ambient light, which is must for professional work. And this Shading Hood can be used in portrait and landscaped mode.
The PIP/PBP modes are very useful for simultaneously displaying and comparing content side-by-side in different color spaces, such as Adobe RGB or sRGB.
For maximum ergonomic, the fully adjustable stand plays the crucial role, and here it is – you are free to tilt, swivel, pivot and height adjustments.
Overall, the BenQ SW271 is one of the best computer monitors for photographers that provide the highest color accuracy with 100% sRGB & 99% Adobe RGB coverage, HDR, Hardware Calibration. Moreover, it also has extensive connectivity options along with USB Type-C.
Widest 100% sRGB, 99% Adobe RGB Color Gamut, highest color accuracy
Fully ergonomic stand
HDR support
Top Brightness uniformity
Hardware calibration
USB Type-C supported
Available in smaller and bigger size too
PIP/PBP Mode for Multitasking
Shading Hood included
Solid construction
Slight green cast before calibration
Wrapping it up
Now, choosing the best computer monitor for photo editing should not be hard for you. If you still have any confusion, take a look below.
Overall, the BenQ SW271 is one of the best computer monitor for photography nowadays, which deliver the maximum color accuracy and provide a wide range of connectivity options. If you are a professional then it is the one-n-only recommendation for you.
While for mid-range price BenQ PD3200U and ViewSonic VP3268 are the great options – both have 100% sRGB coverage but ViewSonic has HDR and hardware calibration features while BenQ PD3200U offers KVM and several inbuilt image modes for optimal quality.
For the budget range, Dell P2715Q, and LG 27UD88-W are good entry level monitors – both have 99% sRGB color gamut. If you need USB Type-C connectivity with the slim and light design then LG is a perfect pick, while Dell provides fully ergonomic stands and good picture quality with the most affordable price.
Well, if you still have any questions regarding these photo editing displays. Let me know in the comment below, I'll be back to you shortly.
Thank you very much!