By Nootan Kumar | Last updated January 14, 2019
Technology has been growing rapidly and that's why the frightful competition is taking place among the manufacturers. If we were talking before some years back, then at that time a good IPS monitor under 200$ was only an imaginary thing. But, nowadays you can get a decent quality monitor with IPS panel under 200$.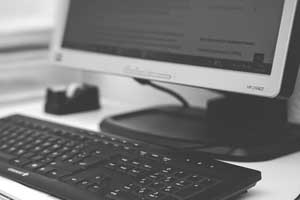 However, comparatively, the IPS panel is as the most expensive than faster TN panel and contrast-rich VA panel. Definitely, you'll not get the high-quality image and colors accuracy as compared to the expensive display. But still, these budget monitors are perfect for doing most of the general task without any hassle.
You might be interested: Best photo editing (IPS) monitor under 500$
In this post, I have gathered some best IPS monitors under 200 that you can get on the current market today. You can choose from different sizes, resolution, design – there are some big 32-inch and high-resolution 4K panel are also included. Can you believe for this price range?
But, before I'll show you my recommendations for the IPS monitor under 200, we have to consider some important point to make our decision better and effective.
You can check my top recommendation here, in case if you are in hurry.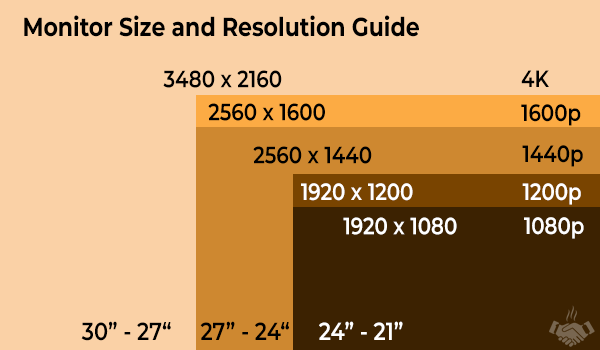 As we are talking about the best IPS monitors under 200, so there is a limitation about monitor size. However, you can get up to 32-inch display, and which is an above average size.
Usually, the 24-inch and 27-inch monitor are the most popular today, because they are easy to manage and you don't need to turn your head around to see the entire screen. However, going with a bigger display size is also not a bad idea, you'll get more room to work. But, make sure it has an appropriate resolution to maintain its picture quality and pixel density.
If we talk about resolution, it should be chosen according to the display size. However, higher resolution is always better, but due to the restriction of the budget, we have some limitations here.
But as I told you above, I have gathered some 32-inch and even 4K panel in this price range. Probably, you'll find all popular IPS monitor under 200$ in this roundup.
Look at the infographic above, it shows the required resolution according to the display size.
There is nothing special here because we are already talking about IPS technology. I just want to admire your choice, you choose the IPS displays.
Because the IPS panel has many advantages like – accurate and natural color, widest view angle (No color shifting when viewed from the side).
But also keep in mind the budget IPS panel don't have such good refresh rate and response time as compared to the TN panels. Resulting, they are not ideal for gaming, however, for light gaming, you are welcomed to use IPS displays.
You can also read here our other post on best 1440p monitors for gaming and best ultra-wide monitor for gaming if you are interested to play games on your monitor.
In budget displays, the HDMI, DVI, and VGA (D-Sub) port are the most common. But additionally, if you can get a DisplayPort and some USB ports then it is not a bad deal.
Some monitors offer inbuilt speakers, they come in handy while watching movies or doing Skype. However, they don't provide much impressive sound especially if we talk about the budget displays. But, don't worry, we have at least one monitor with the inbuilt speaker in our list.
When comes to ergonomic, the monitor's stand plays a crucial role – try to get an adjustable stand if you can get. The fully adjustable stand allows you to tilt, pivot, swivel, and even the height adjustment.
So, these are some important point that you need to consider while purchasing a budget display.
Now, let's check out my recommendations. We'll start from the very basic monitors and will go to the advanced.
Top IPS Monitors Under 200
 HDMI, VGA, Audio in/out , Speakers
2x HDMI, DVI, DisplayPort, Audio, , Speakers
 HDMI, VGA, DisplayPort, Audio in/out , Speakers
Best IPS Monitors Under 200 – Reviews
The HP Pavilion 22cwa is the most affordable and good IPS monitor, you can get on the current market. It offers a 21.5-inch display with the full HD resolution, which is quite good for this display size. The display quality is really appreciable for this price.
Because of the IPS panel, the view angles are going to be amazing. Thus, there will no color shifting occur when viewing from the side.
With HDMI and VGA connectivity you can use it with your laptop or desktop easily.
Sadly, there are no headphone jack, VESA mount, and thin bezel design are available. However, it is not regretful either for its cheapest price.
You can also see Acer SB220Q bi, which is a top competitor and offer a much thinner bezel-less design for this price range. But, in my opinion, HP has better picture quality.
If you are looking for the cheapest and good display on the current market the HP 22cwa is the most popular budget IPS monitor under 100$. Additionally, if you want to make a most affordable dual monitor setup for basic use, trust me this is the ultimate choice of many people.
On the update of this article, the HP 24ea has taken the place of Acer R240HY bidx in our list. Both are offering the same display size of 23.8-inch with the full HD (1920×1080) of resolution and thin bezel design. But, the HP 24ea delivers much better picture quality and appealing design.
The best thing about this HP monitor is, it is available in some size upgraded versions up to 27-inch within the 200$ price range. But keep in mind this 24″ (23.8″) version has sharper image quality and inbuilt speakers support.
For connectivity, you are getting basic the HDMI, VGA connectors along with audio-in and headphone jack.
Overall, the HP 24ea is a great 24-inch IPS monitor under 150$, which offers appealing design, good display quality, and inbuilt speaker support.
According to the heading, the Dell SE2717HR monitor is really the best 27-inch monitor under 200$. However, Acer R271 bid offering the identical features for a lower price, but considering the brand value, this deal has more weight. On the other hand, when we talk about some VA display like Samsung LC27F398FWNXZA – they can provide a curved 27-inch panel for this price, and their picture quality is also justified.
But this Dell monitor can rule them all in terms of professional design, display quality, durability. Personally, I am the fan of Dell monitor designing, there is no fancy stuff – just clean and clutter-free design.
As you know this is a 27-inch IPS panel which comes with full HD resolution. Additionally, it has thin glossy bezels and sturdy base, it's an ideal situation for making dual monitor setup.
On the bottom side, there are VGA (D-Sub) and HDMI ports are given, the VGA port is compatible with old computers.
With the support of 16.7 million colors, widest view angle (178° vertical / 178° horizontal) and Antiglare 3H hardness screen: your viewing experience is going to be amazing.
If you are looking for a decent 27-inch display within the budget, trust me! the Dell SE2717HR RVJXC is the ultimate choice as per the current market.
If you just want a 4K IPS 27-inch display for the budget price then continue reading below.
Yes! you heard the right – th Sceptre U275W-4000R is a 27-inch IPS 4K monitor under 200$. In facts, the Sceptre brand is not quite popular as compared to the Dell, LG or HP, but delivering an IPS panel under 200$ it deserves the appreciation.
Honestly, the sharpness of this monitor is on the next level, but the colors are slightly washed out, and this is the main problem with inexpensive IPS panels.
On the back side, this monitor is carrying out 1x DisplayPort, 2x HDMI and 1x DVI ports along with inbuilt speakers.
Keep in mind, this cheap monitor has an average build quality and design, and you can't expect from it too. Because it has already provided a UHD panel, you may need to do some compromise for it.
Overall, the Sceptre U275W-4000R is the only 4K monitor below 200$, you can get today. Definitely, it is totally unimaginable to get a UHD display for this cheaper price.
Like our previous monitor, the LG 25UM58-P also has a unique quality – this is an ultrawide IPS panel. There are a lot of advantages of the ultra-wide panels. Most importantly, they allow more room to work despite a single screen, they are usually wider than the normal monitors.
You can get an idea from the resolution: this screen is a full HD display with the resolution of 2560 x 1080. Did you notice? in this case, the width is extra 2560×1080 (width x height), but the usual full HD screen comes with 1920×1080 pixels of resolution.
The great thing about this monitor is, it provides sRGB 99% coverage along with game compatibility. It means you can use it for designing, editing or even playing some games. And the widescreen will provide an immersive viewing experience.
For connectivity purpose, it comes with two HDMI ports and it is also compatible with VESA mount. In case, if you have a too old laptop or computer then you may need to purchase an "HDMI to VGA adapter" or "HDMI to DVI adapter" according to your requirements. Moreover, this monitor offers a split screen and PIP mode features, allow you to arrange multiple windows in an easy way.
With 99% sRGB coverage, ultra-wide panel, full HD resolution, gaming features, beautiful design, and decent build quality, you likely won't ignore this amazing LG monitor. The LG 25UM58-P is the best budget ultra-wide monitor for gaming and designing.
Personally, this monitor is highly recommended due to its ultra-wide screen, good color accuracy, wide view angles, VESA mount support, and great durability.
You might be wondering, that what's left now. My promise has not completed yet, however, I have already listed different types of monitors for you but as per my promise, the 32-inch size is still left.
The ViewSonic VX3276-MHD monitor has come to save my face. Absolutely it is a 32-inch display but it is offering some extra feature too.
First of all, this monitor is offering DisplayPort, HDMI, VGA, and Audio in/out ports. Additionally, under the hood there are 2x 2Watt inbuilt speakers are given for casual listening.
With the ViewSonic ViewSplit feature, you can easily manage multiple windows easily. If you want to work with multiple application ViewSplit features can boost productivity – it can divide your screen into multiple viewing windows.
The thin bezel is a trendy thing the most users are looking for. And, why not, it should be because thin bezel provides immersive viewing experience and also perfect for dual monitor setup. Beside of thin bezel, this huge monitor is VESA compatible too, so you can connect it with a custom stand for better adjustability or dual monitor setup.
Lastly, if you are looking for a bigger screen monitor under budget the ViewSonic VX3276-MHD 32 is the only option on the current market, that you can get within 200 bucks.
However, if you can slightly expand your budget then LG 32MA70HY-P could be your best bet.
Great! if you have gone through the whole article, hopefully, you have already familiar with the all budget display you can get in the current market.
In facts, the ultimately the choice is yours. Though there is some main highlight from the article if you have not read yet.
If you are on the extremely tight budget the HP Pavilion 22cwa would be a great pick for you, while for some big size you might also like HP 24ea. The 21.5-inch model (HP22cwa) will cost you around100$, while for the 24-inch model you may need to spend 30-40$ additionally.
On the other hand, in 27-inch models, the Dell SE2717HR and Sceptre U275W-4000R are the strong contestants. If you want a 4K display then you might like Sceptre monitor, otherwise, the Dell is the highly recommended over Sceptre while considering built quality, brand value, and color accuracy.
Finally, the LG 25UM58-P is our best IPS monitor under 200, because it offers maximum features like ultrawide screen, great picture quality, inbuilt speaker, thin bezel and even VESA mount compatibility. It is totally worth money deal.
Ultimately, for those who are looking for a 32-inch IPS panel under budget range, ViewSonic VX3276-MHD is the rare monitor you can find nowadays.
Well, thank you very much for reading. If you have any question regarding these affordable IPS monitors then leave down for me in the comment below. I will back to you quickly.
Nootan Kumar is a 24-years-old Blogger from India. He is a Cisco certified network engineer and currently doing the job in a reputed company. He is very enthusiastic about Computer gadgets and technology. Read more about him
Affiliate Disclosure
10HotDeals.com is a participant in the Amazon Services LLC Associates Program, an affiliate advertising program designed to provide a means for sites to earn advertising fees by advertising and linking to amazon.com.