By Nootan Kumar | Last updated February 15, 2019
Nowadays, most of the laptops and computers are coming with default membrane keyboards. However, these keyboards are lighter and quieter, but they might not as useful if you are a writer, programmer or gamer. So, you need to own the best keyboards for fast typing.
Before choosing the best keyboards for fast typing, we have to consider some important factors. If you read this article until the end, I hope you will be able to choose which keyboard is the best for you.
What are the important points that should be considered before purchasing the best keyboards for fast typing?
Before purchasing you need to know which type of keyboard, you are about to buy that provides the best typing experience.
Which keyboard is the best – Membrane or Mechanical keyboard?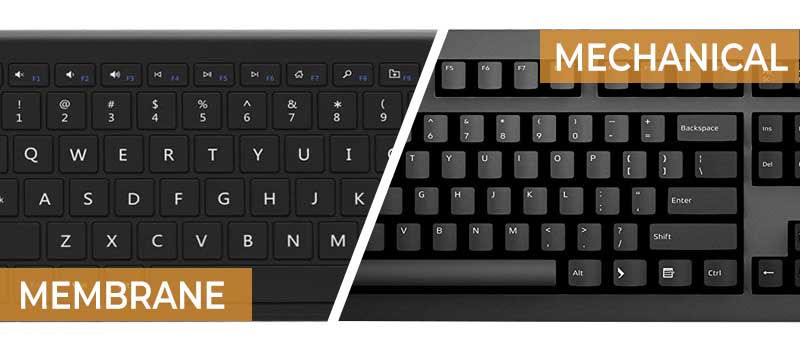 Yes! you got it right, keyboards having mainly two types.
Well, there are some differences between regular membrane keyboard and the mechanical keyboard. The membrane keyboards come with a scissor switch and mechanical switch offers cherry MX switches.
As we said in the starting, the membrane keyboards are easily available on the most of the computers and laptops in the market. It uses a plastic membrane that underlay all keys, and when the user presses the keys then this membrane collects the signal from the rubber switch under each key. After that, this signal transfers from the middle membrane to the top and finally to the PC. These types of keyboards are lightweight and cheap, but they do not provide the satisfying clicking sound or any tactile feedback.
On the other hand, Mechanical keyboards are more efficient. Every key has a dedicated switch for itself. So, when the switch is pressed the signal directly sends to the PC. While these keyboards are expensive, heavy and louder, most avid programmers, gamers attain great satisfaction from the excellent sound and tactile feedback.
Now you know the difference between the standard keyboard and highly efficient mechanical keyboard, perhaps you still need a little bit of convincing. 
So, why should you by a mechanical keyboard?
Well, first of all, I want to tell you with the highest confidence that the mechanical keyboards can truly provide the very fast typing result. In fact, you can feel the difference yourself, if you test between two. A mechanical keyboard can give that loud 'thunk' sound, some users love that because it gives an affirmation that the key has pushed down hard enough. The keystroke is very satisfying and crunchy.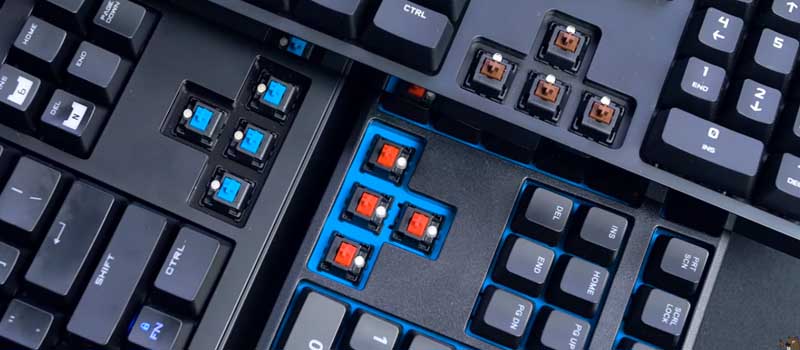 The second reason for considering the mechanical keyboard is that they have great durability, it can last for a long time even if you bang it or drop on the floor. Additionally, there is no limit for multiple key presses for the mechanical keyboards, while for a regular keyboard, the maximum number of keys that you can press at one is only six. This feature is very convenient and appealing to gamers. Last but not least, you should consider a mechanical keyboard that is having the Cherry MX Blue switches, it is more efficient when it comes to the tactile response. You can feel the activated key that gives a confirmation you to the key registration. Such confidence can boost up your typing speed without tiring your fingers and reduces the number of typos.
Table of Best Keyboards for Fast Typing
Best Keyboards for Fast Typing – Reviews
Topre Type Heaven is the best keyboard for fast typing. if you are not interested in the noisy mechanical keyboard, then this keyboard is a considerable option. This keyboard is slightly different than conventional mechanical keyboards, this is comparatively quieter. It is having a special hybrid installation of Topre switch and thick rubber dome; the dome is widely found in the membrane keyboard. So, it provides both satisfying tactile feedback and smooth clicking operation.
Moreover, this keyboard does not require a hard push, many users claim that the clicking pressure of this keyboard is just right and quick. Resulting, the Topre Type Heaven saves your fingers from tiredness, you can work longer without the fatigue of your hand.
According to the manufacturer, this keyboard survives over 50 million strokes! So, it makes it more durable. Writer, programmer, and gamers will truly appreciate the long lifetime of the keys. Additionally, this unit comes with 1.5 meters of the USB cable and six-key rollover. This keyboard works seamlessly with Windows and Mac OS.
This keyboard is highly recommended for those who need to type for a long time.
You will say this is weird or impossible when I will say there are some types of users also exists those want a keyboard that has a louder and heavy response sound. And they enjoy listening to that clicking sound and pressing the hard keys. If you also enjoy that satisfying clicking sound then you will love our next recommended keyboard – Filco Majestouch 2. This is a clicky keyboard which allows you to type efficiently with less typo. This keyboard features the most popular cherry MX switches under the keys which provides an excellent tactile and sound feedback, I love that and you will appreciate too.
Before you make your purchase, I want to inform you, this keyboard comes in three different variants, you can choose according to your choice.
Cherry MX Blue (Recommended) – This version offers clicky feedback tactile sound. And requires less force to actuate.
Cherry MX Black – This version is based on linear action, means it requires more force to actuate and avoid accidental key presses. It incorporates neither tactile feedback or clicking feedback.
Cherry MX Brown – This version is much quieter than the Blue, this also produces the tactile feedback but it lacks clicky feedback.
Cherry MX Red – This version also works on linear feedback but requires less force to operate compared to the Black switches. And there is no clicky feedback or tactile sound available.
I hope you will pick the right version, after reading this. We recommend the Cherry MX Blue switch version that is the best keyboard for fast typing with clicky feedback and tactile sound.
Das Keyboard 4 is an MX Blue switch-based device, and it is also available in MX Brown version. This keyboard offers some modern finish design and some additional features. Like Filco Majestouch 2 this keyboard provides an impressive clicky feedback and tactile sound. Additionally, there is a volume knob provided, which is very useful to control volume quickly while doing Skype or listening to music. Moreover, the SuperSpeed USB 3.0 hub provides a faster file transfer between USB devices.
When we talk about the durability, this device meets expectations, the aluminum top panel provides a solid feel.
As we said earlier, this unit comes in two variants – Cherry MX Blue and Cherry MX Brown.
Cherry MX Blue provides the tactile sound and clicky feedback, on the other hand, Cherry MX Brown lack the clicky feedback. However, both units are good. If you prefer some quieter sound then Cherry MX Brown should be considered otherwise Cherry MX Blue version is the best choice for fast typing mechanical keyboard.
Das Keyboard 4 also offers similar functionally like Filco Majestouch 2 but it offers some extra features like modern design, inbuilt USB hub, aluminum body, and volume knob.
If you need slightly spice up in design and features then Das Keyboard 4 is a considerable option, which also has great user ratings.
A mechanical keyboard is the best keyboard for fast typing, it gives an audible clicking feedback sound that informs that the key has been fully triggered, and registered. Resulting, It decreases the latency between the two key pressing, because you are not applying extra force on keys after that is successfully triggered. So, it speeds up your typing process. Consider above any keyboard from the list they will provide the seamless and most satisfying typing experience!
If you have a question or two, leave in the comment below for me, I will get back to you shortly.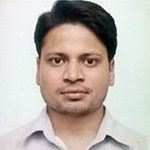 Nootan Kumar is a 24-years-old Blogger from India. He is a Cisco certified network engineer and currently doing the job in a reputed company. He is very enthusiastic about Computer gadgets and technology. Read more about him
Affiliate Disclosure
10HotDeals.com is a participant in the Amazon Services LLC Associates Program, an affiliate advertising program designed to provide a means for sites to earn advertising fees by advertising and linking to amazon.com.