Usually, most of the laptops and computers come with the default membrane keyboard, which is undoubtedly lighter and quieter, but might not as useful if you're into profession typing work such as writing, programming, or gaming. Yes! If you want the best keyboard for fast typing, then you have to shelter under mechanical technology as it's especially committed for higher precision typing and durability.
Also, read: best laptop for writers in 2022
You might be wondering, does a mechanical keyboard can improve the typing speed?
As a blogger, I have tested dozens of keyboards till now, and I can say confidently, a mechanical keyboard can undoubtedly enhance your typing experience. If you're currently working with a membrane keyboard, then you'll feel a noteworthy difference in your typing speed and accuracy. A mechanical provides tactile/sound feedback (depends on switches) when a key successfully registered, and it avoids pressing the switch further. Resulting, we save some millisecond on every keypress; therefore, the typing speed improves slightly.
But, there are few things that you'll need to keep in mind when picking the best keyboards for typing fast in 2022. In this article, all of your doubts are going to vanish, and you'll get your perfect typing companion if you read till the end. So, let's get started!
Best Keyboards for Fast Typing in 2022 –Buyer's Guide
What is special about the mechanical keyboards that everyone is talking about them?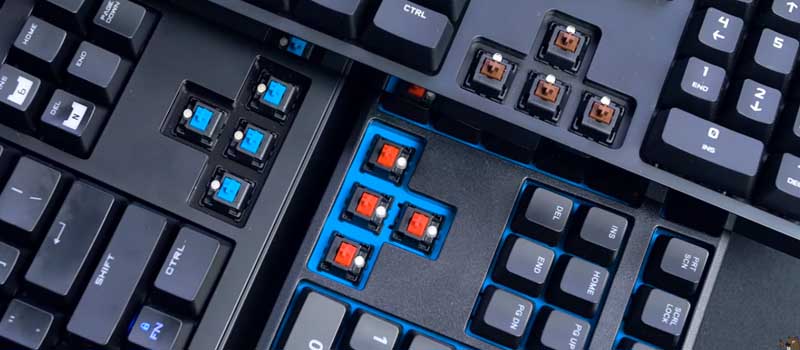 Before going into detail about the mechanical keyboard, I would like to tell you something about the membrane keyboard.
Actually, in the membrane keyboards, there is a single thin rubber/plastic membrane use under all keys. When we press any key, then it collects the signal from the rubber switch under each key, and after that signal processed by the computer. It is the cheapest way to make a keyboard, and that's why most of the laptops and computers come with it. These keyboards are very lightweight and don't offer any tactile feedback or satisfying clicking sound.
On the other hand, Mechanical keyboards offer a dedicated switch for each key. When the switch is pressed, the signal directly sends to the PC. These keyboards are expensive, heavy, and louder, most avid programmers, gamers attain great satisfaction from the excellent sound and tactile feedback.
Here's more, it's not all. If you're purchasing any mechanical keyboard, you might get confused, especially if you're not aware of the different types of switches. Yes, there are lots of manufacturers who make the switches for mechanical keyboards. But the Cherry MX switches are the most popular ones. If you have searched about the mechanical keyboard on the internet, then probably you have also seen many keyboards with Cherry MX switches.
But, Cherry MX isn't a particular switch, it's a company name. The Cherry makes many types of switches named MX Blue, MX Brown, MX Red, MX Clear, and MX Black, and these all switches have distinct properties according to the different types of usage.
It doesn't matter which company's mechanical switch you're going to use; you can almost judge every switch with these four following properties.
Sometimes it's also called the operating force. How much amount of weight will be needed to register a key fully, called actuation force, and it's measured in the grams (g). Usually, the actuation force range falls between 45g to 80g, but for convenient typing work, I would suggest 45g to 55g. If you go higher than that, the key will need a harder push and can cause finger fatigue.
The actuation point is the distance that is traveled by a key to register successfully. It differed according to all keys and ranged between 2 to 2.4mm. However, most of the switches become fully activated before they reach a 100% actuation point, and we get notified either via tactile feedback or clicky sound. This process saves extra force and time, unlike the membrane keyboards.
With this feature, you'll know that the key is successfully registered or not. When you'll press a mechanical switch which supports tactile feedback, you will feel a small resistance force toward your fingers. It is very crucial for accurate typing work.
Along with the tactile feedback, some mechanical switch comes with a special mechanism which produces a satisfying clicky-sound. However, some users prefer silent working, so it depends on your working style whether you want or not clicky sound.
You can check out the comparison table on my other post, the Cherry MX Blue and Cherry MX Brown are the most viable choice for typing work because they require perfect actuation force, which is ideal for long working without any fatigue. If you just need tactile feedback then you will be better off with the Cherry MX Brown, while if you love clicky sound then you should go for Cherry MX Blue switches.
Again, why you should buy a mechanical keyboard?
Now you know the difference between the standard keyboard and highly efficient mechanical keyboard, perhaps you still need a little bit of convincing. So, we should buy a mechanical keyboard for typing work?
Well, first of all, I want to tell you with the highest confidence that the mechanical keyboards can truly provide a very fast typing result. In fact, you can feel the difference yourself, if you test between two. A mechanical keyboard can give that loud 'thunk' sound, some users love that because it gives an affirmation that the key has pushed down hard enough. The keystroke is very satisfying and crunchy.
The second reason for considering the mechanical keyboard is that they have great durability, it can last for a long time even if you bang it or drop on the floor. Additionally, there is no limit for multiple key presses for the mechanical keyboards, while for a regular keyboard, the maximum number of keys that you can press at one is only six. This feature is very convenient and appealing to gamers.
Last but not least, when you press any key it will give you tactile feedback for confirmation that key has been fully registered. Such confidence can boost up your typing speed without tiring your fingers and reduces the number of typos.
Are chiclet keyboards good for typing?
Chicklet keyboards are also standard membrane keyboards with different keycaps; therefore, they aren't good as mechanical keyboards.
What is the best 60% keyboard?
A 60% keyboard is also called a compact keyboard. It comes with minimalistic keys; therefore, you won't see the number pad and some extra keys such as Home, Page Up, Scroll Lock, and arrow keys in a 60% keyboard. The benefit is that they are quite portable and lightweight, which makes them easy to carry.
How many keys are on a 60% keyboard?
Usually, a 60% keyboard has 60 or 61 keys.
How many keys are on a tenkeyless keyboard?
In a tenkeyless keyboard (TKL), the right numeric pad isn't included. So usually, a standard TKL keyboard has 87/88 keys.
Does actuation force affect typing speed?
Of course, for faster typing speed, the lower actuation force is helpful. However, along with the actuation force, the actuation point also plays an essential role in faster key registering.
Now let's take a look at my recommendation for the best mechanical keyboards for faster typing in 2022
Best Mechanical Keyboards for Fast Typing in 2022 – Reviews
 1. Redragon K552-RGB (Most Affordable Keyboard for Faster Typing)
The Redragon K552 is my first choice for a mechanical keyboard for typing work, if you're not interested in the expensive keyboards, then it might be a nice option for you.
Although it's not offering the real Cherry MX switches it's still a great option for a budget price. But, if you looking a keyboard for professional typing, then you should check my other recommendations.
The Redragon is a Tenkeyless keyboard, which is quite portable. It can easily fit on a small desk and can be carried easily anywhere. But, if you're looking for full-size keyboard then you should check out the Redragon K551 or Redragon K556, these variants are also budget-oriented and have a few minor differences.
Despite being a budget keyboard, you're getting RGB backlit which supports different light modes and brightness adjustments..
When we talk about the durability of this keyboard, it is made of full metal material, which is quite sturdy and robust for handling any inappropriate situation. Even it has IPS67 waterproof certification, so you don't have to change your keyboard if you accidentally spilled any drink over it.
As I also said in the starting, it's not a Cherry MX keyboard actually. But you're getting something identical switches which is obvious for a cheap price. But whatever keys this keyboard it has, are just perfect for typing work. Because according to the manufacturer, it requires approximately 50gm force to register a key. Moreover, it has around 2.0mm actuation point which is just perfect.
But here I want to tell you, it has Cherry MX Blue equivalent keys, it means it could be a bit loud while working. If you need quieter typing experience then you should check out its next version Redragon K556.
Overall, the Redragon K552 is probably the most affordable keyboard for fast typing in 2022 which is offering many great features such as higher durability, RGB backlit, and waterproof design.
Very affordable keyboard for typing and gaming
Solid build quality
Durable MX Blue equivalent switches provide audible click sound and tactile feedback
RGB backlit with different effects and user programmable lighting
Anti-ghosting feature for gaming
Cable not detachable
Keys are slightly smaller
 2. Filco Majestouch-2 (Best Keyboard for Typing All Day)
If you're looking a mechanical keyboard with no-frills design and solid durability, the Filco Majeshtouch 2 is definitely a solid choice. Personally, I also like a keyboard with a minimalistic design, because who cares about the fancy RGB lighting while doing rigorous work, we just want a stable and smoother typing experience.
The Filco Majeshtouch-2 is available in both Cherry MX Blue and Cherry MX Brown switches. If you prefer silent working then you would better off with Brown switches while MX Blue switches are for those who love crunchy and satisfying sound along with tactile feedback.
This variant is actually tenkeyless, if you're looking for a full-size keyboard then you can check it out here. Whether you're choosing a tenkeyless version or full size, undoubtedly, there is no compromise in the build quality.
There is an only thing that bothered about this keyboard, the keycaps; they are really cheap and apparently wear quickly, so be warned. However, they can be replaced easily it's not a big deal.
If you haven't used any mechanical keyboard till yet, you'll likely amazed. The industry-leading Cherry MX switches will give you ultimate typing pleasure that you never knew.
The build quality is just top-notch, whenever you'll hold in your hand, then you'll automatically know about it. It feels like a solid piece of metal which will surely last longer. Unfortunately, the cable isn't detachable but it's braided which ensure the long life.
Overall, the Filco Majestouch-2 is one of the best mechanical keyboards for efficient typing, which is offering a solid build quality, original Cherry MX Switches, professional and clean design.
No-frills professional design
Solid build quality with heavy body
Braided cable for longer life
Original Cherry MX switches
Very aggressive price
Keycaps could have been better
Fixed cable
 3. DREVO BladeMaster PRO (Fancy Keyboard with Multiple Connectivity Options)
My previous keyboard the Filco Majestouch is offering the most minimalistic design, and this keyboard is totally opposite of that. You're getting RGB backlit keys with a Programmable Genius Knob, even this keyboard has won IDEA (International Design Excellence Award) of 2018 and iF design award of 2022.
Along with creative and appealing design, the Drevo BladeMaster Pro keyboard is quite robust and offers multiple connectivity options. Yes, this keyboard is coming with Bluetooth and 2.5GHz wireless connectivity along with wired support, therefore you can use it with three computers at the same time. Even this innovative keyboard with compatible with Android, Linux, iOS, MacOS, and Windows.
As I told earlier, this keyboard is offering a programmable knob on the left side, which can be assigned for different functions such as macro, keyboard functions, multimedia, windows shortcuts, batch or mouse functions. Also, I want to tell you this keyboard is coming with a detachable USB cable with Type-C connector.
For doing such task as software key configuration, RBG setting, programming knob or onboard memory settings, this keyboard support Drevo Power Console, which can be downloaded from their website.
When it comes to switches availability, you have all options whether you're interested in Cherry MX Blue with clicky sound or Cherry MX Brown with soft tactile feedback. Additionally, this keyboard is offering some other switches such as Cherry MX Red, Cherry MX Speed Silver, and Cherry MX Silent Silver, but for our typing work, the Blue and Brown are the best choices as I also said in the buyer's guide.
As compared to the Filco Majestouch keyboard, the Drevo BladeMaster Pro has almost the same price, if you need a modern keyboard with lots of functionality then you'll love this keyboard. While if you don't need any bells and whistles, the Filco Majestouch is the best keyboard with a minimalistic design.
IDEA and iF award winner with innovative design
RGB backlit keys with higher durability
Multiple connectivity options, Bluetooth, 2.5GHz wireless, USB cable
Detachable cable with USB Type-C port for convenient connectivity
Extra programmable knob for performing other tasks
Drevo software for managing all settings including RGB configuration, knob programming, cloud, and onboard memory settings
Available with different Cherry MX Switches such as MX Brown, MX Blue, MX Red, MX Silent Red
Some users reported the Drevo software has some glitches, I hope they will fix them with next update
 4. CORSAIR K95 (Best Keyboard for Typing and Gaming)
Corsair is one of the most popular brands among gamers which is well-known for manufacturing high-quality gaming products. The Corsair K95 is the latest keyboard from Corsair which has been popular quickly between the gamers, but it's not very useful for typing work due to Cherry MX Speed switches. Actually, cherry MX Clear is a linear action switch which doesn't have any tactile of audible feedback.
But the keyboard which I am talking about is the Cherry MX Brown version of this famous gaming keyboard, which provides silent working with soft tactile feedback. That's why it is a solid option for typing work.
First of all, Corsair K95 is the heaviest keyboard of our list, which is made of Aircraft-grade aluminum frame, therefore it will last longer. Moreover, this keyboard comes with a soft touch dual sided wrist rest, which will make your working convenient.
As you know this keyboard is offering Cherry MX Brown switches which is the great choice for those who love silent working. This switch has the perfect actuation force and actuation point for working longer without any fatigue.
Aesthetically, this keyboard is quite fancy and has a gaming-oriented design and might looks awkward to some. It is equipped with RGB dynamic multicolor per key backlighting with Light Edge, which has 19-zones illumination levels.
Besides of fancy lighting and colorful edge bar, the Corsair K95 is offering 6 programmable G-Keys fo in-game macros for faster performance, however, if you're not into gaming then this feature might not very special for you. Moreover, it has a dedicated volume control knob, which feels very nice.
The Corsair keyboard comes with an iCUE software, which gives you control over the dynamic lighting, macro programming, and full system lighting synchronization over all your peripherals. Moreover, with the onboard memory storage, you can save up to three setting profiles on the keyboard, which will make your keyboard independent and on-the-go compatible.
Having a slightly higher price than my previous keyboards the Corsair K95 is one of the best keyboards for fast typing in 2022, which is offering a top-notch build quality, RGB backlighting, 100% anti-ghosting, 6 dedicated programming macros, and USB pass-through cable.
The best build quality with Aircraft-grade aluminum
Included palm rest for convenient working
Beautiful RGB lighting with light edge
100% Cherry MX Brown switches for noiseless working with tactile feedback
Extra 6 programmable keys for gaming
Corsair iCUE software for macro programming, full-system lighting synchronization management
Embedded 8MB memory for saving up to three setting profiles on the keyboard, without the need for external software
 5. Das Keyboard 4 (Best Mechanical Keyboard for Typing Fast)
Whether we talk about the durability, design, or features, the Das Keyboard 4 is probably the perfect choice for typing work in 2022. However, this keyboard is slightly expensive than my all previous picks, but it totally worth it.
First of all, the Das Keyboard is offering Cherry MX Brown and Cherry MX Blue switches, you can choose according to your choice. This variant I am talking about doesn't have any backlit feature, but it's also available with RGB if you want.
Now let's come to the design, with the aluminum top panel and rugged construction it ensures a longer lifespan. Also, it has laser etched keycaps which won't fade wear out soon. According to the manufacturer, the mechanical switches which have been used in this keyboard can withstand 50+ million keystrokes, which is really amazing. Additionally, the Full N-key rollover with the anti-ghosting feature is available, therefore it can perform better in the gaming as well.
On the bottom side, there is a magnetically attachable foot-bar has been given which can be used as a ruler. Moreover, here are some extra media controls are given with an oversized volume knob, which comes in handy while listening to music, doing Skype or watching videos.
Unlike all keyboards of this list, the Das Keyboard is offering an inbuilt USB 3.0 super speed hub which is approximate 10x faster than traditional USB 2.0. You won't run out of USB port ever, it's very useful especially if you have multiple USB accessories.
Doesn't matter that you're looking a keyboard for typing or gaming, the Das Keyboard 4 is one of the best options in 2022 which is offering many great features such as solid build quality, inbuilt USB 3.0 super-speed hub, dedicated media controls, anti-ghosting, and professional design.
Beautiful and professional design with no bell and whistle
Dedicated media controls
Available in MX Blue and MX Brown switches
Sturdy aluminum build with a magnetically detachable footboard, which helps to raise the keyboard
The footboard can be used as a precise ruler
Laser-etched keys which eliminate the risk of wearing out
Inbuilt super speed USB 3.0 hub
Full N-key rollover feature for gaming
 6. Realforce 87U (Best Topre Keyboard for Fast Typing)
I know, I know! I didn't discuss the Topre switches above, but why I am recommending this keyboard? Nowadays, there are only a few manufacturers who are making Topre switch based keyboards, and they are quite expensive as well. But Topre switch has a special mechanism which makes them apart from the crowd. They also provide soft tactile feedback like the MX Brown switches without any clicky sound, but it's very mild and smooth. It won't feel like a clack and spring back up like a cherry switch due to the rubbery bottoming out.
The Topre switch requires less actuation force to operate and also provides tactile feedback, it is the beauty about this switch. If you use this keyboard then you'll feel that you're not using it, I think it's the ultimate feeling that I can tell you.
If we talk about the design, this variant is tenkeyless that I am discussing here, it's very ingenious and professional looking keyboard. On the other hand, it very robust and durable. Actually, it's offering PBT (polybutylene terephthalate) keycaps which are way much tougher and reliable than (ABS) Acrylonitrile butadiene styrene. Therefore, the keys won't fade out soon and there will be no shiny effect develop.
The higher price is the most disappointing aspect of this keyboard and won't fit with everyone budget. But one thing I can say confidently, the Topre Electrostatic Capacitive switch is the best choice ever for typing work. It's totally next level feeling that I can't explain with it just words, you have to purchase a unit for it.
Smoothest mechanical switch with soft tactile feedback
PBT keycaps for higher durability and won't fade out over time
Ingenious design without any frills
Wrapping it up
There are tons of options are available when it comes to mechanical keyboards, therefore it's actually not possible to list all of them. Moreover, this list is only based on my personal experience, I have tested dozens of keyboards, and these are some best of them that I would like to recommend in 2022
First, you have to decide whether you want clicky sound or not. Cherry MX Blue switch provides soft tactile feedback along with a satisfying "clack" sound, while MX brown switch also provides soft tactile feedback but with no sound. Moreover, MX Brown requires a bit less actuation force to fully register a key.
I believe, some other features such as RGB backlit, extra programmable buttons or N-key rollover are much beneficial only for gaming. For faster typing work, the keyboard the actuation force and actuation point should be minimum while RGB any fancy stuff would be just distraction. However, durability factors such as PBT keycaps, metal build or braided cable are the must.
With that out the ways, I have listed all type of keyboard according to all budget and requirements.
If you have a very strict budget, the Redragon K552 keyboard might be good for starting. It's featuring Cherry MX Blue identical switch which will provide clicky sound with tactile feedback.
While if you need a serious keyboard for typing then you'll be better off with Filco Majestouch keyboard, which is a very simple and professional keyboard with the solid build quality and original Cherry MX switches. On the other hand, if you need a fancy design the Drevo BladeMaster Pro might be a suitable choice for you, which is offering RGB backlit keys with many great features such as multiple connectivity options, extra programmable knob.
If you love gaming as well, the Corsair K95 keyboard worth mentioning here, it is one of the best keyboards typing which has all gaming features. But this keyboard has mainly gaming-oriented design, therefore it's might not look cool to all.
Overall, the Das Keyboard 4 is my overall best choice for fast typing work, which has all gaming functionality as well. While Realforce 87U keyboard is the most premium keyboard with Topre switches, which is very expensive, But if want the ultimate typing experience, grab a keyboard with Topre switches, it's a totally different switch among all mechanical switches.
What do you think about these best mechanical keyboard for faster typing for 2022? Let me know in the comment below. I will back to you shortly.
Thank you very much for reading, have a great day!