Keyboards are the most crucial weapon for programming, and they play the most important role in your performance. That's why we are here today to find the best mechanical keyboard for programming. Why mechanical? don't worry I have gathered some best information for you today to cleared all of the doubts.
If you read this entire post, I hope you will get the best keyboards for the programmer or at least aware of the factors that are most important.
Best Mechanical Keyboard for Programming
If you are in hurry, you can check my personal recommendation, which I am using for my work. And it is my third keyboard that is working efficiently according to my expectation, my earlier two attempts were failed. And, it is also a motive behind writing this post to help someone and avoid from taking a wrong decision like me.
As a programmer, why you need a programming keyboard?
As I said above, keyboards are the most crucial weapons for programming. Most of the time programmer's eye stare on the monitor(s) while typing with the fingers.
You may also like:
Because your fingers are in the direct contact with the keyboard, so it becomes recommended to choose the keyboard that suits your need. A good keyboard not only provides the best programming experience but also can boost your performance. On the other hand, a terrible keyboard can make things worse, and harm your performance greatly.
So, without further ado, let's get into the important factors.
What are the crucial factors that should keep in mind when picking the best keyboards for programming?
Keyboard Type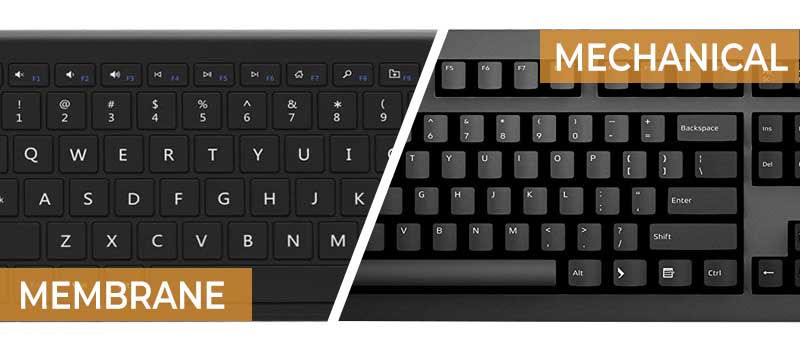 There are mainly two types of keyboards – Membrane and Mechanical. And it depends, which switch's technology has used in the keyboards.
What is the difference between the mechanical and membrane keyboard?
Membrane keyboards – These types of keyboards come with the rubber/plastic membrane underlay. And, when you press the keys, it collects the signal from the rubber switch under each key. Then this signal transfers to the computer for processing. It is the cheapest method to make a keyboard, that's why most of the laptops and computer come with default membrane keyboards.
Moreover, these keyboards don't provide any clicking sound or tactile feedback when working with them. The feedback plays a crucial role in typing, to ensure the key pressing and registering. 
Mechanical Keyboards – These keyboards have the dedicated switch for each key, and when you press any key the signal directly sends to the pc.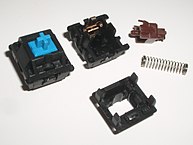 The best thing about these keyboards are – they provide excellent feedback on each key press. These are the perfect keyboards for programmers or the typist.
The construction of these keyboards is very complicated as compared to the membrane keyboards and there is not only a single switch type that is being used nowadays inside them. Moreover, all each switch has its own distinct properties, so it became necessary to understand.
First, we will discuss the properties of switches, so that will make easy to understand to match with our requirements.
It is the first factor that affects the user experience. It is also called an "operating force". How much amount of weight a key need, in order to be successfully registered, called the actuation force. And this is measured in grams (g).
In general, this range is between 45g to 80g, but according to my recommendation a 45-55g is ideal for convenient working, if you will go above that range, the keys will need a harder push and can cause finger fatigue. However, for gamers, they can be a great choice.
Actuation point is the distance that is traveled by a key to becoming successfully registered. It can vary according to all keys, usually, it ranges between 2 to 2.4mm. Moreover, most of the switches are became activated before they 100% pressed. So, it can save some force and time as well, because you don't need to push after activated and that will need some less force.
This is the most important thing to consider, it confirms that you have achieved the full actuation point and you don't need to press further.
How it will notify you? 
Well, the mechanical switches have a creative design inside them. When they pressed there are two parts that are responsible for this feedback – there is a bump that rubs against the metal clip, and this resistance produces the tactile feedback. Overall, the tactile feedback is a small resistance that you will feel when the key is registered, and it helps us for accurate typing.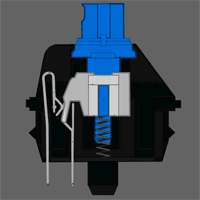 There is another thing that you should look into tactile switches – they will produce sound or not. And this part depends on your choice because some user doesn't want sound during typing, while some people love the high clicky sound too.
It is also a special mechanism that controls sound characteristic of the keys. Are you comfortable with clicky sound or not? make sure before choosing any keyboard.
Types of Mechanical Switches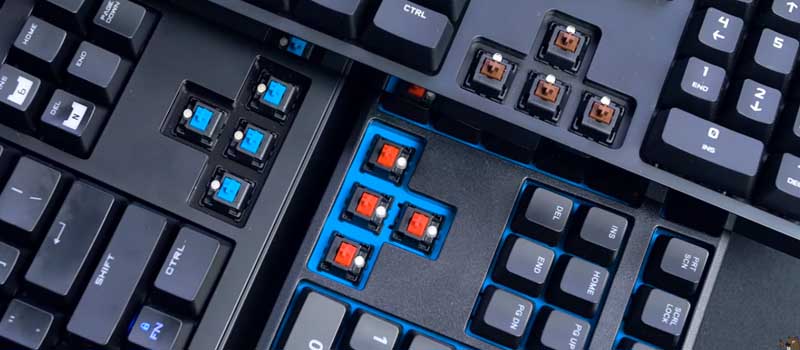 Have you heard about the MX blue, MX brown or Topre? What are these?
These are the types of the switches, and one of them you will find in the mechanical keyboards. But these are not the only switches, there are some other also available. Each switch has its own distinct characteristics, that we have discussed above – Actuation Force, Actuation Point, Tactile or Non-Tactile and Clicky or Non-Clicky.
Nowadays, Cherry and Topre are the major players in the mechanical switch industries, and you can find them easily is the most of the mechanical keyboards.
The table below shows the different characteristics of the popular switch types. 
| | | | |
| --- | --- | --- | --- |
|  Switch Type | Actuation Force | Key feel | Usage |
| MX Blue | 50g | Tactile / Clicky | Typing |
| MX Brown | 45g | Tactile / Non-Clicky | Typing / Gaming (hybrid) |
| MX Clear | 55g | Tactile / Non-Clicky | Typing / Gaming (hybrid) |
| MX Black | 60g | Non-Tactile / Non-Clicky | Gaming |
| MX Red | 45g | Non-Tactile / Non-Clicky | Gaming |
| Topre Standard | 45g | Tactile / Non-Clicky | Typing / Gaming (hybrid) |
You may probably be thinking now, that how much difference between the 40g and 60g switches. I want to tell you, there is no difference with the first few strokes, but a noticeable difference can be felt after 1 hour of programming because your fingers will start fatigue.
For the best mechanical keyboard for programming, it's best to go with the low actuation force, such as MX Blue or Brown or Topre. While MX blue switches have the higher actuation force (50g) with clicky sound, and MX Brown switches have the lower actuation force (45g) without a clicky sound. On the other hand, Topre switches are somewhat MX Brown switches, but they are capable to provide better feedback than the MX Brown.
Keyboard Size
Full size keyboard with 108 keys

TKL keyboard without the numeric keys on the right

Keyboard size matters, it's defined by how many keys do they have?  There are several types of keyboards are available in the market, but mainly keyboards have three types in terms of the number of keys, and you have probably heard about them.
Full size – A full-size keyboard comes with 108 keys that include number and function keys along with all standard keys.
Tenkeyless (TKL) – In these types of keyboards, the right numeric keypad is not provided. So, they have a slightly small size.
Compact – In these keyboards, you won't find any function key and right numeric keypad as well. Moreover, Home/End, PageUp/ PageDown and insert keys has also skipped.
Picking the keyboard size is depends on the user preferences. A full-size keyboard has the advantage of full keys. But on the other hand, they are heavy and big. Additionally, your hand might need to travel longer to reach the mouse.
While a TKL keyboard comes with the standard layout, without numeric keys. Personally, I love to work with the standard keyboard, and probably it is the best keyboard for programmers. Because they don't have numeric keys, so they are lighter and easy to carry.
Honestly, the compact keyboards are the most portable and lightweight, but it can cost you some important keys like Home, Insert, Delete, Page UP/ Page Down, F1…F3. If you use the function keys most then you won't go with them. Personally, I also don't recommend the compact size keyboards.
Finally, what were we looking for?
We have discussed almost all the important factors that should keep in mind before choosing the best mechanical keyboards for developers. But again, when we summarize all information then what we will get, I mean, what makes a keyboard programmer friendly? 
First of all, a good keyboard must provide excellent feedback on each stroke. And, as we discussed, there are two most popular switches and they provide great feedback – Cherry MX and Topre. Moreover, the keyboard also emphasizes the KISS principle: it should be as simple as possible. So, we can give attention to our work instead of the keyboard. That's why some gaming keyboards are not suitable for programmers despite being a great mechanical keyboard. However, it's my personal preference. Now let's collect all this information.
So, what are the thing that makes the keyboard programming friendly?
First of all the feedback, it is the most important for working efficiently and fast. Recommended switches Cherry MX, Topre.
Follow the KISS principle – Design should be as simple as possible.
Recommended keyboard layout – standard
Should have both full size and tenkeyless options
What about ergonomic keyboards, are they worth buying?
As I said above, with third attempt I became able to choose the perfect keyboard that suits my requirement and expectation. In the first two attempts, I have tested an ergonomic keyboard (Microsoft Sculpt Ergonomic Keyboard) as well.
Honestly, it will take time to get used to it. But, if you will able to do once, then it will be a little bit hard to come back to the normal keyboard. It is purely my personal experience, but unless you're experiencing wrist pain, you shouldn't think about the ergonomic keyboard. There is another reason for not choosing an ergonomics keyboard – they don't use mechanical switches, so the feedback is not impressive.
These are some issues so I won't include any ergonomics keyboards in this article, instead, I'll compile the best ergonomics keyboard in a separate article in future.
Best Mechanical Keyboard for Programming – Reviews
 1. CM Storm QuickFire Rapid (Recommended Keyboard)
CM is a well-known manufacturer for mechanical keyboards, and their products are a great example of great performance and reasonable price. The CM Storm QuickFire Rapid is one of the most popular products.
The CM Storm Rapid offers many Cherry MX switches support:  these are Cherry MX Brown, Cherry MX Blue, Cherry MX Green, Cherry MX Red. Moreover, it is available in TKL and full variant, if you don't like the right number keypad, then you can go with TKL variant.
This durability of this keyboard is of next level, keycaps are very reliable and replaceable, thanks to the laser marking process. Additionally, it features a braided USB cable, with cable routing, it means you are free to adjust the cable direction, where it should be coming out from – right or left.
If you play games then you will love this keyboard – from a switch, windows keys can be disabled. As I said above keycaps are changeable, and CM provided some spare keycaps, which can be replaced using keycap puller. On the other hand, if you want to use the Full N-key rollover (NKRO) feature, then you need to connect it with the PS2 connects, however, the adaptor is bundled with the package.
Overall, the CM storm is the best mechanical keyboard for programming, which provides top quality performance, next level durability along with the best price.
 2. Das Keyboard 4 (Mac Compatible Great Keyboard)
Das Keyboard 4 is another best mechanical keyboard for programming, but if you are comfortable with full-size. It is the only negative thing that I found in this keyboard – it is not available in TKL size; however, it is also a solid option for the programmer. Because, it is also available in Cherry MX Blue and Cherry MX Brown variant, and there is third Cherry MX Brown version that comes with RGB backlit. Moreover, for Mac users, there is another separated variant is available.
In my opinion, the design of Dash keyboard 4 is just brilliant, you are getting a dedicated media control knob, which can be used for the various task like – controlling volume during skype, google hangout or streaming music. Additionally, the inbuilt USB hub is very useful for connecting some additional devices directly to the keyboard, without the need of looking back to the computer motherboard.
The anodized aluminum panel design provides ultimate durability, and UV hard coated keycaps will not fade during use. The Full N-key rollover (NKRO) feature is usable with USB without the need for a PS2 adaptor.
Dash keyboard 4 is the solid choice for those programmers, who are looking for a full-size keyboard, with decent quality.
In terms of price, the Das Keyboard 4 is slightly better than our previous CM keyboard.
 3. Realforce 87U (Great Feedback with Silence)
If you are not interested in the clicky sound and still want the most satisfying feedback, then you might look into the Realforce 87U keyboard. The Realforce 87 U is a Topre switch-based keyboard. If you are not familiar with Topre switch, I want to tell you they have more complicated mechanism than the Cherry MX switches. You can compare them with the MX Brown, but they are capable of much better feedback and need less force to operate.
The Topre switches are the best for longer working, without finger fatigue, unfortunately, there are only a few keyboards that offer the Topre switch. And the Realforce that I listed here it offers Topre switch in the decent price.
This keyboard is available in only TKL version, and the keycaps are made from PBT (except the spacebar is still made from ABS), and they are rough. If you don't know PBT (Polybutylene terephthalate), it is the much durable material than the ABS, the durability level is 3 times. If you are looking for a most reliable keyboard then Realforce will not disappoint you.
The USB cable is not detachable and placed on the left side of the corner. Moreover, keys are printed in black and might be hard to see in the low light.
As I said above, Topre switches have very different mechanism than the Cherry MX switches, and they provide the best sensation: the smoothness along with great feedback, I might not explain in the word though. But if you ever use them, then you will feel what I am talking about.
Realforce is also one of the great mechanical keyboards for programming that offers Topre switches. Honestly, the Topre switch-based keyboards are slightly pricier, that can make you little back down.
 4. Vortexgear Poker 3 (Most Reliable and Compact)
As I said earlier, for programmer TKL keyboards are recommended, despite I am listing this compact size keyboard here. Because every user has its own taste, so it's always my responsibility to fulfill all users requirements. In case, if you want the best compact size keyboard for programming, then you don't need to look into another place. Because, this keyboards that I listed here, it is my best pick for best mechanical compact keyboard considering the durability, features, and price.
The Vortexgear Poker will cost you less than $150, that comes with Cherry MX Blue switches, and PBT durable keycaps. PBT is considered as everlasting key in the plastic, and it is very difficult to smooth out. The metal bezel construction makes this even more durable compact typing unit.
Despite, the compact keyboard, the Vortexgear Pocker 3 comes with 3 kind of layout – Qwerty, Dvorak, Colemak, and that can be changed through the DIP switch provided on the back.
Overall, the Vortexgear Pocker 3 keyboard is recommended for those users, who are looking for the most portable, durable and satisfying mechanical keyboard for typing.
 5. Rosewill (Affordable Mechanical Keyboard with Backlit)
Rosewill RK-9000V2 BR is the most affordable mechanical keyboard for programming, and it is available in Cherry MX Blue, Cherry MX Brown, and Cherry MX Red variants. Moreover, there are two variants that also support Blue and RGB LED backlit.
Unfortunately, this keyboard is only available in full-size, if you are looking for affordable TKL keyboard then you will definitely love our next pick.
This keyboard can be suitable for gamers along with programmers. Because there is N-key rollover function is provided, and keys have a longer lifetime up to 50 million clicks.
The inbuilt cables are detachable from the keyboard and their connectors are gold plated to ensure minimal latency.
The Rosewill RK-9000V2 BR is the great entry level mechanical keyboard for the programmer, that comes with good built quality and available in difference Cherry MX switches.
But keep in mind it is a full-size keyboard. If you are looking for TKL budget keyboard then you should check our next pick.
 6. HyperX Alloy (Budget TKL Mechanical Keyboard)
There is a slight difference between the Rosewill RK-9000V2 BR and HyperX Alloy keyboard. Unlike Rosewill, the Hyper X Alloy is available in both TKS and full-size version.
While both are available in the MX Blue and MX Brown version and supports the backlit feature. Moreover, there is also N-key rollover feature given, which is useful in the gamer.
The prices are almost similar if we compare the full version both of them, but if you will pick the compact version of HyperX keyboard then it might cost you less compared to the Rosewill.
Overall, the HyperX Alloy HX-KB4RD1-US/R1 is a great budget mechanical keyboard for programming, that comes with detachable cable, great performance, and N-key rollover function.
If you just want to become familiar with the mechanical keyboard or just not ready to purchase any expensive mechanical keyboard, then you might consider this keyboard, it will be going to make a great impression on you despite the budget price.
Wrapping it up
Finally, I hope, I have become successful in clearing your doubt regarding the "why mechanical?" along with other questions – as I promised in the starting. If you are reading this, I hope you have gone through the whole article and found your best mechanical keyboards for programming already. If you have not read yet, please go for it.
Again, in short.
If you looking for the most suitable best mechanical keyboards for coding, the CM Storm QuickFire Rapid is the great pick for you today. While for those, who are comfortable with the full-size keyboard, then going with Das Keyboard 4 is a smarter idea.
Moreover, for those who want the best feedback without clicky sound, then Topre switch-based Realforce 87U is the ultimate choice for them.
On the other hand, KBC Poker 3 is the most compact keyboard that comes with the decent build quality and portability.
Finally, for those who have the tight budget, they can go with HyperX or Rosewill both are good but HyperX is available in both sizes (TKL, Full).
The choice is yours, all of the keyboards that are listed here chosen very carefully after considering the maximum suitability for programmers.
If you have any question regarding these mechanical keyboards, then please let me know in the comment below, I will get back to you shortly.