By Nootan Kumar | Last updated January 14, 2019
Technology is growing rapidly, and there is high competition in the market, that's why affordable prices are taking place for high-quality products. If we were talking in 5 years back, then at that time good monitors for photographers were very expensive.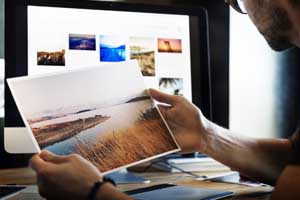 Best Monitors for Photo Editing Under 500 $
Nowadays, you can find a high-quality monitor for photo editing without spending $1000+ money. Are you don't believe? I will make this happen today.
If you read this entire post then you will definitely find the Best Monitors for Photo Editing Under 500 $, and we will also discuss the important things that should be considered before purchasing a photography display.
So, let's get started
Now, what are the important factors that should be considered before purchasing the best monitors for photo editing?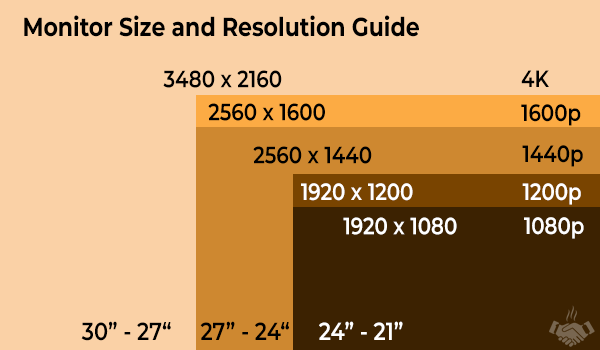 These are the most basic features for any display that should be considered first, and they depend on the user's requirement and budget. If you are reading this post, means probably you are looking for the best budget display under 500 $, in this price range you can get a 24 – 27 inch easily. Moreover, display resolution should be chosen according to the size of the display, however, the higher the better. Additionally, higher resolution display also provides an additional screen space to work.
The above infographic states the sufficient resolution requirement according to the display size.
How many frames a display can show within a second, that is called refresh rate, it is represented by Hz (Hertz). Usually, for photo editing work you don't need any super refresh rate, and nowadays most of the monitors are coming with 60Hz refresh rate. So, it is not a big problem, however, if you are into video editing or gaming into then it becomes necessary to go above 60Hz refresh rate to avoid blurring and ghosting effect.
You can check out our other post on best ultra wide monitors for gaming, where some of the IPS panels are too good for video and photo editing, they offer the higher refresh rate and low response time.
Well, let's move to the next point!
A response is the amount of time, which is taken by the pixel to go from black to white or switching between different gray shades. And it can cause ghosting and blurring effect. You can simply understand at like this, the lower time is better.
For photo editing task, it is not a most crucial factor to consider, almost all monitors having the capability to do the good work for you in this price range. But. at least you have to aware of these things while choosing any monitor.
Screen technology: IPS, VA or TN?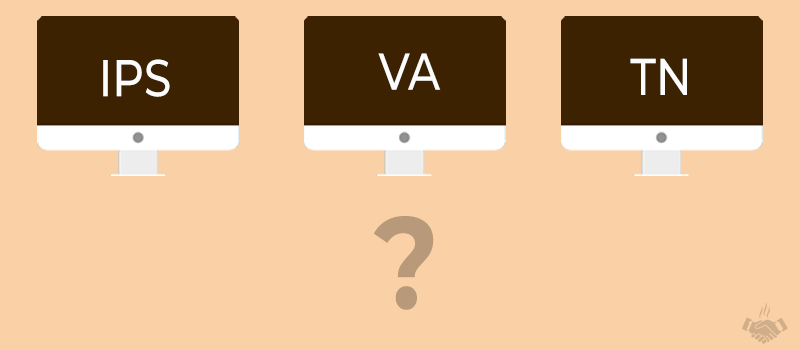 TN (Twisted Nematic) – These panels are the worst for photo editing, however, they are perfect for gaming monitor. Due to the low view angle, poor color accuracy, and low brightness, you can't even imagine doing color sensitive work.
VA (Verticle Alignment) – Color accuracy is the most vital ingredient in photo editing, and we can't take the risk for result manipulating. What we are seeing on the monitor and what we getting when printed, its all about color accuracy. Unfortunately, VA even not the best technology, and can give you bad surprise often.
IPS (In-Plane Switching) – And finally, here is the best technology for photographers, to ensure the accurate color. IPS panels tend to provide the widest view angle and vivid and accurate color, that's why it becomes compelling for the photographers to go with them, and should be too.
What about the panel's lightning: LED or not?
Yes! for photo editing, you can go with the LED-backlit technology. LED is the best-mastered technology nowadays. There are a lot of advantages of LED-backlit monitors: For example
They can provide brighter images
LEDs have the longer lifespan compared to the CCFLs
Monitor becomes thinner
Lower power consumption
On the other hand, LED-backlit panels are pricier than the CCFL based display.
Now take a look at our top-rated monitor under 500$.
Top Rated Monitors for Photo Editing Under 500 $
Best Monitors for Photo Editing Under 500 $ – Reviews
DELL U2718 is one of the best monitors for photo editing under 500 bucks. First of all, it comes with Ultra HD 4K (3840 x 2160) resolution 27″ display. In general, for 27″ screen 2K resolution is sufficient in most of the cases. But the 4K resolution is, even more, better for photo edition work, that will provide the best accuracy and more area for work. Additionally, there is HDR10 support is available, so it will provide a greater depth of color.
Overall, the Dell U2718Q provide the vivid colors, maximum color accuracy, and great contrast ratio, and that are the very crucial requirements for any photo editing display.
When we talk about the design, it can be rotated and you can convert it to portrait mode if you need to. Moreover, the bezels are very thin, so it could be a great opportunity to make multi-monitor setup ensure minimum black borders.
The build quality is fantastic, it allows to tilt, rotate and height adjustment, that is a good option and not available in every monitor. For connectivity, there are DisplayPort, HDMI, 2x USB 3.0, Headphone Jack and uplink USB ports are given.
If you are looking for a decent display for photo editing or graphics designing without spending $1000, then the Dell U2718Q is a recommended monitor for you. That comes with high-quality 1.07 billion vivid colors, accurate image quality, and HDR10 feature.
Have you heard about BenQ SW271, that is the most popular monitor for photo editing among professional photographers? But, unfortunately, that is so expensive and having the price above $1000. But we are talking about affordable displays under 500, and BenQ also having some budget monitor also in their lineup.
The BenQ PD3200Q is one of the top monitors for photo editing under 500. It comes with 32″ big display, with QHD resolution. If you were using the 24 or 27-inch monitor before then you will amaze from its size and display quality. Moreover, it is capable of 100% sRGB color and wide view angle, which is an essential part for better photo editing. Additionally, there is EYE-CARE Technology is introduced in this monitor by BenQ, and that eliminates some blue light and flicker, it can be comfortable for if you work longer.
If you know about KVM (Keyboard Video Mouse), that can help you to control multiple computers from a single monitor. And you are also getting that feature with this display.
Like our previous monitor, BenQ also allows providing an adjustable stand. Additionally, there is DVI, and 5 x USB ports are given along with HDMI, DisplayPort, and headphone jack.
If you are looking for some big size monitor above 27″, then BenQ can be a considerable option for you, that offers stunning color accurate display, great build quality, extensive connectivity, and KVM compatibility.
If you can increase your budget slightly over $500 then you can grab an opportunity for having a 34″ ultra-wide monitor on your desk. However, it is not costlier than $600, and it can still provide decent image quality along with a massive display size.
This ultra-wide monitor comes with a QHD IPS panel and which is 99%sRGB colors calibrated. Honestly, when we talk about the resolution, which is slightly low compared to the other smaller displays, despite it is a great choice for photo editing or graphics designing. Additionally, it comes with AMD FreeSync technology, so if you want to play games, your experience is going to awesome.
For connectivity concern, this display offers 2 HDMI ports (1.4, 2.0), DisplayPort and 2x USB 3.0 (fast charging supported) ports. Additionally, it supports tilt and height adjustment, so you can set position accordingly.
With big screens, you are allowed to do multitasking, the inbuilt LG Screen Split and PIP mode are very convenient for work efficiently.
Overall, at $500 price range LG 34UC80 is the best ultra wide monitor for photo editing with the curved design. That offers FreeSync, bigger display, QHD resolution, vibrant colors, and adjustable stand.
If you are looking for the big display within the budget then you might consider this display.
The Samsung U28E590D is the cheapest monitor in our list for photo editing work, and it will cost you around $300. If you are looking for the cheapest and decent quality monitor for photographic work then you shouldn't pass this deal.
Why it is the best budget monitor for photographer and designer?
Honestly, when we compare it with the Dell U2718Q or LG 27UK650-W (Both has been reviewed in this post), then it can't compete with them in all terms. However, the size of this monitor is greater than both from them, so slightly bigger size with same resolution can downgrade quality a little bit.
However, there are many other things that affect the display quality.
As we said, it is a 28″ monitor and comes with the 4K resolution, so the image quality is going to sharper. Moreover, the AMD FreeSync support makes this display a higher performance unit, so it can be also used for gaming.
That's being said, this display is capable to display 1 billion colors, I think it is a plus point for a budget display. Moreover, PIP 2.0 mode is very helpful for multitasking, and PIP mode also capable of maintains the source's original resolution.
What's more, this display comes with the 1ms response time and fast refresh rate, so along with photography work, it won't mind if you play the game on it.
Overall, the LG 27UK650-W is the best budget photography display with 4K resolution. If you are looking for a cheap and good monitor for photography work or designing or even want to make a dual monitor setup without burning you bank account
LG 27UK650-W is another great quality display for the photographer. But it is not the ultra-wide display like our previous LG monitor, it is a standard 27″high-quality 4K display that comes with HDR 10 support. So, the display quality is far better than the LG 34UC80-B model, even I can say it is also one of the best monitors for photography. Additionally, there is FreeSync support is available to ensure better gaming or video editing.
I want to tell you, it is a 27″ display and if you looking for something big then you should look at BenQ PD3200Q or LG 34UC80-B.
Like some other monitors, this display is tilt, pivot, and height adjustable.  Additionally, there are some other helpful On-Screen Control features are given like – Screen Split 2.0, Dual controller, and quick and easy windows arrangement with just a few clicks of the mouse instead of hard buttons on the monitor.
Overall, the LG 27UK650-W is also a solid option for photo editing work. And it is the hardest competitors for Dell U2718Q, but it wins in terms of some affordable price.
Dell U2718Q and LG 27UK650 are having almost same features but LG is providing 28" at the lower price. However, Dell U2718Q is my personal recommendation, but it totally depends on you what do you want?
As you can see, we have included different types of best monitors for photo editing under 500.
Personally, I would like to recommend the Dell U2718Q, because 4K resolution in the 27″ panel with HDR is the amazing combination for greater accuracy, which is a vital ingredient of photography display. Or you can go with LG 27UK650-W, both are 27″ pixel-dense display for photographers.
In case, if you are looking for some big display, then check our BenQ PD3200Q or ultra wide display LG 34UC80-B, they are one of the best monitors that are capable to maintain the image quality despite big size.
And lastly, the Samsung U28E590D is the ultimate solution for those who have a tight budget even under $500. And, when I will tell you that is also a 4K panel with 28″ size, can you believe it?
Well, if you have any question regarding these photography displays then leave in the comment below. I will back to you in a while.
Nootan Kumar is a 24-years-old Blogger from India. He is a Cisco certified network engineer and currently doing the job in a reputed company. He is very enthusiastic about Computer gadgets and technology. Read more about him
Affiliate Disclosure
10HotDeals.com is a participant in the Amazon Services LLC Associates Program, an affiliate advertising program designed to provide a means for sites to earn advertising fees by advertising and linking to amazon.com.