By Nootan Kumar | Last updated February 15, 2019
If I would say "the life of programmers is not easy without a good monitor" then you can't deny, because a monitor plays a crucial role in productivity, and an inappropriate selection can cause health issues as well.
As you know, programming is one of the most critical tasks which requires rigorous coding and constant focus on the computer screen for several hours.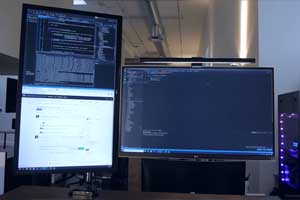 Therefore, besides a perfect programming mouse or an ergonomic keyboard, choosing a perfect monitor also becomes very crucial.
Nowadays, the market is highly saturated, whether we say ultra-wide, gaming, curved, 4K, IPS, VA, TN, HDR, FreeSync or G-Sync, there are tons of options are available. Therefore, finding the best monitors for programmers in 2019 becomes a bit tricky too; because, the best coding monitor should be optimum efficient, reasonable sharper & vivid, and highly ergonomic for health concern.
Also, read: best mouse for programmers in 2019
Probably there will be many questions are taking place in your mind, such as:
Which size is perfect for a programming monitor, does it should be curved or ultra-wide?
How much resolution will be the best for efficient coding experience?
Do I really need a 4K monitor?
Which display technology should I go with?
Is there any advantage of having a multi-monitors setup into the programming?
What are the monitor's features that affect our health when we ignore while choosing?
This post will give you all answer to all of your questions, also you'll get my handpicked recommendations for programming display. Hopefully, you won't need to go read elsewhere for selecting a perfect monitor for your programming work.
Before giving the answer to your questions, I would like to show my all recommendations first, however, you can read the buyer's guide anytime by scrolling to the bottom or clicking from the content list right on the top.
So, let's jump into the reviews.
Top-Rated Monitors for Coding in 2019
Click on the monitor's name to know more.
Height / Pivot / Tilt / Swivel
Height / Pivot / Tilt / Swivel
Best Monitors for Programmers in 2019 - Reviews
15.5 lbs | 23.8″ | 1920×1080 | IPS
On the update of this article in 2019, the HP VH240a has taken the place of our previous affordable monitor that was Acer R240HY. However, the Acer R240HY is still a quite popular monitor for the budget range, but it is coming with a fixed stand and lacks the customizable feature.
On the other hand, the VH240a is providing a fully adjustable stand with portrait mode support, which is a very useful feature for developers. You are allowed to adjust the height, tilt, and pivot as per your comfortable position, moreover, in the portrait mode you can viewing longer lines of codes. Additionally, if you planning to hand your monitor on the wall then you can do it easily with its VESA compatible holes.
Also, keep in mind it is a budget-oriented option; therefore, you'll be getting a 23.4″ screen with a full HD (1920 x 1080) resolution. The screen quality is very good but the size might not good for all, if you need something big options then you can scroll down for big monitors.
Despite a small screen, the HP VH240a could be a perfect choice for dual monitor setup for the budget price, because the thinner bezel design will provide an immersive viewing experience, and the adjustable stand will allow doing positioning according to your choice.
On the back side, this monitor is equipped with the HDMI and VGA ports. Fortunately, it is offering the inbuilt speakers, which can be used for viewing video or playing music.
If you're looking for a small and affordable monitor for your coding work, then the HP VH240a could be a perfect choice.
Most affordable price
Good display quality
Fully adjustable stand with VESA mount
Inbuilt speakers
Beautiful design with thin bezel and portrait mode support
8.53 lbs | 27″ curved | 1920 x 1080 | IPS 
Have you ever heard about the Sceptre company? If yes! then you definitely know, it is one of the leading brands for the LCD/HDTV manufacturing for over 30 years. The most special thing about them is; they provide amazing products at the most aggressive price.
The Sceptre C278W is one of the great examples, you are getting a 27″ full HD display with the curve shape, which is really amazing for the under 200$ price.
Besides the curved design, the display is pretty eye-friendly, it can reduce the eye fatigue with the Blue Light Shifting. Moreover, with the DisplayPort, HDMI and VGA ports, it provides flexible connectivity. Additionally, the audio in and out ports are available along with inbuilt speaker support.
But you have to keep in mind, this monitor doesn't support the adjustable stand feature. However, you can get a third-party customizable stand to handle this stress which can be connected on the VESA compatible holes.
Overall the Sceptre is the most affordable 27-inch curved display, which is offering a wide range of connectivity options with the inbuilt speaker. With the curve design, low blue light mode, and full HD resolution this monitor can provide an immersive coding experience.
Affordable price
Beautiful thin bezel design with curved panel
Good display quality
Flexible connectivity options
Convenient low blue lighting to reduce eye fatigue
Build quality is average
No adjustable stand
8.3 lbs | 27″ | 1920 x 1080 | IPS
While, the HP VH240a is a great monitor for the cheapest price, but it has a somewhat small size, therefore, the HP 27er could be the best bet for you if you are looking for a big monitor for the cheap price.
As I said in the buyer's guide section, a 27-inch size monitor is the best in most cases because it is enough big to read text conveniently even from some distance, and doesn't take much space on the desk.
With the full HD resolution, the 27-inch display has enough crisp image quality, additionally, the bezel-less design is icing on the cake, and perfect for making a dual monitor setup.
Aesthetically, this monitor is offering a clean and slimmer design and looks very awesome. Sadly, there is no sign of customizable stand or VESA hole on the back side, and you'll need to satisfy with only tilt support.
For your connectivity-eager computer cables, you'll get 2x HDMI and VGA ports with the headphone out.
The HP 27er is a 27-inch full HD IPS monitor which is offering a stunning thinnest design with the narrow bezel and good performance. Without spending an awful amount of money, this beautiful monitor can provide an amazing programming experience.
Budget price
Beautiful design with narrow bezel and slimmest body
Good display quality with a great contrast ratio
Lightweight
Only tilt adjustment
Bezel-less and thinner design is causing less durability
14.3 lbs | 32″ | 1920 x 1080 | IPS
Some programmers prefer a big display rather than dual monitor setup, which provides more room to work within a single screen. The monitor that I am talking about has a 32-inch IPS panel and you don't need to spend more than 250$, it is really appreciable. However, there are even bigger options are available (scroll down to check them out), but considering this price range, the LG has done a great job.
The 32-inch screen with the full-screen resolution can provide a justified image accuracy and the Split Screen 2.0 feature allow to break the screen up to 4 segments, which help to increase the productivity.
This monitor supports the DisplayPort, VGA, HDMI connectivity, along with 2 x USB2.0 and USB2.0 (up), therefore you are welcome to use this monitor with different devices. Moreover, it is compatible with the VESA mount, which allows it to easily hang on the wall.
For health concern, the LG 32MA68HY-P comes with Reader Mode, which is very useful and alleviate eye fatigue by reducing blue light. It is very ideal for those, who spend a lot of time in front of the monitor.
If you are looking for a big display for your programming setup without spending a lot of money, the LG 32MA68HY-P could be a solid choice.
Amazing price
Big screen with Split Screen and reading mode features
Justified image quality
Versatile connectivity options
10.1 lbs | 27″ | 1920 x 1080 | IPS 
While my previous monitor the LG 32MA68HY-P is a good option for big screen lover, but with only full HD resolution the accuracy slightly decreases. The DELL P2717H 27 is a totally balanced option, it is offering a full HD 27-inch display with the adjustable stand and portrait mode, which is perfect for programming. You will get amazing image accuracy with the freedom of adjustability.
The special thing about this monitor is that it comes with a very flexible and comfortable design, that allows you to change the height according to your need along with swivel and tilt adjustments. You can quickly go from landscape to portrait mode in just a second.
On the back side, there are DisplayPort, HDMI, and VGA port, along with the USB 3.0 ports (super speed inbuilt HUB) are provided, which provides seamless connectivity with different devices.
if you want to set up a dual monitor setup, this device is a great choice, it is offering a very thin bezel design with the portrait mode support to ensure the amazing borderless view and flexible working experience.
The DELL P2717H monitor offering a solid built quality with the most professional, clean and clutter-free design. If you are not ready to spend extra on your programming setup then it is one of the best monitor for coders, whether it's about the image quality, durability, adjustability or connectivity, this monitor will meeting the expectation in every aspect.
Best Price
Brilliant image quality with professional design
Fully adjustable stand with the portrait mode support
Extensive connectivity options with inbuilt USB 3.0 super speed HUB
Solid build quality
Port faces are downward and could be a bit annoying while connecting
12.3 lbs | 27″ | 1920 x 1080 | TN | 144 Hz | 1ms | Free-Sync 
If you are into the gaming then an IPS monitor won't work for you because of the low refresh rate and high response time. With that out the way, the Asus VG278Q is a considerable option here, with the inbuilt Adaptive-Sync and compatibility with G-Sync devices this monitor is one of the rare species you can find.
Besides a 27-inch full-screen TN panel, this monitor offering the 144Hz refresh rate and 1ms response time, which is ideal for fast-paced video games and eliminates the ghosting and blur effects.
Also, read: best 1440p gaming monitors of 2019
Like DELL P2717H, this monitor also offers tilt, swivel and height adjustments with the portrait mode support, and thumbs up for that. Moreover, in the connectivity department, this monitor supports the DisplayPort, DVI, and HDMI, so it is compatible with the old technology as well.
Here, I want to remind you, it is a TN panel monitor; therefore, you can expect the color accuracy here, if you are working with some color sensitive task then I don't recommend it.
However, you can run any types of games on it without any problem, whether you can AMD or Nvidia based hardware it can provide a seamless performance with them.
The Asus VG278Q could be a perfect replacement for the DELL P2717H monitor if you're a bit inclined to the gaming. With that out the way, both monitors are best for a budget price; the DELL P2717H is offering the higher color accuracy with tempting viewing experience and Asus VG278Q providing higher performance to ensure seamless gaming
Justified price
High performance with inbuilt Adaptive-Sync and G-Sync compatibility 
Fully adjustable stand with portrait mode support
Good display quality with narrow bezel
Wide connectivity options
Solid build quality, sculpted for gaming
Not ideal for color sensitive tasks
16.8 lbs | 34″ Ultrawide | 2560 x 1080 | IPS | FreeSync | 99% sRGB 
Instead of having a multi-monitor setup, a single ultra-wide monitor is somewhat a better option, it provides an immersive viewing experience without formation of annoying space between the two monitors. The LG 34WK650-W is one of the amazing ultra-wide monitors which I want to recommend here.
With the 34-inch ultra-wide panel and full HD resolution, this monitor could be a nice choice for programming at the mid-range price. Additionally, it is offering the HDR10 compatibility and sRGB 99% color gamut, therefore the image quality is going to be just excellent.
The LG's Split Screen feature is quite helpful itself, which allow to multitasking with ease. Moreover, this monitor is also featuring the AMD FreeSync technology, therefore, if you have the AMD based graphics card then you can enjoy the seamless gaming with fluid movement.
As I said above, this monitor covers the sRGB 99% color gamut and support HDR10 too, this way it can produce a very vibrant image with higher color accuracy. You may probably know, the 99% sRGB color gamut considered as an acceptable color accuracy in the printing standard.
The LG 34WK650-W monitor is held by an ArcLine stand which allows changing the height and tilt according to your choice.
If you are looking for a bigger display for the mid-price range, then the LG 34WK650-W could be the best bet for you.
32-inch Bigger display with Ultra-Wide resolution
Brilliant image quality with the 99% sRGB color gamut and HDR 10
Height and tilt adjustable stand
FreeSync technology provides seamless gaming
USB ports are not available
27.6 lbs | 32″ | 3840×2160 | IPS | 100% Rec. 709 and sRGB | 350 cd/㎡
I have already listed the DELL P2717H 27, which is already an amazing monitor for coding work, you can also make a dual monitor setup with that, in the budget price. Until you are not going to use your monitor for into some color-oriented tasks you don't need to think about this monitor, there are plenty of cheaper options out there.
Yes, the BenQ PD3200U is the sharpest and most color-accurate monitor of our list, which is offering a 32-inch IPS screen with the UHD (3840×2160) resolution; therefore, the screen accuracy is way much higher. Moreover, with the support of 100% sRGB color gamut, it can provide brilliant colors quality with wide view angle.
While this article was being updated, the BenQ PD3200U has taken the place of ASUS Designo MX27UC monitor. Although, the Asus Designo is still a great monitor, and you can go with that, but the BenQ is an even better choice.
Again, I want to tell you, it is a slightly expensive monitor because of the premium features. Therefore, if you looking for a budget option then you might like the LG 32MA68HY-P which is offering the same screen size with some compromise in the display quality, and you don't need to go above that if you just going to use it only for coding work.
As I said in the buyer's guide, some developers prefer the 4K display because it provides higher accuracy, and more room to work with a single display without compromise in the image quality. With that out the way, the BenQ PD3200U becomes the perfect monitor for programmers. Moreover, the 32-inch big display with fully adjustable stand and portrait mode support is pretty good for immersive and flexible viewing.
The BenQ PD3200U is a versatile monitor it means you can use it for photo editing, programming or even for gaming, it'll fit well in every role. Additionally, with the Eye-Care technology, it provides a flicker-free and low blue light image quality to ensure the minimal eye strain and fatigue.
The KVM is another interesting feature that I forgot to tell you. Basically, with that feature, you can control two computers with a single mouse and keyboard setup while they are connected with this monitor.
The BenQ PD3200U is one of the best monitors for the developers which is offering the best display quality with fully adjustable stand and portrait mode support.
Most color-accurate display with 100% sRGB color gamut and UHD resolution
The most versatile monitor: can be used for photo editing, programming or even for gaming
Control two computers with KVM feature
Fully adjustable stand with portrait mode orientation support
Extensive connectivity options
Solid build quality with stunning design
Great eye comfort with Low Blue Light Mode
26.7 lbs | 38″ Ultrawide | 3840×1600 | IPS | KVM | USB Type-C
Compatibility is really a pain when it comes to finding a perfect monitor for Mac users, due to the high competition between the manufacturers there is a quite relief though.
The previous year, the Samsung also has unveiled their first ThunderBolt 3 monitor named Samsung C34J791 but is available with only 34-inch size and a bit expensive too. While the Dell U3818DW is offering a bigger screen and great features for some less price, that's why I have listed the Dell U3818DW over Samsung C34J791.
Also, read: best ultra-wide monitors for Mac in 2019
Whether you are going to use this monitor with iMac or MacBook the Dell U3818DW is a perfect choice, you'll be getting an immersive viewing experience with the ultrawide display. The 38-inch screen is quite big, which allow doing multitasking seamlessly. This monitor also could be a perfect choice those who are looking for the dual monitor setup because it's a one-man army.
Along with the bigger screen, the Dell is offering a wide range of connectivity, there are 2x HDMI, 1x DisplayPort, 2x USB (upstream), 2x USB (downstream) and 1x USB Type-C port are given. The USB Type C (ThunderBolt 3) port is capable to transmit the display while simultaneously charging your device. Additionally, this monitor supports the KVM feature as well; therefore, you can control two different computers with a single keyboard and mouse.
According to the manufacturer, this monitor is also offering the RF and Bluetooth 4.0 connectivity options, and allow to connect up to six compatible devices.
If you want to take your programming experience to the next level, the Dell U3818DW is the best monitor for programmers and could be a perfect upgrade. This monitor is compatible with a wide range of devices including the Mac.
The great thing about the ultrawide monitors is; you don't need to mess up with multiple cable or dealing with annoying space that forms between the screen borders in dual monitor setup. Especially for Mac users or who have USB Type-C supported device, it could be a perfect choice, because you'll just need a single cable to connect with your monitor and charging your device.
The giant ultra-wide screen provides more room to work and increase productivity
The IPS panel with WQHD + (3840×1600) resolution, to ensure the optimum accuracy
Professional design with thinner borders
Inbuilt 9W speakers
A wide range of connectivity options
KVM feature to control two pc with a single pair of keyboard and mouse
Seamless one-cable connectivity for Mac and USB Type-C supported laptops
Heavy due to big size
Not for everyone due to a high price
19.8 lbs | 38″ Ultrawide | 3840×1600 | IPS | HDR10 | sRGB 99% | USB Type-C
If your budget is very high, then the LG 38WK95C-W is a solid choice, it is also offering a 38-inch ultra-wide display like our previous Dell monitor, but is providing many other great features too.
Although, both monitors have been powered by the same display panel, which is manufactured by the LG itself, the LG offering the higher color accuracy (99% sRGB color gamut) and HDR 10 compatibility.
With the ultrawide and borderless 38-inch display, you can do effortless multitasking and will get immersive viewing experience.
Along with the all standard ports the LG has provided the USB Type-C support for this monitor, so it'll be equally beloved by the Mac users. Of course, the USB Type-C (ThunderBolt 3) is a future-proof port and if you are getting in your monitor it would be the best. Not just only for a monitor, I would like to recommend the Type-C port for every device like a laptop, tablet, smartphone or drone.
like the LG 34WK650 monitor you are getting an ergonomic stand for you to comfort need; however, it is not a fully adjustable stand but it allows to do some height and tilt adjustments.
Overall the LG 38WK95C-W is the ultimate choice for programmers, it is offering a brilliant quality display with the ultrawide WQHD+ resolution and 38-inch size. You don't need to make a dual monitor setup if you have an LG 38WK95C-W on your desk.
Moreover, with the USB Type-C, you can connect your compatible device with a single cable for display out and charging simultaneously.
Huge 38-inch ultrawide display with HDR 10 and 99% sRGB ensures the brilliant images quality
Seamless multitasking capability with 21:9 aspect ratio
USB Type-C for hassle-free connectivity
Beautiful Arc-design ergonomic stand for height and tilt adjustments
Stunning design with thin borders and body
Best Monitors for Developers in 2019 - Buyer's Guide
Whether you are building a new pc from the zero, extending display from your laptop, or just upgrading your old setup with adding another monitor into your workstation, a monitor plays the most important role in the productivity.
As I promised above, this section will provide all key points, which should be considered before choosing the best programming monitor in 2019; meanwhile, your questions will be answered as well.
So, what is the first thing that we should consider?
Which is the best panel for a programming monitor?
This factor is one of the most important before choosing the best monitor for coding; because it defines a major part of the monitor's display features like color quality, view angles, contrast ratio. There are mainly three types of display panels available, known as In-Plane Switching (IPS), Vertical Alignment (VA) and Twisted Nematic (TN).
In-Plane Switching (IPS): IPS panel is the best for programmers because it offers the best view angles, vibrant colors, good contrast, and great performance. Usually, the monitors with IPS panel are a bit expensive than other. With the natural color quality, good contrast ratio and wide view angle, the IPS panels provide an optimum text and image viewing experience, and ideal for longer work. IPS panels are widely used and can be easily found in many monitors.
Vibrant and vivid color quality
Best view angle
Amazing performance
Also, read: best monitors for photo editing
Vertical Alignment (VA): These panels ideally fit between the IPS and TN panels. They also provide good color quality and contrast ratio, but they less commonly found.
Good color and contrast
Good Viewing angle
Ideal performance
The VA panels can also be a considerable option for the programming monitors. They don't provide the image quality like IPS panels but they still an affordable and good choice.
Twisted Nematic (TN): These panels are highly recommended for the gaming monitors because they provide faster response time and refresh rate. They can't help a lot for coding, they lack view angle and color quality.
Also read: Best ultra-wide monitors for gaming
High refresh rate
High response time
Poor view angle and color quality
What is the ideal size for a perfect programming monitor?
The size of the monitors totally depends on your requirements, although 24-inch and 27-inch are the most commonly used and can be found on the many developer's setups arrays. Usually, the 27-inch size is enough to see what you are doing and doesn't dominate over your desk.
How much resolution is best for coding displays?
Well, the resolution requirements depend on the size of the monitor, if you want a monitor of 24-inch then you don't need to go above 1080p (Full HD). Apart from that if you go above the 24-inch then you should also look for the high resolution.
You can get an idea from this below infographic.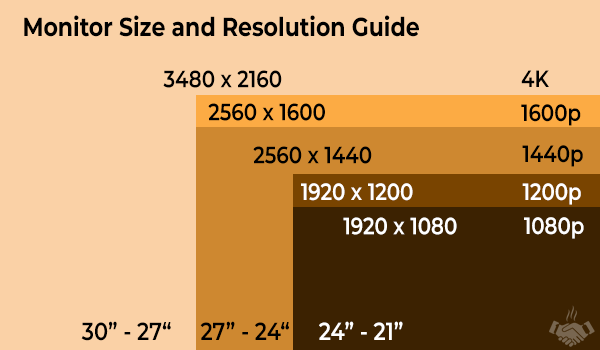 Do I need a 4K display for programming?
There are many programmers, they prefer the 4K display. You probably know, as much higher the resolution, the sharper the picture will be. Basically, the 4k monitor provides the sharper image, because there are lots more pixel.
Why some programmer prefers the 4K display?
First of all, the big size and high resolution provide the more room to work on a single monitor. With a 4K larger display, you can open multiple windows and you will still have a crisp image quality. This is the great condition when you want an ultra-wide monitor instead of a multi-monitor setup.
But there is a downside of these monitors too. You need a good quality graphics card support (HDMI/DisplayPort) to make this high resolution to work properly.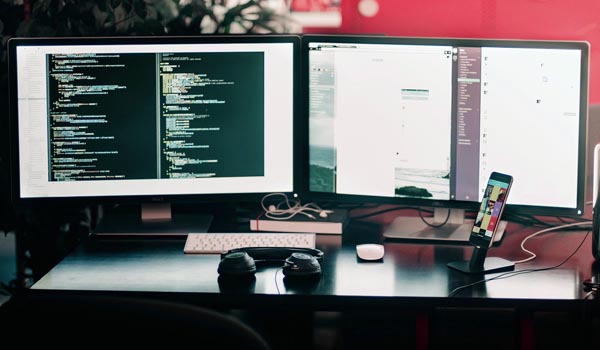 Is a multiple-monitor setup better for programming?
Honestly, this depends on your budget. But, using multiple monitors, you can get more room to work, so it will increase productivity.
Generally, a single widescreen monitor has always been the norm but Using dual or triple monitors can take your programming to the next level. Maybe it's time to expand your workspace by adding an extra monitor or two.
What are the benefits of using multiple monitors for coding?
Working with multiple programs at the same time: Programmer often works with at least two programs, one for code the website or application and another for testing the result. So, this is the place where the second monitor plays the main role. This also helps, when you need to always keep open any programs like mail or chat, to collaborate with your team while working on the project. Instead of having to stop what you are doing, simply click over the other programs and back again, you can simply glance over to your other screens.
Easy and Quickly Access Information: Two or more monitor setup allows you to easy and quickly access information. Especially, if you are learning to code or even, you're just honing your developing and programming skills, you may need to reference tutorials, examples. A second screen allows you to view these types of reference while working on your coding project, it means you can watch a YouTube video and code the example without having to pause the video.
Overall Increase Productivity: According to the several studies, a dual monitor setup can increase the productivity by up to 20 to 50 percent. However, I saw many programmers, and they work fast on a single monitor, even switching with multiple programs. But honestly, they can work even faster with a multi-monitor setup.
How many types of stands available, and which one is good for programming monitors?
This is another important thing that should be considered before purchasing the perfect coding monitor. You have to check that what kind of monitor stand it comes with. Many monitors only allow you to adjust the tilt of the screen, but for maximum comfort, the stands should support the height and pivot adjustments also.
You may need a monitor that allows to fully adjust the position of the screen, or you can invest in a separate monitor stand that allows you to do the same. Moreover, there are many types of stand available like wall mounting, freestanding and desk-clamping.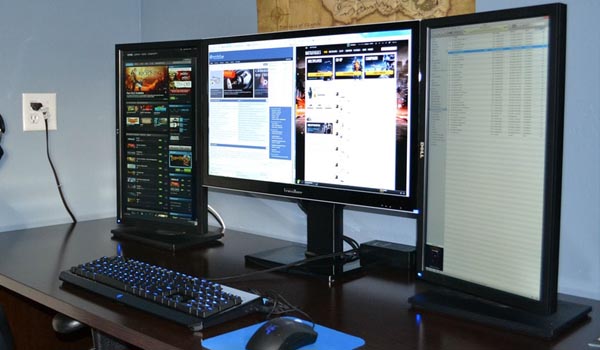 In general, most of the monitors you see in the landscape position, that provides the widest area while using them side by side. But some programmers may prefer to have at least one monitor that oriented in portrait position, so this allows them to see more codes at one screen.
Well, lastly the choice depends on your requirements.
If you are looking for a budget-friendly monitor, then with the 24-inch size and full HD resolution the HP VH240a is a nice choice. While if you need something big then HP 27er is a solid option with the 27-inch size and same resolution.
On the other hand, the Sceptre is offering a 27-inch Curved display, LG 32MA68HY-P is offering a big 32-inch screen: these both monitors are in budget range.
Overall the DELL P2717H 27 is my best choice at the budget range for a programming monitor. While the ASUS VG278QE 27 is also a great choice for those, who inclined to a bit for gaming.
If you'll stretch your budget a bit then you can get the LG 34WK650-W 34 which is a 34-inch ultra-wide monitor with wonderful color accuracy and sharpness.
In contrast to all monitors, BenQ PD3200U is the king for the color accuracy and sharpness, with the 4K resolution and 100% sRGB color gamut, it can produce the life-like colors. Therefore, it is my best choice for a programming display, it is offering the most comfortable viewing experience with top performance.
Lastly, the Dell U3818DW and LG 38WK95C-W monitors are for those who are looking for the most premium devices regardless of high price. However, the Dell is still a reasonably priced choice between them and both are offering USB Type-C (ThunderBolt 3) connectivity.
What do you think about these monitors, have you any questions regarding these? Let me know in the comment below I will back to you shortly.
Thank you very much for reading, have a great day! 🙂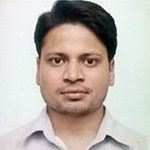 Nootan Kumar is a 24-years-old Blogger from India. He is a Cisco certified network engineer and currently doing the job in a reputed company. He is very enthusiastic about Computer gadgets and technology. Read more about him
Affiliate Disclosure
10HotDeals.com is a participant in the Amazon Services LLC Associates Program, an affiliate advertising program designed to provide a means for sites to earn advertising fees by advertising and linking to amazon.com.