Nowadays, more people are using their computer in an advanced way, that means a higher number of applications are in use simultaneously, whether at home or at work.
Having a second monitor is always beneficial, it gives more room to work and increase productivity because you don't need to do "Alt+Tab" for working with multiple applications.
Also read: best dual monitor setup for business
Obviously, it's very easy to set up a multiple monitor setup at home or in the office. But the problem arises when you are out, and we feel some restriction while working with a single display. Thanks to the monitor manufacturers, they have taken this problem seriously and introduced portable monitors. Basically, these portable monitors are very light, thin and compact to easy carrying out, and can be powered from your laptop or desktops.
I have picked some best portable monitors for laptops while considering budget and requirements. Probably, you'll definitely get a perfect one for you. Also, I'll also discuss the important factors that need to be considered before purchasing a portable monitor.
So, let's jump right into the important factors.
If you are in a hurry you can check out my top recommendation of the best portable monitor for the laptop here.
Size and Resolution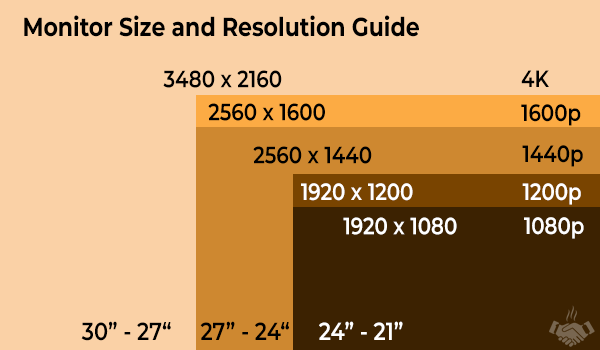 In my opinion, the size and resolution of the portable monitor should be identical to your laptop size. Why? Because their screen size perfectly aligns with each other and you won't feel any change when dragging window to other. This is especially true if you are working with some images editing or graphics designing.
For example, if you are working on MacBook (typically have higher resolution and rich image quality) and your portable monitor doesn't have such good resolution – you will find a huge difference in the image's sharpness and scaling.
However, you may opt for higher resolution than the laptop, it will definitely be a good idea.
Also, keep in mind, if you'll pick a monitor as the same size as your laptop, it can be easily carried with your laptop into the bag.
Input and output ports
This choice totally depends on your laptop's port availability.
Laptop users:
If you have an ordinary laptop then you will have an HDMI port – most of the portable monitor offers HDMI port and you don't need to worry about that. The HDMI port can be in any form, HDMI-A, Mini HDMI, and Micro HDMI, and most of the time the cable comes with the monitor itself. Moreover, there are some USB 3.0 to HDMI adapter are also available in the market, it will be helpful for you if your HDMI port has any problem. In this case, you'll need two cables for connection – HDMI for video and audio signals and USB or other power cables (external adapter) for powering monitor.
In case if you have DisplayPort in your laptop, then you'll need a DisplayPort to HDMI adapter to connect these portable monitors. In this scenario, you'll also need to use two cables separately – one for video & audio signal, and another for powering the monitor.
If your laptop has USB Type-C, it is the best scenario. Because you can connect your display with a single cable. It is the most hassle-free connectivity solution. If you have USB Type-C, you should definitely take advantage of that.
For Mac users:
If you have older MacBook than you may have an HDMI port. Then it's not a big deal for you, you can directly connect with these portable monitors. And another cable for powering the monitor will also be needed.
In case if you have ThunderBolt 2 in your MacBook, you'll need a ThunderBolt 2 to HDMI adapter for working these things. Obviously, in this case, you'll also need a second cable to deliver power to monitor.
If you have a newer MacBook model, it has probably honored by the ThunderBolt 3 Ports, and it is the best condition for you. You don't need more than one cable for enjoying your second monitor.
Finally, if you have ThunderBolt 3/USB Type-C port you should definitely look for a Type-C supported monitor for taking advantage of portability and hassle-free connectivity.
Extras
The Lightweight portable monitors are very convenient to carry. Moreover, a compact and slim design could be very beneficial for those who always on-the-go. For the thinner monitors, you won't be needed a separate bag, can easily fit behind your laptop.
Some monitor offers touchscreen feature if you don't need any such feature don't spend on it. However, a portable monitor for the laptop can work like a fully functional tablet, and allow to do many things quickly – you can do the drawing, editing or simply browsing much faster.
Best Portable Monitors for Laptops – Reviews
 1. HP EliteDisplay S140u (Most Affordable and Branded 14-inch Display)
3.17 lbs | 14″ | 1600×900 | Micro-USB (Type A) | TN | 16:9 | 200 cd/㎡
The HP ELiteDisplay G8R65A8#ABA is our first contestant of the portable monitors for laptops rundown. You can call it a balanced monitor while considering its features. Also, it is the probably a cheaper portable branded display you can get today. However, there is another model is available named HP Business V14 with higher resolution, but sadly despite full HD resolution that is not quite good as this display in terms of response time, view angle and display brightness.
Moreover, earlier there was a Lenovo ThinkVision LT1421 monitor was launched which is also offering a 14-inch display for a cheaper price, but you might get unboxed model only.
Now let's talk about the EliteDisplay S140u.
First of all, it features a 14-inch display with 1600×900 pixels of resolution. You might notice that the size and resolution are unique itself, it is not as higher as the full HD and not lower than HD and same you can say about the display size.
If you have any 14-inch laptop it'll definitely prove a good monitor for you. Due to the identical size, you'll feel like you have two laptops placed together. On the other hand, if you have any HP bands laptop, you'll rarely want to go with other monitors.
There is an obnoxious thing which I don't like about this USB powered monitor – it has a TN panel, which is not much good for the view angle and color quality.
However, the most budget laptops also come with the same display technology because a laptop is not like a TV, and everyone is looking it around from different view angle. So, it might be not a serious issue for a single user.
For connectivity, this portable monitor has a Micro USB (Type-A) port. Sadly, there is no USB Type-C available, but it this case you also don't need more than one cable for connecting the monitor, which is super simple to set-up.
A screen protective cover, which is included with the package can be used as a monitor stand. Additionally, it allows adjusting some angle according to your requirements.
Overall, the HP EliteDisplay S140u is a good budget USB-powered monitor for a laptop, which offers a 14-inch display along with HD+ resolution.
Most affordable
Good screen resolution
Acceptable display quality
Very easy single cable setup
Poor view angle
Comparatively heavy
No USB Type-C
 2. AOC i1601fwux (Great Full HD USB Type-C Monitor for Budget)
1.81 lbs | 15.6″ | 1920×1080 | USB Type-C | IPS | 16:9 | 220 cd/㎡
Nowadays, the 15.6-inch screen size is quite popular in the laptops, it provides pretty much space for working. But, for the power users who do multi-tasking, it is still not quite enough, and they might need an external display.
Our previous monitor is not perfect for this 15.6-inch laptop series due to the small size. And you need a 15.6-inch screen for to optimum user experience.
The AOC i1601fwux portable monitor can fulfill your requirements, it is offering a 15.5-inch full HD IPS panel with USB Type-C connectivity in the 200$ price range. Surprisingly, if you'll go with its base model (e1659Fwu) which is offering HD resolution with USB 3.0 ports, not cost you more than 100$.
Also, keep in mind the base model is offering TN panel and can cause poor display quality.
Well, this model which I am talking about it doesn't have such any issues. It's IPS panel ensure the maximum view angle and color quality. Moreover, 200 nits of brightness and 700:1 contrast ratio is really good for this budget price.
The main attraction of this USB powered monitor is – it features a very thin, lightweight and compact design, which is very ideal for travel. Moreover, the smart cover, which can be utilized as a monitor's stand along with your monitor safety. Additionally, it can be used in both landscape and portrait mode with Auto Pivot feature.
As I said this portable monitor has USB Type-C port which is a one-man-army. It means you don't need another cable for power/video transferring, only a single cable is enough for your complete show.
In my opinion, this monitor is pretty enough for most of the users. It is providing a decent display resolution, compact design, latest connectivity option at an affordable price. It is really a good full HD portable monitor for laptops.
However, if you are looking for more advanced features then continue reading below.
Affordable price
Big screen size
Good picture quality
USB Type-C supported (single cable operation)
Full HD resolution
Good response time
Three variants available
Lightweight
Low blue light filter available
Slightly low brightness
Average build quality
 3. ASUS MB169C+ (Another Great Option with Flicker-Free Technology)
1.8 lbs | 15.6″ | 1920 x 1080 | Display over USB Type-C |  IPS | 16:9 | 180 cd/㎡
On the update of this article, this model (ASUS MB169C+) has occupied the place of its earlier version (ASUS MB169B+). However, there are only some minor improvements are there – it has adopted USB Type-C connectivity and the flicker-free technology is introduced. But both feature a beautiful full HD IPS panel to ensure better picture quality and view angles. Moreover, both offer a Blue Light Filter, which is very pleasing for eyes. You may already know; the low blue light filter helps to reduce the eye strain while working longer.
Like our previous monitor, it is also featuring a slim and lightweight body for making your carrying easier. Moreover, the included cover can work as a two-way adjustable stand and a protective sleeve.
Auto rotating feature is must if you want to use your monitor in portrait mode, it is a great way to view a longer page. This monitor has an inbuilt sensor to do this work for you; you just need to position your monitor and it will rotate the content automatically.
There is a negative thing about this great display that I don't like – it is not compatible with MacBook and MacBook Pro). But it can work with Windows 7 or later version without any issue.
Obviously, Mb169c+ is a great portable monitor for a laptop which features 15.6-inch full HD IPS panel, USB Type-C support, compact & lightweight design, flicker-free & low blue light display and two-way adjustable cover cum sleeve.
Honestly, its previous model is also a great choice which also supports a single cable transmission and offers same features accepting the Flicker-Free technology. Additionally, it is very cheaper than the latest model.
Big screen
USB Type C supported
Full HD screen
Asus eye care technology
Wide view angle
Smart Case: can be used as a two-way adjustable stand
Slim and lightweight design
Not compatible with MacBook and MacBook Pro
Average brightness
Slightly pricier
 4. GeChic 1303H (13.3-inch Monitor with Extensive Connectivity Options)
1.32 lbs | 13.3″ | 1920×1080 | Headphone output, Micro-HDMI, Mini-Display port, VGA, Micro-USB, DC-In |  IPS | 16:9 | 300 cd/㎡ 
Now, what about the smaller laptops which have even screen size below 14-inch. Can we use a 15.6-inch portable monitor with them?
Yes! you can, but the same size display according to your laptop usually look more compatible. If you love to have the second screen with a big size, you are welcome to skip. This monitor is especially for the smaller laptops and it looks good with them.
As you know now, the GeChic 1303H is a 13.3-inch monitor, and it is offering a full HD IPS panel. It is comparatively sharper than our previous monitors and offering great picture quality. According to the manufacturer, it is offering 16.7M colors support, which is ideal for photo editing or color sensitive tasks.
Having a wide range of connectivity options makes it a totally unique monitor of our list. It has Micro-HDMI, Mini-DisplayPort, VGA, and Micro-USB along with headphone jack.
Moreover, it is available in four colors which can match your laptop's color for personalization aspect.
There is no need to install any driver to run this display which is a really hassle-free process, most of the people will love it. But be aware, if you are working with Linux then you may need to.
If you are looking for a 13.3-inch monitor for your portable laptop, the GeChic 1303H could be a perfect pick for you because of its decent display quality, a wide range of connectivity options, different color availability, and easy installation.
Good display quality
Great brightness
No driver needed (except Linux)
VESA compatible
Lightest weight
Full HD resolution
Good color accuracy (16.7M color supported)
Inbuilt speakers
Available in four colors for personalization
Slightly thick bezel
Small size 13.3-inch, but perfect for identical size laptops
 5. UPERFECT Portable Monitor (Sharpest and Brightest Portable Monitor)
4.86 lbs | 15.6″ | 3200×1800 | USB port /DC port/ Mini hdmi port, Built-in Speakers |  IPS | 16:9 | 400 cd/㎡
The UPERFECT monitor probably has the best displays in our rundown. It is offering a 4K 15.6 IPS Panel which is greatly sharper and brighter as well. If you are currently working with a rich display laptop, it might worth a purchase for making a balance with your laptop. Moreover, as I said about brightness, it has 400 nit amount of bright light which are just brilliant.
Because it is an IPS panel, so you won't find any issue related with view angle while working. Additionally, it is offering a much rich contrast ratio of 1000:1.
If we talk about the input/output ports, it is offering 2x Mini HDMI, Mini DisplayPort, Micro USB, headphone jack and DC port.
Besides casual use, this portable monitor can be used for gaming and photo editing, because of its rich display quality.
Unlike other monitors, there is no sleeve or cover is included, but you are getting a metal stand for placing this buddy. The stand is travel-friendly itself and can be folded or straighten accordingly.
There's nothing more to tell you about this portable monitor. If you are looking for a high-resolution portable display for gaming, editing or casual work trust me, the UPERFECT is one of the most popular monitors of nowadays.
Big display
Best display quality
Excellent brightness
Built-in speaker
HDR enabled
Available in four variants
Ideal for gaming, photo editing, designing
Comparatively heavier
No USB Type-C
 6. ASUS Zenscreen Go MB16AP (Overall Top Portable Monitor for Laptops)
1.87 lbs | 15.6″ | 1920×1080 | USB Type-C and Type-A | IPS | 16:9 | 220 cd/㎡  | 7800mAh | Flicker free 
The device's battery is one of the most critical requirements nowadays. It is especially true if you are traveling or out of the home. If your laptop has limited battery remaining and you still need to work with your second portable monitor and you don't have any power outlet nearby – what will you do? This is the place where monitor with inbuilt battery comes in handy. It preserves your laptop's battery and runs on own power. Moreover, the Asus Zenscreen Go monitor is compatible with smartphones too.
In my opinion, there is not any negative sign to have a portable monitor with inbuilt battery, it will save you at least somewhere and can refund in form of your precious time.
Besides of inbuilt battery, there are many features that you need to know about this portable monitor.
Aesthetically, the ASUS Zenscreen GO has minimal three-sided bezel design which looks so great. Moreover, it has gained many design awards like iF, reddot design award 2017, CES innovation award, and Computex d&i award.
The Asus Eye Care technology with TUV Rhnneland-certified flicker-free backlighting ensure the minimal eye fatigue. Basically, the Asus Eye Care technology is based on the blue light filter to reduce the eye stress.
Asus has included the smart-pen hole and smart cover, they allow to work with landscape and portrait orientation without the need of switching manually.
For making it future proof, the manufacturer has implemented the USB Type-C port for hassle-free connectivity. Additionally, unlike other Type-C ports, it also has hybrid compatibility with USB Type-A. But you'll need a link driver for that.
Overall, the Asus Zenscreen GO MB16AP is one of the best portable monitors for laptops which provides amazing features like inbuilt battery support, Eye-Care technology, Stylish Design, and Smart Cover and Pens.
If you are looking for a portable monitor for your 15.6-inch screen laptop, trust me it is the best USB powered monitor you can find nowadays.
Inbuilt battery
Good picture quality
Flicker-free screen
Eye care technology
USB Type-C and Type-A hybrid ports
Award-winning design
Compatible with smartphones
Big screen with good brightness
IPS panel for wide view angle
Smart-pen hole and cover allow landscape and portrait orientation
Slim and lightweight
Thin bezel
Above average brightness, could be better
Slightly high price
Wrapping it up
 Now choosing the best portable monitors for laptops should not be hard for you. Make sure, it is enough big to see what you are doing and should be convenient for travel. If it offers an inbuilt battery it would be even great.
Try to get a single cable operated for hassle-free installation – whether it is a USB Type-C or USB Type-A. Also, consider your device ports.
I have included only monitor up to 15.6-inch, above it, will lack portability. However, you can also check my best recommendation for 17-inch (AOC e1759Fwu), and 22-inch (ViewSonic TD2230), from filtered over 30+ monitors.
If you have any question regarding these USB powered monitors, let me know in the comment below. I will back to you quickly.