If you are a nurse, doctor or potential physicians and you have some degree of hearing loss, then you definitely know how difficult is to use a stethoscope, because you'll always want to measure the standard metrics despite having hard of hearing.
Also, read: best laptop for medical students
Whether you are using hearing aids like a cochlear implant or not, using a stethoscope can be challenging. But thanks to the electronics technology, because nowadays amplified stethoscopes are available, which can amplify the signal sound many times, and you'll able to get it properly. This guide with help you to find the best stethoscope for nurses hard of hearing in 2022. Moreover, we'll also discuss, what are the important things that should be considered before choosing an amplified stethoscope.
So, let's get started!

Why You Need a Hearing Loss Stethoscope?

As you know, stethoscopes are used for hearing the sound of the internal organ of the human body like heart, and lungs. And they help to detect any malfunctioning of the organs that might cause any health problem. Nurses also use stethoscopes when counting pulse or checking blood pressure. As you can see, you need a stethoscope as long as you are in the healthcare profession, and hearing loss can't stop you doing this amazing work.
But what if you have a severe hearing problem? Can a stethoscope be used with cochlear implants or the hearing aids?
Stethoscopes for hearing impaired doctors offer some options and these options depend on many factors including To evaluate the patients' needs, the audiologist looks at these features.
If you are using a hearing aid and want to continue using it with your stethoscope, then it is possible. You can use the over-the-ear headphone with the amplified stethoscope or your hearing aid might need to be custom designed.
The type of hearing aid that you have: There are mainly four types of hearing aids mBTE, BTE, ITE, and IIC. However, the over-ear headphone can be used with all of them, so you need to look for the amplified stethoscope with 3.5mm jack.
What features does your hearing aid have? For instances – DNR, Telecoil, streamer, or others. If you have these extra features then your work is going to be easier, there are some electronic stethoscope which supports this feature. It means the stethoscope sound can be streamed to your hearing aids.
Best Stethoscope for Nurses Hard of Hearing – Buyer's Guide
So, which is the best stethoscope for hearing impaired nurses or doctors in 2022?
Well, this is a really hard question because there is no perfect stethoscope available that can address all your concerns. Therefore, look for one device that meets most of your requirements. There are some crucial things, identified by the Association of Medical professionals with hearing loss, which you should keep in mind to use the stethoscope effectively.
Some hearing aids and amplifiers have the capability to boost the frequency and reducing background noise. On the other hand, some gadgets like the cochlear implant have the feature of increasing the sound with reducing background noise.
I also want to tell you, using the amplified stethoscope will make auscultation perfect, there is no 100% guarantee. However, it is the best option for doctors with bad hearing.

Alternative Stethoscopes for Hearing Aid Users

If you don't want to auscultate with a hearing implant, there are other alternatives are available, and they are highly efficient too.
You can choose an amplified stethoscope with earpieces, as I also said in the starting.
The tips of the conventional stethoscope's listening end could be replaced with the tips of stethomate (not highly effective).
Purchase custom-designed ear molds that interface perfectly between the stethoscope CICs and the earpiece.

What is the difference between Amplified and Traditional Stethoscopes?

Most of the amplified stethoscopes are specially made for doctors that have a very low degree of hearing loss and they don't need hearing aids. If you are already using a hearing aid or going to use one soon then amplified stethoscope will not work for you.
However, if you have normal hearing loss, then you are not prohibited from using amplified stethoscopes. In this case, the amplification will be boosted beyond the normal, even they are perfectly usable in extremely loud or busy environments.
Now check out my recommendation for the best amplified digital stethoscope of 2022.
QUICK OVERVIEW
Table of Best Stethoscope for Nurses Hard of Hearing in 2022
Best Stethoscope for Nurses Hard of Hearing – Reviews
 1. Thinklabs One Digital Stethoscope (Overall Best Choice)
The Thinklabs One Digital is probably the best digital stethoscope for hearing impaired doctor or nurses in 2022 without any doubt, because this device is compatible for both types of users, whether you are using any types of hearing aids or not.
According to the manufacturer, this portable stethoscope is capable to amplify the sound up to 100 times, it means even if you have severe level hearing loss, it can help you. Additionally, it allows you to connect high-quality 3.5mm jack-based headphones, to provide better sound quality and more comfort, this way you can also use it with your hearing aids with the over the hear headphone. The Thinklabs has also included the headphones and they are pretty good, however, if you need more effective then you can also purchase separately for even better performance.
Here are my best recommendations for 3.5mm over-the-ear headphone, you can check them out.
The best part, you are free to adjust the range of frequency that you hearing, and frequency response can be adjusted by changing the pressure over the diaphragm, which is so realistic and will give you a standard stethoscope feeling. You will feel like you are using a super-sensitive instrument.
There is an inbuilt Thinklink app available which allows you to connect this stethoscope with your iPhone, Android, iPad or MAC/PC, so you can send or capture the sound between them. This feature could be useful for those students who are still learning.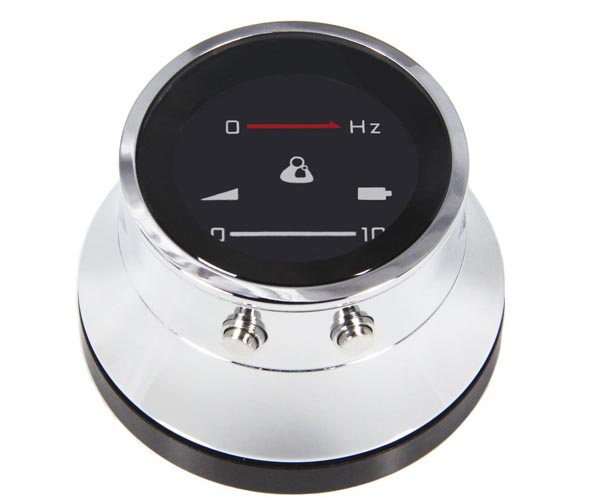 Image Credit: Thinklabs
In the package, Thinklabs includes a studio quality headphone, they offer the excellent bass for heart sound and crystal-clear treble base for music enjoyment. Thanks to its dedicated headphone amplifier which have sufficient power to drive low-impedance audio headphones producing 45.2mWatts.
If you're hearing aids and Cochlear Implants user
As we said earlier, this device provides universal compatibility. For those who use the hearing aids, the Thinklabs is compatible with the hearing aid and Cochlear implants streamers, so you can send audio directly to your listening gadgets. If your hearing gadgets don't support this streaming feature, you can simply use an over the ear headphone and that works just great.
Doesn't matter whether you have a low or a higher degree of hearing loss, the Thinklabs One Digital stethoscope will get you covered with 100x sound amplification. This digital stethoscope comes with a simple easy interface which supports 3.5mm headphones and also can be used with the hearing aids and Cochlear Implants.
PROS
Best sound amplification for clearest hearing
Frequency adjustment available
High-quality headphone included with the package
Compatible with 3.5mm based headphones
Universal compatibility with all users
Can be used in noisy environments due to the crisp and clear sound quality
CONS
 2. Eko Digital Stethoscope (Best for Non-Hearing Aid Users)
If you don't use any types of hearing devices then probably you have an only mild or even low range hearing loss. in this situation, the Eko Digital Stethoscope could be a nice choice for a budget price.
This digital stethoscope is capable of 40x sound amplification along with reducing the ambient noise. With the digital-analog toggle feature, you can use this stethoscope even when this unit is turned off.
Like Thinklabs Digital stethoscope the Eko stethoscope also supports the mobile connectivity, the app is available for both platforms – Android and iOS. This device is rechargeable which can last up to 9 hours with a single charge which is pretty good for a longer duty.
Here is another interesting thing about this device: if you don't want to replace your previous stethoscope, you can purchase the only attachment unit that will fit easily, and will do the same work. This way you upgrade your old stethoscope within budget.
The Eko digital could be a great stethoscope for those nurses or doctors who has a minor hearing loss and don't use the hearing aids.
PROS
Affordable price
Amplifying unit is available separately and can be paired with your old stethoscope for upgrading
Effective 40x sound amplification can deliver very clear sound
Long battery life up to 9 hours
Can be used when the unit is turned off
CONS
Not compatible with hearing aids or cochlear implant
 3. Cardionics E-Scope 7700 (Another Great Choice with Headphone Compatibility)
Cardionics E-Scope 7700 is another amplified stethoscope which supports the external headphones, that's why it is also useful for hearing aids users. This lightweight stethoscope is capable to amplify the sound up to 30 times, which is pretty enough while using with hearing aids.
The designing of this unit is really interesting, on the digraph, there are some buttons are provided, those are very convenient for changing the volume, heart sound or breath sound. Moreover, when this device is not being used, you can easily hang around your neck.
Thinklabs and Cardionics E-Scope 7700 both are compatible with custom headphones, but it has a somewhat low amplification power. That's why it is only recommended for doctors with low hearing loss, but compatibility with the hearing aids makes it a solid digital stethoscope.
PROS
Affordable price
Nice amplification power up to 30 times
Compatible with custom headphone
Dedicated volume control button on the digraph
CONS
Not ideal for severe hearing loss
Wrapping it up
Unfortunately, there are only a few options are available when it comes to the amplified stethoscope. I believe the Thinklabs One is the best stethoscope for hard of hearing because it is compatible with hearing aids too. You can use it with hearing streamers or by plugging your favorite high-quality headphone, it will work well.
However, if you don't use any types of hearing gadgets then Eko is also a great choice in the affordable price, even you can purchase the attachment separately to save more dollar by upgrading your old stethoscope.
There is another option for check out the Cardionics E-Scope 7700, which does support the headphone as well, and comes with the 30x amplification power.
Lastly, no one gadget is perfect that will check all of the requirements boxes. However, the amplified stethoscope is still a great option for hearing impaired doctors or nurses which can help to take the perfect metrics.
If you have any questions regarding these best digital amplified stethoscopes of 2022, then simply leave a comment for below for me, I'll back to you quickly.