By Nootan Kumar | Last updated January 14, 2019
As a musician, you probably know how frustrating is that when you forgot to take the right music sheets? It happens many times but it could be overwhelming when you are performing in a big event. Do you know a digital tablet can save your life?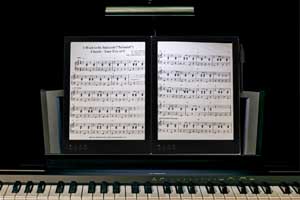 It'll not only capable to store thousands of music sheets but also allow to performs freely. Yes! with the wireless page-turners, you can also switch between the pages of music sheets just with your feet.
And that's why I have created this post to find the best tablets for musicians. Besides, it will also tell you exactly which features are most important for musician tablets.
Before writing this post, I have research on the internet and what did I found?
No one is talking about the right tablets for musicians, they just suggesting any random tablets as per the market status. But in reality, as a music performer, you don't need a most powerful processor, tons of RAM, camera or the Terabytes of storage, you'll need something different for your peaceful performance.
If you don't have enough time to read the whole article then you can check out our recommendation first. However, you can read the buyer's guide any time just scrolling down.
So, here is my best list for tablets.
Top Rated Tablets for Musicians
Best Tablets for Musicians – Reviews
1.21 lbs | 13.3-inch | E Ink | 1650 × 2200 | 2 GB | 32 GB | 4100 mAh | Android 6.0 | USB 2.0, HDMI | WiFi, Bluetooth 
The BOOX Max 2 Ereader is one of the best tablets for musicians, which is offering a real paper-like experience.  Because this tablet features an E-ink technology display, which is extremely convenient for your eyes and provides widest view angles. With 32GB of internal memory and 13.3-inch big screen this tablet like by many professionals. If you are comfortable with the Black and white display then it is the perfect deal for you.
Design
The BOOX Max2 Reader is very lightweight tablets with just 1.21 pound, which is very convenient to carry everywhere.
As we said earlier this tablet offers 13.3 inches big E-ink display, which is 100% Glare-free and provides widest view angles, so you'll be getting real paper-like experience. 
Moreover, this tablet comes with EMR stylus, which allows you to write naturally on the screen like a pen, and you don't even need to charge the stylus. On the front side, there are four buttons are provided which can help you to navigate faster.
Another interesting this about device is that it is compatible with HDMI display output, so you can connect it with your external monitor to read on big screen.
Also, read: best monitors for reading texts
Performance
This tablet runs on android 6.0 so you can find tons of apps for your music needs. Moreover, the quad-core processor is pretty enough for your smoother reading.
With 32 GB of storage capacity, you can put your thousands of music sheets.
The BOOM Max2 support split-screen feature, which allows you to open multiple application at the same time. And with the help of EMR stylus, you can write any note on your document instantly, it will give you, paper-like reading and writing experience.
The inbuilt 4100 mAh battery can juice up this device for a while day which is really impressive. Moreover, this tablet supports all major E-Books files like PDF, EPUB, TXT, DJVU, HTML, FB2, DOC, MOBI, CHM, CBR, CBZ, etc.
As I already discussed above it is an E-ink tablet, therefore it is having a black and white display.
However, it is the most realistic technology which can give you a real pen and paper-like experience.
The BOOX Max2 Ereader is the great option for a reading tablet, it is offering the glare-free screen, widest view angle, 100% natural writing & reading experience, very lightweight design.
Most natural reading and writing
Widest view angle
100% glare-free
Big Screen like an A4 paper sheet
Compatible with wireless page turners
Smoother performance
Can store thousands of music-sheets
Very lightweight and thin
Long battery life
Expensive
Black and white screen
1.03 lbs | 11-inch | IPS | 2388 x 1668 | 4 GB | 64 GB – 1TB | 10-hours | iOS12 | USB-C   
On the update of this article, the newly launched Apple iPad Pro has ruled all previous recommendations, because it is the most feature-rich tablet on planet earth. It is a very expensive tablet but it is really the best choice for music professionals.
If you have enough budget and looking for an iOS tablet then the latest iPad Pro is the perfect option on the current market. However, if you are looking for some budget options then scroll down to know more.
Design
This year Apple has made huge changes in the design of iPad Pro, you are getting a thin bezel display without the home button. The USB Type-C adaptation is a great improvement here. Moreover, the body has been slimmed too.
The display quality is fantastic – liquid retina display with sharpest and accurate color can deliver real life-like images.
If you tend to take notes often then you'll love the new Apple's pencil, it looks like a real pencil and works like the same. It means, with the vivid and rich quality color display and high sensitivity Pencil you'll feel like working with real pen and paper.
The latest iPad's display is quite anti-glare compared to the previous generation, therefore, it is very helpful to focus on characters while reading even from some distance. Additionally, with the highest brightness, it can be easily read in the brighter lights too.
Performance
In facts, this latest iPad Pro is an overqualified device, if you are going to use it only for reading purpose. If you do so then give me a favor, please skip this.
I am saying that because, the latest iPad pro has a very high-performance processor with large memory which can handle many complicated task and processes like editing, drawing, gaming or even multitasking. Moreover, this time Apple has provided a 1TB storage options as well, and you can imagine how much data it can store.
Ultimately, it is a high-performance computing device in the form of a beautiful and compact tablet.
Despite such a highest performance and bigger display, this unit's battery can power up this device up to 10 hours with mix usage, which is commendable.
If you are looking for a device with richest display quality, highest performance, premium, and lightweight design then the Apple iPad Pro is the only option on the current market.
This device is very expensive, if you are looking at some affordable options then scroll down to find more.
Most beautiful display quality
Highest Performance
Pretty much storage and memory
Realistic drawing and notes-taking with Apple Pencil
Longer battery life
Compatible with wireless page-turners
Compact and premium design
1.05 lbs | 9.7-inch | IPS | 2048 x 1536 | 2 GB | 32 GB / 128 GB  | 10 hours | iOS 12 | Lightning | WIFI + 4G LTE  
While my previous iOS pick for musician tablet is great but it is mostly like by people with deep pockets. The latest iPad could be the best choice for you if you are not ready to spend thousands of dollars on your tablet. This device is offering all premium features without spending the premium price.
Design
First of all, the Apple iPad is coming with a 9.7-inch IPS Retina display with 2048 x 1536 pixels of resolution, which provides an amazing reading and writing experience.
With a sturdy aluminum design, it feels so solid in hands and provides great durability.
Apple pencil is one of the best styluses out there, it provides a real drawing and notes taking experience. You'll love it when writing directly on the screen like a pen and paper.
Performance
Apple devices are very efficient in terms of performance. This latest model is coming with the A10 64-bit Fusion chip which can deliver a decent performance whether you are reading, browsing, playing video or playing games. With the 32GB of storage capacity, you can store thousands of your music sheets. If you need even more then you can opt for a 128GB version.
Battery life is quite amazing itself, if you'll be using it on usual task then it can last a whole day with a single charge, what else you'll need?
If you are looking for a premium tablet for sheet music without the expensive price then the latest iPad is the most considerable option for you.
I would like to suggest this tablet over iPad Pro because it has enough features with the amazing price.
Beautiful big display with great image quality
Amazing performance
Longer battery life
Fantastic durability
Compatible with wireless page turners
Enough storage capacity
Easy to draw and taking notes
Best price
1.06 lbs | 10.5-inch | Super AMOLED | 2560 x 1600 | 4 GB | 64 GB /256 GB | 16-hours | Android O
If I would say, the Android OS is more flexible and adaptable than iOS then you'll definitely agree with me. However, it is not as polished as the iOS but you have tons of options to choose from. Moreover, the Play Store has a large number of applications compared to the Apple App Store.
The Samsung Galaxy Tab S4 is the latest device from Samsung which I want to recommend for musicians for music sheets. The best thing about this device is, it is offering a Super AMOLED display which can deliver the highest contrast ratio and brightness. Resulting it can provide an amazing quality color and brightness.
Design
The Samsung Tab S4 has a 10.5″ display with 2560 x 1600 pixels of resolution, which is very sharp and provides vibrant colors. Like our previous iOS tablets, it also has a stylus called S Pen, which allow drawing and taking notes. 
For eBook or music sheets reading it could be proved an ideal device. Moreover, you can convert this tablet into a full computer setup with Dex and keyboard cover, which is just great and makes it more useful.
Performance
With the Qualcomm Snapdragon 835 processor and 4GB of RAM, you'll be getting an extraordinary performance. Moreover, you are getting two storage variants – 64GB and 256 GB, you can pick as per your requirement. In my opinion, you don't need to spend extra on 256GB variant the base model is pretty much for general use.
Besides a great performance, the Snapdragon 835 processor is quite energy efficient too. Therefore, the battery life is going to be the longest. However, we should need to thanks for the AMOLED display as well.
The Samsung Galaxy Tab S4 is the best option for musicians when it comes to Android tablets. It is offering all features which are required for professionals.
Vibrant and high contrast super AMOLED display
Fantastic performance
longest battery life
Latest android to ensure optimal performance and security
Compatible with wireless page turners
Decent durability
Allow to draw or take notes
Pretty much storage and memory
1.10 lbs | 10.1-inch | IPS | 1920 x 1200 | 2 GB | 32/64 GB | 10 hours | FireOS    
The Fire HD 10 is one of the most popular tablets on the current market because of the most affordable price. If you don't want to spends a lot of money on your tablet the Fire HD 10 is definitely worth consideration.
With a 10-inch IPS display, Quad-core processor, 2GB memory and 32GB of storage it is capable to provide decent performance. The 32GB space is quite enough if you want even more then you can choose the 64GB variant or just extend with a microSD card.
Design
In terms of durability, the Fire HD 10 has been passed through the 50 different tests, which included drop, tumbles, spills, and everyday wear and tear situations. Moreover, the display quality is nice itself, you'll be getting a full HD panel for this affordable price, which is just Amazon! I mean amazing.
Dual speaker setup and Dolby Atmos is a great combination; therefore, the sound quality is great too.
On the 10-inch IPS display, you can easily read your ebook and music sheets even from some distance, the credit goes to the wide view angle and high brightness.
Performance
The Amazon's Fire HD 10 powered by a quad-core processor which is quite enough for reading and performing multitasking.
As we said earlier, this tablet comes in two storage variants 32 and 64 GB. Moreover, there is a microSD slot is given, which is really great for a future upgrade.
This tablet is compatible with a wide range of file formats and provides around 10-hours of battery backup with a single charge.
If you are looking for a very affordable tablet for your music sheets or books reading then Fire HD 10 is probably the best option on the current market.
Affordable price
A full HD IPS display with good color quality and view angle
Justified performance
Compatible with page turners
Enough storage for music sheets
Comparatively heavy
Only 2GB of memory, however totally justified for this price
0.86 lbs | 9.7-inch | Super AMOLED | 2048 x 1536 | 3 GB | 32 GB | 12-hours | Android 6.0  
While the Fire HD 10 tablet is just perfect for reading purpose but it has some limited performance somewhere. Therefore, if you are looking for a more powerful option then Samsung Galaxy Tab S2 could be an ideal choice.
The Samsung Galaxy Tab S2 tablet powered by an octa-core processor, 3GB of RAM and 32 GB of inbuilt storage which is a better combination and ensure the higher performance.
Design
This tablet is offering a Super AMOLED 9.7-inch display with 2048 x 1536 pixels of resolution, which is very bright, sharp and vivid. 
Comparatively the weight of this tablet is significantly lower, which makes it easy to carry.

Performance
As we said earlier, this tablet comes with an octa-core processor, which is the combination of two quad processors and they work on 1.8 GHz and 1.4 GHz frequency. You won't face any performance issue during multitasking or reading.
Additionally, 3 GB of RAM and 32GB of storage are ideal for a smooth performance.
If you are going to use this tablet only for reading music sheets or eBooks, then this tablet's battery lasts up to around 14 hours, which is just commendable.
The Samsung Galaxy Tab S2 is still a great deal for the mid-range price because you are getting amazing features without spending higher price like Tab S4.
Amazing price
Great super AMOLED 10-inch display
Longer battery life
Decent performance
32GB inbuilt storage and upgradable too
Compatible with all page turners
Lightweight and slim
A bit old android version (6.0)
Becomes slightly hot on some high-performance tasks
Best Musician Tablets – Buyer's Guide
As we said in the starting as a musician you don't need to look for the high processor, RAM, storage or camera in the tablets. These things are important but not much.
So, what are the most important factors that should be considered before purchasing the best tablets for sheet music?
This is the most important factor for any tablet along with sheet music. Because you'll be going to staring this all the time during your performance or practice, therefore it should be enough convenient to see while longer use.
But which display technology is best for a musician tablet?
E-Ink:- First thing first, E ink (Electronic ink) display technology is the best for a musician tablet which provides the high visibility and contrast along with the wide view angle. It is mostly found in some devices like e-readers, smartwatches, digital signage etc. But it is only available in black and white and usually expensive.
If you are very serious about a reading tablet then pick a tablet with E-ink display it will provide a real paper-like experience, you'll need to compromise with lack of color though.
The most impressive thing about this display is that this needs very low power to operate, so the device battery last longer. Moreover, when you are using E ink electronics paper screen in the bright light, then you will not get any glare on the screen. That is very convenient for a long time reading.
The E ink technology-based devices are something costly but they worth it, because they provide the natural paper-like reading experience. There are only a handful of options in the E-ink displays.
IPS:- Second screen types that you can mostly find in the tablet is IPS (In-Plane-Switching). The IPS screen also provides the widest view angles and very accurate colors. And this display can be found in many androids or iOS tablets easily.
The IPS display is also a great option for the musician's tablets because they are some cheaper than the E ink-based devices and can be easily found in most of the tablets.
AMOLED:- The third technology for the tablets is AMOLED, the main highlight of this screen is the contrast ratio, they provide the very bright image quality, that can be easily readable even in the bright light. So, it could be an ideal choice for a reading tablet. The AMOLED is mostly used by the Samsung; however, you can also see this technology in many high-end devices.
Also, keep in mind the Super AMOLED is also an improved version of the AMOLED.
Finally, I would like to recommend IPS and AMOLED display most because they are cheaper than the E-Ink and available easily. The worst thing about the E-Ink display is that they don't support colors.
You probably know, the resolution is responsible for the sharpness of any display – as much higher the resolution the sharper the picture will be.
But as for musician tablets, you don't need to worry about that much, because you can easily get a full HD resolution even in a budget tablet. This resolution is enough for an ideal reading or movie watching.
The size of the tablets depends on your requirements and budget, generally, the musicians became habitual of the A4 paper sheets, and that size is 8.27 × 11.69 inches. So, a tablet with around 10″ can be ideal for reading. However, there are many large screen tablets also available on the market but they are expensive too.
Compatibility with page turner
This is another major requirement for the tablet because while practicing or performance, the musician can't flip the pages, their hands remain busy with instruments.
So, the page-turner plays the most important role here, they allow you to turn your digital sheet page with your foot. But here is a problem, all of the tablets are not compatible with the page-turner. So, keep in mind this before purchasing any tablets.
Android and iOS tablets are mostly compatible with the wireless page-turners, if you are buying one of them, then you don't need to worry about that.
I just want to say, don't think too much while picking your tablet, if you don't need any special things, just grab an affordable Android tablet like Fire HD 10 it would be great.
While, if you are going to use your tablet more than reading then you might need to stretch your budget accordingly. For Example, Samsung Galaxy Tab S2 has 3GB of RAM, 32GB of storage with Octa-core processor which is a mid-range tablet. You can use this tablet for some additional task like movies watching, browsing or even some light gaming.
Lastly, if you just need the best solution for your music needs then I have these options for you.
BOOM Max 2 – it is my best pick for the professionals, having a 13.3-inch E-ink screen which provides a real pen and paper-like experience. But it is only available with black and white only.
Apple iPad Pro – It is my best pick in the iOS for professionals, besides the richest quality display it is offering a top performance too.
Samsung Tab S4 – If you are familiar with Android already then you might love the Tab S4, it is offering a brilliant quality super AMOLED display with amazing performance.
Finally, the choice is yours, did you find an appropriate tablet for reading or have any question regarding them? Just let me know in the comment below, I will back to you shortly.
Nootan Kumar is a 24-years-old Blogger from India. He is a Cisco certified network engineer and currently doing the job in a reputed company. He is very enthusiastic about Computer gadgets and technology. Read more about him
Affiliate Disclosure
10HotDeals.com is a participant in the Amazon Services LLC Associates Program, an affiliate advertising program designed to provide a means for sites to earn advertising fees by advertising and linking to amazon.com.