Choosing an ultra-wide monitor for gaming is the best option instead of a dual monitor setup.
An ultra-wide monitor can deliver an immersive gaming experience without any doubt because there will be no annoying space exist which usually formed between two or more monitors contact-edges.
If you're in a hurry, check out our top choice ASUS ROG PG348Q View at Amazon.
But there are some couple of important things that should be considered before purchasing the best ultra wide monitors for gaming in 2022. Because the market is highly saturated, therefore, it becomes a bit confusing to choose the right one. Moreover, you will not definitely want to be regretted after spending a lot of money.
Also read, best gaming laptops in 2022
In this post, I am going to discuss all important features which should be kept in mind before choosing a wide gaming monitor. Moreover, you'll get my top hand-picked recommendations as well.
So, without further ado, let's get started.
Best Ultra Wide Gaming Displays in 2022 – Buyer's Guide
How much resolution and size are good for an ultra-wide gaming monitor?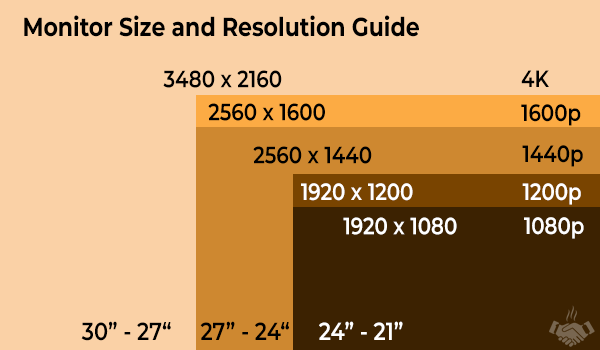 Choosing the monitor size depends on the budget and requirements. As you already know, as much higher the resolution the as clearer the picture will be. But keep in mind, the higher resolution and refresh rate needs more powerful internal hardware to work, therefore, the monitor size and resolution should be chosen according to your computer's hardware configuration.
This attached image shows the good size and resolution combination; however, you can go with even higher resolution, but I won't recommend.
What is the refresh rate, how important is that for a gaming monitor?
Yes! the refresh rate is the most important factor for gaming monitors. It doesn't matter how vivid and bright it is, and how gorgeous, without the good refresh rate a monitor is just a helpless piece of technology for gaming. The monitor refresh rate measured in Hertz (Hz), means how many times a monitor can refresh the display image in one second, or you can say that how many frames/sec a monitor is capable to represent.
Nowadays, all standard monitors come with 60Hz of refresh rate, and they are being used for many tasks. But if we talk about the gaming monitors – then you have two options in refresh rate: 140Hz and 240 Hz.
But keep in mind, the refresh rate should be chosen according to your GPU. For example – if your GPU doesn't support the refresh rate above 144Hz, then choosing a 244Hz monitor doesn't make any sense.
Now, what is the Adaptive Sync that everyone is talking about it for gaming displays?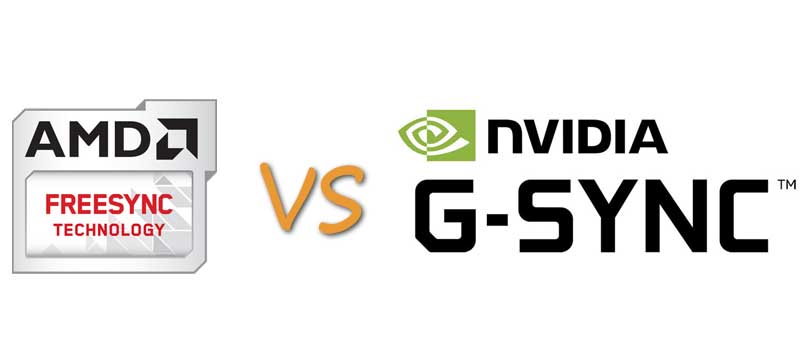 Apart from the refresh rate, you should also consider the Sync technologies – FreeSync or G-Sync, if you don't want any screen tearing during your gameplay. Most of the newer gaming monitor already include either of those, so keep an eye out for that.
Well, this choice mainly depends on your gaming rig, if you have an AMD based gaming setup, then you should consider the FreeSync monitors. While for Nvidia user the G-Sync is suggested.
AMD FreeSync monitor has a lower price compared to the G-Sync monitors because the manufacturer needs to pay to Nvidia to make G-Sync work. So, that's why Nvidia G-Sync monitor cost extra around $100-$150.
Having either of these technologies, you won't feel any screen tearing issues during your gameplay. But make sure, which technology's do you have in your gaming setup – AMD or Nvidia.
What is response time, and how much important it is in gaming monitor?
How much time a pixel takes to switch from black to white or switch between different shades of gray, called the pixel response time. The low pixel response time can cause the ghosting or blurring issue during the fast-paced games.
The lower the refresh rate the smoother the camera movement will be. On the other hand, higher refresh can cause the motion blur, since pixels don't have enough time to switch between colors during faster movement. The response time depends on the display technology. The TN panels provide the fastest response time, VA panels are having the medium response time, while IPS panels having the lowest response time.
Which panel technology is the best for gaming monitors?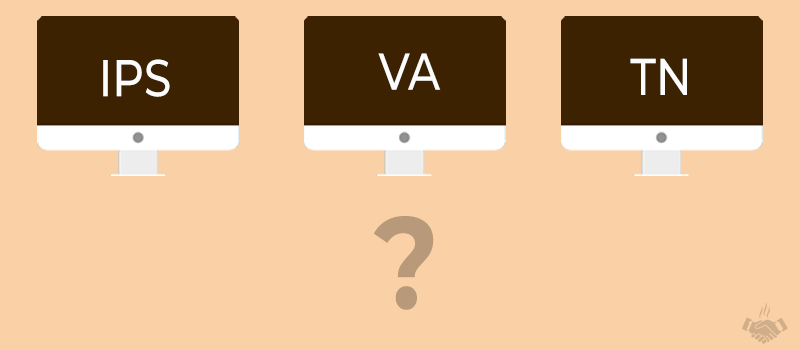 There are mainly three technologies which are being used in computer monitors.
Twisted Nematic (TN) Panels
The Twisted Nematic is the most inexpensive and popular panel for gamers. It comes with the fastest pixel response time and higher refresh rate, and these are the most important requirements for the smoother gameplay. But there is a downside too, they suffer from poor view angles and low color quality (Contrast ratio is 1000:1). If you view from different degrees away from the screen's center, the colors are distorted. Most of the professional gamers like and recommends the TN panel display.
Vertical Alignment (VA) Panels
In facts, these panels fit perfectly between eh IPS and TN panels. The VA panels are capable to provide the beautiful colors and high contrast ratio (2000:1 and 5000:1). Honestly, the VA panels don't offer the high refresh rate and response time as the TN panel, but they are not terrible either. If you purchase the VA panel monitor that will cost you less compared to the IPS, and you will get a decent quality display with good performance. The VA panel can be found easily in the mid-range displays.
In-Plane Switching (IPS)
The In-Plane Switching panels are the best in terms of wide view angle, color accuracy, great gray-scale performance. However, they are not as good as the TN panels, when we talk about the response time and refresh rate. Resulting, IPS panels are not recommended for serious gamers, however, they are a fantastic choice for casual gamers, and the color sensitive task like – graphics designing, photo editing.
The previous statement is to work with the older IPS monitors.
Nowadays, most of the latest IPS monitors are coming with a good refresh rate and low response time, and they are also widely being used and recommended by many professional gamers. So, make sure before purchasing any IPS monitor, that is having the good refresh rate, and response time or not
In terms of price, the IPS panels are most expensive compared to the VA and TN panels.
The panel choice depends on your budget and requirements. The TN panels tend to provide the highest gaming performance instead of good image quality and they are cheapest, while VA panel can compromise in some performance, but they can serve better image quality within the medium price range. Lastly, the IPS monitors (latest model) are capable to provide the best image quality with the most powerful performance, unfortunately, they are much costly.
Input and Output Ports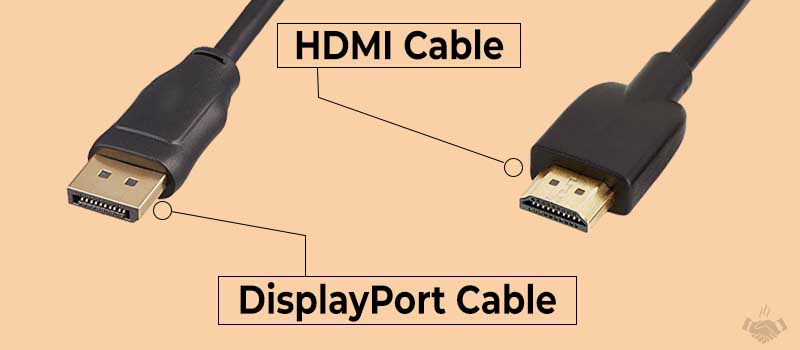 Nowadays, most of the gaming monitors come with the following input and out ports.
DisplayPort 1.4 – It is the best option for transferring for video and audio on PC, and it is recommended to make Adaptive-Sync work.
HDMI 1.4/ 2.0 – The HDMI port is a viable option for mid-range affordable monitors, but it does not support high refresh rate like the DisplayPort.
5mm Audio Out – This port allows you to connect your headphone and speaker directly to the monitor instead of connecting the back side of your motherboard.
Besides of the these, you should also consider the availability for the 3.5mm audio port as well as several USB ports. If you want to connect the gaming controller, mouse or other external devices directly to the monitor, make sure that the monitor supports the USB ports.
Some graphics card also offers the DisplayPort and DVI connectivity, while some monitors come with the dual HDMI port. Having the two HDMI ports is the best scenario because nowadays most consoles use HDMI.
LED or LCD Gaming Monitor?
Well, there isn't any huge difference between the LCD and LED monitors, although LEDs provides the sharper images, consume less power, and their screen tends to be thinner. Despite being more expensive than the LCDs, the LEDs are mostly used in gaming along with everyday tasks.
Viewing Angle of the Display
Honestly, for gamers, the viewing angle doesn't matter too much, because the distance between your face and monitors don't go above the 30 inches. But in general, the wider view angle is better.
If you look at an LCD monitor from the different angle from the center, then you might notice the color shifting and distortion. If you are going to use your monitor for presentations, you definitely pay attention to the view angle too. The view angle of any monitor is usually listed by the manufacturer.
Minimum Requirements for an ultra wide Gaming monitor, if you're a:
Casual Gamer – You love video games, and you love to play every now and then to shake off stress. Moreover, your budget is lower than $200, despite, you want to not compromise in the performance. Then you should check the following specs.
Note: You can also read our post for the best budget monitor here, to find a suitable for you.
Screen resolution: Full HD (1920 x 1080)
Refresh Rate: min 60Hz
Input lag time: max 30ms
Response time: min 8ms
Advanced Gamer – You love to play your favorite game in your every free minute, and looking for the replacement for your old monitor. Then $200 budget might not work for you, to get the desired image clarity and higher resolution support.
Note: You can read another post for best gaming monitors here, where we have compared the top rated 10 monitors for all gaming need.
Then you definitely look for the following specifications.
Screen resolution: Full HD (1920 x 1080)
G-Sync or Free Sync
Refresh rate: min 120Hz
Input lag time: max 20ms
Response time: max 5ms
Pro Gamer – You are probably a pro gamer because you are reading this post to find the best ultra-wide monitors for gaming. Choosing an ultra-wide monitor is a great option, instead of multiple monitors. There are many advantages of ultra-wide monitors like they can set up easily and provide immersive gaming without any screen borders. However, as a pro gamer, you should need the following specification for better gaming performance.
Adaptive-Sync: FreeSync or G-Sync
Refresh rate: min 144 Hz
Response time: max 4ms
Input lag: max 15ms
Adjustability: height, tilting, swiveling adjustments and plenty of video inputs.
QUICK OVERVIEW
Top Rated Ultra Wide Monitors for Gaming in 2022
Dell Alienware AW3418DW

Premium Choice

34.1″ IPS
3440×1440
G-Sync
120Hz

View at Amazon

BenQ EX3501R 35

Best Choice for FreeSync

35″ TN
2560×1080
FreeSync
144Hz

View at Amazon

ASUS ROG Swift PG348Q

Best Choice for G-Sync

34″ IPS
3440×1440
G-Sync
100Hz

View at Amazon
Dell Alienware AW3418HW

34″ IPS
2560×1080
G-Sync
160Hz

View at Amazon
Acer Predator Z35P

35″ VA
3440×1440
G-Sync
100Hz

View at Amazon
ASUS ROG Strix XG35VQ

35″ VA
3440 x 1440
FreeSync
100Hz

View at Amazon
Acer Predator Z35

35″ VA
2560 x 1080
G-Sync
144Hz

View at Amazon
Viotek GN34CB

34″ VA
3440×1440
FreeSync
100Hz

View at Amazon
LG 34UM68-P

34″ IPS
2560 x 1080
FreeSync
75Hz

View at Amazon
Best Ultra Wide Monitors for Gaming in 2022 – Reviews
 1. Dell Alienware AW3418DW (Premium Gaming Monitor with Curved IPS Panel)
26.14 lbs | G-Sync | 3440 x 1440p | 34.1″ | IPS | 120Hz | 4ms | HDMI, Display Port, 4x USB 3.0, 3.5mm
Dell Alienware AW3418DW is one of the best ultra wide monitors for gaming in 2022, the most expensive though. What are the important features that make this monitor most expensive, and why it is recommended for the gamers?
First of all, it is offering a brilliant quality 34.1″ big IPS panel with WQHD (3440 x 1440p) resolution, therefore it is going to make your gaming experience amazing. The IPS panels are well known for great color accuracy and wide view angle, which is a good thing for representation. Moreover, this ultra-wide display offers 120Hz of refresh rate with 4ms response time, that is sufficient for smoother gaming.
As a premium monitor, it is offering the most beautiful, professional and creative design (in my opinion), and with the customizable AlienFX, you can personalize a dynamic look according to your style.
Additionally, Dell Alienware 1900R comes with Nvidia G-Sync technology, if you have Nvidia gaming rigs, it might be a perfect deal for you.
Overall, the Dell Alienware 1900R is one of the best ultra wide displays for gaming in 2022 which is offering great vivid IPS display with WQHD resolution, high refresh rate, quick response time, and Nvidia G-Sync technology.
As I said earlier, it is one of the premium display till yet, and which comes at above $1000 price range, therefore, if you are looking for some low price displays then continuing reading below.
PROS
Most beautiful IPS display with powerful gaming capability
Good color quality and view angles
Fantastic and appealing gaming design
LED-lit technology ensures less power consumption
CONS
Expensive, not for everyone
 2. BenQ XR3501 (Best Gaming Display with TN Panel)
24.4 lbs | FreeSync | 2560×1080 | 35″ | TN | 144Hz | 1ms | 2x HDMI (1.4), 1x DP (1.2), mini DP x1, 3.5mm
The BenQ XR3501 is also a great monitor for gaming, which comes with FreeSync technology instead of G-Sync, therefore if you have the AMD based gaming ring, then it might be a good choice for you.
Like Dell Alienware, the BenQ also cost above $1000, but it has slightly larger size 35″ display with WFHD (2560×1080) resolution. But for the smoothest gaming experience, it powered by the TN panel technology which is offering 144Hz of refresh rate and shortest 1ms of response time. Therefore, you will won't find any lag, smearing or ghosting effect during your gameplay.
If you have AMD based gaming rigs and looking for an ultra wide gaming monitor, the BenQ XR3501 would be a solid choice for you.
PROS
Best performance with higher refresh rate and rapid response time – no lag, ghosting or smearing effect during gameplay
WQHD resolution ensure the greater accuracy
Flicker-free technology and low blue light filter mode reduces the eye strain during longer game sessions
Bigger size provides even great gaming experience
CONS
Average color accuracy with poor view angles
Somewhat higher price
 3. ASUS ROG Swift PG348Q (Best Image Quality with G-Sync)
34.1 lbs | G-SYNC | 3440×1440 | 34″ | IPS | 100Hz | 5 ms | HDMI, DP, 4x USB 3.0, 3.5mm
If you have Nvidia based gaming hardware and looking for the best ultra-wide gaming monitor below $1000, the ASUS ROG Swift PG348Q could be a solid option.
The ASUS ROG Swift PG348Q is offering a 34″ 1440p IPS panel which has the capability to provide 100Hz refresh rate along with 5ms of response time, which is really good while considering the IPS panel. With G-Sync technology and great IPS panel, it can deliver a wonderful gaming experience along with the highest color quality. Moreover, it comes with an adjustable stand, which allows you to do tilt, pivot, swivel, and height adjustment easily.
Aesthetically, along with the most adjustable stand, the back side of this monitor is designed so well, which looks just amazing and professional. Additionally, the ASUS Eye Care technology will make your gaming journey even smoother with lowering the blue lighting of the panel.
Overall the ASUS ROG Swift PG348Q is the best mid-range ultra-wide monitor for gaming in 2022, which is coming with Nvidia G-Sync, 34″ 3440 x 1440 resolution IPS display, 100Hz refresh rate, 5ms response time and adjustable stands.
The ASUS ROG Swift PG348Q has been also recommended by the many professional gamers. But remember if you have AMD based GPU in your computer/laptop, you should choose Free-Sync based laptop instead.
PROS
Richest quality IPS display with 3440×1440 pixels of resolution
Stunning design with modern looking adjustable stand and thin bezels
Solid build quality
Outstanding performance with the 100GHz refresh rate
Asus Eye -Care and Flicker-free technology provides convenient gaming
CONS
Slightly pricey
Bulky construction, especially the stand
 4. Dell Alienware AW3418HW (Solid Performance for Mid-Range)
25.19 lbs | G-Sync | 2560×1080 | 34″ | IPS | 160Hz | 4ms | HDMI, DP, 2x USB 3.0, 3.5mm
No! it's not the same Dell Alienware that we have discussed before, however, they have identical look, but there are some differences between them.
The Dell Alienware AW3418HWwill cost you around $200 less, and it also has a higher refresh rate of 160Hz compared to the AW3418DW. The reason behind the high refresh rate is, downgrade in the display resolution – it is equipped with 2560×1080 pixels of resolution instead of 3440 x 1440p, that's why it became some cheap also.
When comes to the other features, you won't find any noticeable difference, the design and adaptive sync technologies are the same. It also has G-Sync technology, so there is no compromise in terms of performance. Additionally, there is slightly different in the display size, AW3418HW version has the 34″ display, while the AW3418DW version comes with 34.1″ display, it is not the most noticeable difference though.
The Dell Alienware AW3418HW is also a great monitor for the professional gamer for mid-price range, which is almost identical like our first Dell AW3418DW version except for the refresh rate and display resolution.
As compared to the AW3418DW, the resolution has been downgraded to the full HD, while the refresh rate has been increased up to 160HZ, that's there is a huge cut in the price. If you have the budget around 800$, it might be the best bet for you.
PROS
Wonderful price
Solid performance with the highest 160Hz of refresh rate and Nvidia G-Sync technology
Great display quality with the full HD IPS panel and thinner bezels
Gorgeous and creative gaming design
Fully adjustable ergonomic stand
CONS
Not available with AMD FreeSync
 5. Acer Predator Z35P (Another Great Choice with G-Sync and VA Panel)
27.55 lbs | G-SYNC | 3440×1440 | 35″ | VA | 100Hz |  4ms | HDMI , DP, USB 3.0, Speakers
While talking about the gaming monitor how can we forgot about the VA panel, it is not possible. The VA panels are also a great choice for gaming monitor in terms of image quality, view angle, refresh rate.
However, their response time is slightly higher than the TN panels but it is not a deal-breaker thing.
The Acer Predator is a 35″ VA panel monitor which is loaded with the QHD resolution, 100Hz refresh rate and 5ms of response time. If you are not ready for a premium IPS monitors, Acer Predator is the is really a wonderful choice for the mid-range price. Compared to most of the 35-inch IPS monitors with G-Sync technology, it has a very aggressive price.
If you are looking for a decent quality display with good gaming performance within the ideal price range, Acer Predator Z35P might be an ideal monitor for you.
In case, if you have AMD based gaming setup then you can also check the Acer Predator Z35P or Viotek GN34CB, they are also a medium price range monitors, and they are coming with FreeSync technology.
PROS
Very aggressive price for a 35-inch ultra-wide 1440p display
Good display quality with seamless performance, due to 100Hz refresh rate and VA panel
Inbuilt speakers
Fully adjustable stand and solid build quality
CONS
 6. ASUS ROG Strix XG35VQ (Great Choice for Mid-Range with AMD FreeSync)
26.9 lbs | FreeSync | 3440 x 1440 | 35″ | VA | 100Hz |   4ms | HDMI(v1.4), HDMI (v2.0), DP (1.2), 3x USB3.0, 3.5mm

ASUS ROG Strix XG35VQ is the almost same monitor as our previous Acer Predator Z35P, in terms of features. But there is only one major difference, they support the different Adaptive-Sync technologies. Acer Predator comes with Nvidia G-Sync, while Asus ROG Strix has the AMD FreeSync. Resulting, the Asus ROG Strix monitor is become recommended for AMD users.
Like our previous monitor, it comes with 35″ VA panel, with QHD (3440 x 1440) resolution. Moreover, it is capable to serve 100Hz refresh rate with 4ms of response time, which is sufficient for ideal gaming.
Additionally, the ASUS ROG Strix is equipped with an adjustable stand which allows you to tilt and swivel your monitor along with height adjustments.
Asus ROG Strix is the perfect curved monitor for those AMD GPU users, who are looking for a mid-range ultra-wide display with great performance.
PROS
Very appealing price for a 35-inch 1440p monitor
Great performance with 100Hz refresh rate and FreeSync technology
Outstanding gaming design with beautiful adjustable stand and Asus Aura Sync RGB lighting
Asus Eye Care technology for reducing eye strain
CONS
Slightly LED bleed, not too bad though
 7. Acer Predator Z35 (Best Budget VA Display with G-Sync)
25.9 lbs | G-Sync | 2560 x 1080 | 35″ | VA | 144Hz | 4ms | HDMI , DP, USB 3.0, Speakers
Acer Predator Z35 is the best example of an affordable 35-inch monitor with G-Sync support. However, it is not as much cheapest as any standard monitors, because it is a big 35″ full HD ultra-wide curve display, which supports Nvidia G-Sync as well, and these things make its price slightly higher. But I am sure, you'll rarely find a monitor with these great features like for this great price.
This curve 35″ display offer VA panel, that is capable to refresh itself at a 144Hz rate with the 4ms of response time to ensure the best gameplay. Moreover, the inbuilt stand is adjustable, which allows you to do tilt and height adjustment.
Overall the Acer Predator is the lowest priced ultra-wide curved gaming monitor, which is offering many fantastic gaming features along with big 35″ full HD panel.
If you are looking for the affordable big ultra-wide monitor with Nvidia G-Sync, then Acer Predator Z35 worth to take your attention.
PROS
Very affordable price
Great quality VA panel with full HD resolution and 144Hz refresh rate, delivers a solid gaming performance
Adjustable stand with height and tilt adjustments
CONS
Somewhat thick display borders
 8. Viotek GN34CB (Budget VA Panel with Good Performance)
17.2 lbs | FreeSync |  3440×1440 | 34″ | VA  |100Hz | 4ms | HDMI (v2.0) , DP (1.2), DVI, 3.5mm
Viotek GN34CB is one of the best entry-level ultra-wide gaming monitors which is offering 34-inch 1440p VA panel. If your budget is around $500 or you just want a decent quality display without spending too much, then you might like this buddy.
Despite budget monitor, it supports 3440×1440 high resolution,100Hz refresh rate and 4ms of response time. I just want to tell you, it is a FreeSync based display, if you have Nvidia gaming rig then you might need to look at our other monitors.
Well, the Viotek is a 34″ display, and it is the lightest monitor of our list. The price of this monitor is very appreciable compared to its rivals. If you are looking for a budget ultra-wide monitor for your AMD gaming rig with a good refresh rate, I think your search should be ended here.
PROS
Very cheap price
Good performance with 100Hz refresh rate and FreeSych support
Thin bezel display with good quality colors
CONS
No adjustable stand
Average build quality
Not ideal for professional gamers
 9. LG 34UM68-P (Cheapest IPS Display with FreeSync Technology)
17.6 lbs | FreeSync | 2560 x 1080 | 34″ | IPS | 75Hz | 5 ms |  HDMI (v2.0), DP
The LG 34UM68-P is probably one of the rare and cheapest ultra-wide monitors in 2022 which is offering 34-inch IPS panel with FreeSync technology and gaming capability. It is offering a 34″ screen with 75Hz of refresh rate and 5ms response time. Honestly, it is definitely for professionals, but for casual or semi-professional gamers it is still a gem. If you are looking for more great features, then you should scroll at above our list.
Overall, the LG 34UM68 still a great choice for the cheapest ultra-wide monitor despite low refresh rate and high response time.
If you need a most affordable ultra-wide display, then this monitor is recommended, which also holds a great customer rating on Amazon.
PROS
Most affordable gaming-monitor
Justified performance for the price
Full HD IPS display provides a good image quality
CONS
No adjustable stand
Average refresh rate, not ideal for professional gamers
Average build quality
Wrapping it up
We have discussed almost all types of best ultra-wide monitors for gaming for 2022, and I hope you have been already gotten your perfect monitor till yet. All of the monitors, that are listed here almost covers all types of user need, you can choose according to your budget and requirement.
However, if you still have any question regarding these ultra-wide displays, you can tell me in the comment below, I will get back to you quickly.
Thank you very much for reading, have a great day:)