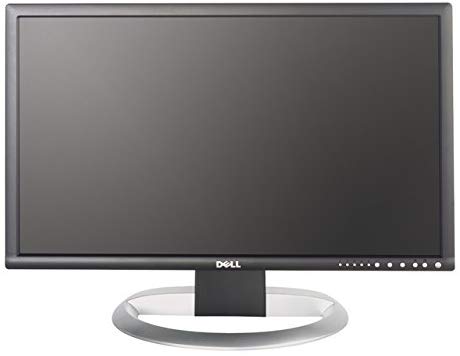 They say that bigger is better, and based on the Dell 2405FPW LCD monitor, you'd get no argument from me. The Dell is a 24-in widescreen display that can only be described as awesome. As soon as it was placed on my desk, it attracted the attention of everyone who passed by.
That's not surprising really as everyone can appreciate the benefits that a large screen monitor can bring. It makes entertainment and creative work so much more enjoyable and the extra desktop real estate enables you to work much more efficiently in Windows, particularly in applications such as Excel.
For a long time, the ultimate display was a large 4:3 monitor with a diagonal viewable area of around 21in, at an optimum resolution of 1,600 x 1,200. But this panel goes one better than that, offering a widescreen resolution of 1,920 x 1,200. This is high enough for playback of true 1080p HD footage – the current pinnacle of HD technology and will give you plenty of space for multiple windows.
A criticism some people make of high-resolution screens is that icons and text become too small to view comfortably. However, the sheer scale of this screen renders that argument redundant. It's also better featured as it houses a two-port USB 2.0 hub and a memory card reader that accepts Compact Flash I and II, SD, MMC, Memory stick, and Smart Media. In terms of inputs, it has connectivity for D-Sub and DVI, and also Composite, S-Video, and Component – the latter which should be just right for next-generation consoles. It also rotates so it can be placed vertically, has height adjustment, and can be angled up and down as well. The only connection not included is SCART. It's been out in the States for a while but it only appeared on the UK site last Monday. There it states that there's a lead time of 45 days, so if you've already got out your credit card don't bank on any immediate gratification – at least from Dell.
What's remarkable is that Dell has managed to bring the price down to a level that's actually almost sensible. While £860.10 is more than most people are willing to spend on a display it's actually great value considering the ViewSonic 23in screen will set you back of £1,100 while Apple's is £1,049.
When you first take the screen out of the box, you have to attach the stand to the display, which it does so easily without any screws – just hook the panel onto the hooks. You can then remove the panel with a quick press of a button and once you do so there are VESA screws for wall mounting.
While the panel is impressively large, the footprint is very reasonable with a depth of only 229mm, ensuring that it won't overwhelm a desk in the way that something like Apple's 30in screen would. And unlike the Apple 30in screen the graphics card can be run at its native resolution by any recent graphics card, though inevitably if you want to run 3D games at this native resolution you'll need to invest in one of the very top-end cards, such as an ATI X800 or GeForce 6800.
Design and Features

Looks-wise the monitor is smart and business-like – i.e. typically Dell. The grey bezel is quite thin, which helps to enhance the already impressively large screen. The Dell logo sits at the bottom center and to the right are six buttons. The furthest right is the power switch and the four in the middle are for controlling the OSD. This is a little fiddly to use. Once you're used to it however, it gets the job done. The button that sits on the left is for input switching and to the left of this are five numbers – one for each input. The input button can be pressed repeatedly to move to each input without having to wait for the actual panel to switch to it. Once you stop on the input you want, the panel then switches instead of it slowly scrolling through each one – a system that works well. No speakers are included as standard but Dell does offer an optional AS500 'sound bar', so you can add audio of desired.
All the inputs at the rear are located facing down in a line and as the monitor is so large there plenty of space to hook everything in. The stand is nice and sturdy and has hooks for cable management at the back. It's very easy to raise or lower the screen at will or swivel it from side to side as required or rotate it down so that you can work in portrait mode. These are touches but make it a real pleasure to work on and notably Apple's more expensive and smaller 23in screen has none of these features. Rotating the screen is a simple matter of lifting the display to its highest position and gently pushing down on the right. The OSD also has a setting to rotate to match the orientation but it won't do this automatically, which is a shame. It does have a Picture-in-Picture function and a Picture-Beside-Picture function.
Performance
As for performance, my first impressions of the screen were that it was sharp and clear but not superbly bright. It lacks the sheer brightness of some LCD TVs but this makes it easier on the eye to use as a day to day monitor.
Starting our DisplayMate testing with the screen connected up via DVI, the panel put in a good, if not perfect, overall performance. There's was some indication of compression at the high end, and the Color blocks were true but not particularly vivid, confirming my original impression. Color fades were even all the way to the end in the Color scales test and there was also some banding in the 256 Color intensity ramp. The black level test was passed but subjectively the contrast ratio didn't seem to match up to it's 1,000:1 quoted figure. There were no dead pixels on the review sample.
It terms of the specs, Dell quotes a response time of 16ms, which is a number that should please gaming fans. Personally, response time is not something I've been bothered by since we reached sub-30 milliseconds and when putting it to the ultimate test – Counter-Strike: Source – I found gaming smooth as silk, without any noticeable lag, at least when I had the screen connected to a Dell notebook with a GeForce 6800 Go Ultra. When using my own PC with a 9800 Pro, I was forced to drop the resolution to get a smooth frame rate and while the screen scales the image well the lower resolution image on the very large screen could have done with FSAA enabled. Ironically though, the card didn't have the power to do it smoothly. Therefore, if 3D games are in your plans for this screen, it would make sense to budget for a powerful graphics card as well.
Video performance was pleasing with both DVD and HD files, with smooth playback, and a natural-looking image though again, if you were to use it as a TV or for video editing more vividness would be desirable. Judging from our high resolution still digital test images, skin tones had a neutral and natural look to them. However, the HP and ViewSonic screen had a shade more accuracy, contrast, and vividness.
Ultimately, while the screen is not perfect, it features, relative affordability and sheer scale mean that many users will be prepared to forgive any perceived flaws. It offers almost as many pixels in one screen as two 1,280 x 1,024 monitors but in one very smart and flexible shell.
Verdict
With the 2405FPW, Dell has brought the ultimate in desirable screen resolution to its most affordable level yet. Despite its relatively low price tag, this is an impressive screen that's easy to set up, very well featured and most centrally, has decent image quality. Nit picking image purists may find be able to find fault, but the sheer scale of the screen coupled with its record breaking price will ensure that this screen will find a lot of customers, though due to limited availability they'll have to be patient.