By Nootan Kumar | Last updated February 15, 2019
Video conferencing has been drastically changed from some years, the days of low megapixel and blocky video feed has been gone.
Whether you are in a meeting with your colleagues or chatting with your mom, a good laptop is always needed. Before choosing the best laptops for video conferencing, we have to consider some important point.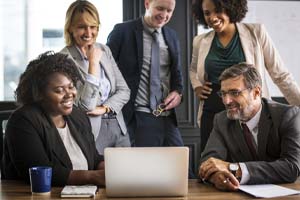 A good pair of webcam, microphone, and speaker these are the most important features for a nice video call. Besides, there are even some other crucial points that deserve consideration.
If you are in hurry or don't have enough time, you can check out my recommendations first. However, you can jump to my buyer's guide anytime by scrolling down below.
So, let's get started!
You may also like: Best Tablets for Video Calling 
Top Rated Laptops for Video Conferencing
Click on the Laptop's name, to know more.
Best Video Calling Laptops - Reviews
 2.2 lbs | N3060 | 4 GB | 16 GB  eMMC | 11.6-inch | 1366×768 | 10-hours ChromeOS   
The ASUS Chromebook is my first recommendation for a video-calling laptop. The best thing about this laptop is – it is the cheapest and most popular device of the current market. If you are looking for laptop only for video calling, trust me this is a great choice.
If you are always on the go then its portable 11.6-inch screen and light body can benefit you. Despite lightweight, this laptop has a rugged construction and you can take it anywhere without any problem. Moreover, its keyboard is spill resistant.
Keep in mind this laptop is only recommended for video calling or you can do some web browsing. If you want to run more programs then it is definitely not for you.
In fact, Chromebooks are the only designed for web browsing so you will only get 16GB of inbuilt storage with 4GB of RAM. Moreover, this laptop has an average performance because of the low-range Intel Celeron processor.
If you need a laptop only for video calling, the ASUS Chromebook is really a steal for this price.
Cheapest
Lightweight
Durable body
Poor performance
Small screen
 5.07 lbs | AMD A6-9200 | 4Gb | 500GB | 15.6-inch | 1366×768 | 5.3-hours | Windows 10   
The Dell Inspiron is the most affordable option for video conference laptop if we talk about the Windows platform. This laptop comes with a large screen of 15.6 inch which is an HD panel. Moreover, AMD A6-9200 processor and 4GB of ram deliver average performance, but you are getting 500GB of storage here.
Considering the price of this laptop, you are getting more than that you are paying off. A big HD screen, good battery life, Windows 10 and average performance, really worth the price.
Design
The Dell Inspiron offers 1366 x 768 HD resolution display with LED backlight, which is enough bright and crisp to deliver good image quality.
The weight of the laptop is 5.07 lbs, which is the average compared to the modern 15″ screens. You can easily carry it from one place to another. Moreover, the body of this laptop is very thin which is very easy to hold.
Overall, the build quality of this laptop is not bad while considering the price, you will not regret purchasing this device.
Performance
This laptop comes with the AMD A6-9200 which is a dual-core processor and works on 2.0 GHz clock rate. It means along with video call you can also do some other task very easily like, checking email, PowerPoint Presentation etc.
4GB of RAM and 500GB of HDD are sufficient for running your multiple tasks, opening some chrome tabs and storing your important data.
Final
The Dell Inspiron 15 is the most affordable video conferencing laptop in Windows. In contrast to Chromebooks, you'll be getting tons of application software support and freedom of customization.
Cheaper
Large screen
Compact design
OK camera and mic quality
Average battery life
Something heavier
2.76 lbs | N3150 | 4Gb | 32GB | 11.6-inch touch | 10-hours | Chrome OS
Unlike previous Chromebook Acer Chromebook R 11 is offering a convertible design and some extended feature. And it is still not cost you more than 300$.
With the convertible design, this tablet can be used for video calling, watching videos (Tent mode) or even taking notes (tablet mode).
This laptop is powered by Intel Celeron N3150 processor, 4 GB of RAM and 32 GB of storage capacity. And that offers 11.6" touchscreen which is convertible, so you can use it as a tablet.
Design
This Chromebook comes in 360-degree convertible design, which is very ideal when you are calling. You can put this on your desk or hold in your hand during your call. Due to the small screen size, this laptop is not heavy at all, 2.76 lbs are easy to carry anywhere.
When we talk about the display, which is an IPS HD panel, that comes with 11.6-inch size and supports the touch. IPS panel provide a better view angle and great color accuracy.
In this price range, the Acer did a great job in term of design.
Performance
As we said above this laptop is especially recommended for video call only, if you planning to expand the load then you should check our other recommendation. Because the Intel Celeron N3150 processor can't handle many tasks. And 4 GB of RAM and 32 GB of storage is not also sufficient.
Final
The Acer Chromebook offers a good battery life of about 10 hours and comes with average performance hardware. However, It's still an affordable and great choice for video calling.
Budget price
Convertible design
Touch screen
Good battery life
Average performance
Poor build quality
 2.76 lbs | Core i5 | 4Gb | 128 GB | 13.5-Touch | 2256 x 1504 | 14.5-hours | Windows 10
The Microsoft Surface is a mid-range great windows laptop for video conferencing, that provides great value features and Microsoft branding. Personally, this laptop is my favorite, because it is very light and comfortable that is very idle for video conferencing. Additionally, this laptop looks so great on the desk due to its simple and professional design.
Inside this laptop, you will get Intel Core i5 processor with the 4 GB of RAM and 128 GB of SSD storage. it is a good combination of performance and the best price.
If your budget is under 800$ then this laptop is the best value for money.
Design
Aesthetically, this laptop is my favorite due to its simple, clean and slim design. The color is also good because the gray color fits well almost with most of the gadget. Apart from that, the keyboard is covered with Luxurious Alcantara fabric which looks very good.
Despite the 14 hours of great battery life and powerful Intel i5 processor, this laptop is having only 2.76 pounds of weight, that is really amazing.
Moreover, the Microsoft surface offers the 13.5-inch screen with 2256 x 1504 pixels resolution, that offers clear picture and natural colors, thanks to its IPS panel.
Overall, Microsoft has shown us that why they deserve the high reputation. This gadget's professional look really impressed me.
Performance
The model that I am discussing here, is coming with Intel Core i5 of 7th Generation, 4GB of RAM. This is a good specification for the mid-range price, you can easily perform all productivity related task along with rich video calling. And 128 GB of SSD ensure the faster performance.
This Surface Laptop is also backed by the best of Microsoft, including Windows and Office products, this is a good another plus point.
Overall, this laptop provides commendable performance and rich video calling experience.
The Microsoft Surface Laptop provides top battery life of 14.5 hours. If you are looking for a mid-range best windows laptop for video conferencing then the Microsoft Surface is a strong contestant in my list for checking out.
Good performance
Great display quality with vivid color
Professional and lightweight design
Microsoft Windows and Office support
Amazing battery life of 14.5 hours
Windows Hello face the sign-in camera with 720p HD quality
Stereo microphones and OmniSonic speakers with Dolby Audio
Only one USB slot and USB Type-C is missing
Slightly over-priced
2.93 lbs | i5-8250U | 8 GB | 256 GB SSD | 13.9-inch touch | 3K | 12-hours | Windows 10 | Office 365 Personal Included 
The Huawei MateBook X Pro is a premium category laptop which looks like the MacBook Pro. For video calling, this device is offering a high-quality camera and microphone.
Here is an interesting thing, the camera of this device is hidden in a key-shape between the F6 and F7 keys. And, it is the most unique concept, if you are not using your cam then you can hide it, which provide a nice layer of security.
Moreover, this device comes with the latest model of the Intel Core i5 8250U processor. Additionally, 8 GB of RAM and 256 GB of SSD provides high performance.
There is another considerable highlight is the full view touch display. you are getting almost bezel-less viewing experience, which looks, even more, great when you are doing the video call or playing video on full-screen mode.
Design
The Huawei MateBook X Pro offers a very thin design and lightweight body. The metallic unibody design makes it more reliable. This laptop is very portable and easy to carry.
Inside the quad speaker and microphone, setup provides great sound quality and accurate sound pickup.
As we said earlier, the webcam is hidden under the keypad button, which is a cool concept. But on the other hand, it's might look weird to some when making a call.
When we talk about the display, which is the major highlight of this product. This laptop comes with a 13.9 inches full view touch display, that offers the ultra-high resolution of 3000×2000 and 91% screen-to-body ratio. The thin bezel IPS panel with high resolution, provide the very sharp and vivid color production. Moreover, the IPS provide a better view angle.
Here is another good thing, for enhancing security, which is the inbuilt fingerprint sensor, that is located in the power button. This sensor allows you to securely log in with a single tap.
Finally, the MateBook Pro is offering a good unibody metal design with a lightweight body. Moreover, the display quality is quite amazing.
Performance
The 8th Gen Intel Core i5 which is a great mid-range processor that can handle most of the complicated task easily. The 8 GB of RAM is sufficient for handling multiple tasks and better performance, and the 256 GB of SSD provides the faster file accessing speed and low booting time.
Final
The Huwai MateBook X Pro offers the 12 hours of battery backup, which is very nice for the high-performance laptop.
If you are looking for a video calling laptop that should look good on your desk and capable to handle heavy workloads besides the video call, then MateBook X is a great pick for you. You are getting a MacBook Pro at the below half price.
Great performance
USB Type-C enabled
Great full view display
Reliable and compact metallic body
Lightweight and diamond cut edge design
Good battery life of 12 hours
Privacy pop-up webcam
Quad microphone and speaker's setup
1-year Office 365 Personal subscription included
Somewhat high price 
Slightly heavy
 3 lbs | Core i5 | 8 GB | 128 GB SSD | 13-inch | 1922 x 1080 | 12-hours | Mac
The Apple MacBook Air is the best laptop for video conferencing in the Mac products. Because it is very lightweight, offers a great battery life along with richest video calling experience.
If you are thinking about the OSX then don't worry, besides of FaceTime, there are many apps which are supported by the Mac OSX, example: Skype, Google Duo, Amazon Alexa, WhatsApp. And if you have Apple devices environments then I don't need to explain the FaceTime clarity.
MacBook Air is a very compact and powerful machine, which is powered by Intel Core i5 processor, 8 GB of RAM and 128 GB of high-speed SSD. This can handle many complicated processes without any problem.
Design
However, MacBook Air design doesn't need any explanation, this compact laptop still a great example of a high-tech device. Compact and ultra-durable aluminum construction, with powerful specs and a great battery life, is the main highlight of this product. And when we talk about its Retina display, which is a full HD IPS panel that provides the great quality sharp and vivid image.
Overall, the MacBook Air is having the decent build quality, with powerful features.
Performance
The MacBook Air comes with Intel Core i5 processor, that can go up to 2.9 GHz of clock rate. And 128 GB of SSD drive deliver high performance, it will not take more than 3 seconds to show your desktop. For multitasking 8 GB of RAM with 1600 MHz frequency is sufficient, you will not feel any lag in the operation.
You can run many multiple programs like mail, PowerPoint, Excel, words, any video calling software without any problem. In other words, this load is the piece of cake for this machine. In terms of performance surely you will not get disappointed. 
The storage capacity might be low for some users, but you can purchase an external hard drive for that.
The MacBook 13 Air is the best laptop for video conferencing, which offers 12 hours of great battery life, and decent performance.
Honestly, the Apple devices are expensive, but if you can afford to get the MacBook Air on your budget, you likely won't regret it.
Powerful performance
Durable and reliable construction
Ultra-sharp 13″ Retina screen 
Compact and lightweight design
Good battery life
Top quality camera and microphone for rich video calling
1.73 lbs | i5-8250U or i7-8650U | 16GB | 1TB NVMe | 12.3-inch touch | 2736 x 1824 | 13.5-hours | Win10 Pro 
While Apple's MacBook Air is a great device for video calling but Windows lover needs something different. And, why not, Windows is the widely used operating system of the computer nowadays, which support the largest number of applications.
The newly launched Microsoft Surface Pro is a top device for video conferencing when we talk about the Windows machines. The best thing about this device is – you can configure this device according to your budget. There are different variants are available, you can choose between 8 – 16GB RAM, 128GB – 1TB of storage and Intel i5 and Intel i7.
Design
In terms of design this device really a winner, actually it's a tablet cum notebook. It means you can detach its keyboard and use it freely. It is very ideal for video calling or taking notes.
The Microsoft Surface Pro 6 is coming with a 12.3-inch display which is having ultra-sharp 2736 x 1824 pixel of resolution. You'll be getting the richest display experience with real life-like colors. Additionally, the display is multitouch enable, you are allowed to touch 10 points at the same time, which is really impressive.
With the amazing durability and metal design, this device is comparatively lightweight. Moreover, the battery backup is pretty impressive, you'll be getting around 13.5 hours of video playback time.
Performance
As I said this device is available in several variants, so you can choose horsepower according to your need. However, for a video calling and simple office work, you don't need the most high-end variants. An Intel i5 with 8GB of RAM and 256GB of storage will be enough for you.
But as compared to other, this device is offering the NVMe storage which is tremendously fast.
For video calling, there is a 5.0MP front-facing the camera with 1080 Skype HD video calling is provided. Moreover, the back camera has 8.0 MP of resolution with 1080p video recording. Moreover, dual microphone and Dolby Audio stereo speaker will make your calling more appealing.
Overall, the Surface Book Pro 6 is one of the best laptops for video conferencing which is offering a portable and lightweight design, great performance, rich video calling experience, and richest quality touch-enabled display.
Top performance
Lightweight and beautiful design
Use as a tablet or laptop
Amazing display quality 
High-quality video calling experience
Top battery life
Best Laptops for Video Conferencing – Buyer's Guide
Picking the best laptops for video conferencing is not that easy, you should look for also some other feature besides the camera and microphone.
Below are some points that are very helpful before choosing the video calling laptop.
What should be considered before purchasing the best laptops for video conferencing?
1. A Quality Microphone and Camera
This is the most important feature that should consider because no one like to be in a meeting with someone who sounds and looks indistinct. When choosing a new laptop, ensure that the laptop is having at least a two-megapixel camera. As all we know, appearances are everything, so it makes you look clear during the meeting.
Additionally, some webcam works better in the low light situation, this feature is very helpful when calling late night. So, try to find a laptop that is capable to work in some low degree of light.
When we talk about the microphone, you should look for one that offers the crisp pickup of great quality. But don't worry, most of the laptop brands do a reasonable job, but you might need attention to find one, that should work according to your need.
Finally, this recommendation might look weird for someone – I prefer a laptop that is having webcam top of the screen, but why?
The laptop with below screen webcam, which can result inappropriate and creepy, when looking bottom to the screen during conferencing.
2. A Good Display
This is the second most important feature for the best video conferencing laptop. I would recommend the IPS panel they provide better view angles, vivid colors and good contrast. This will be useful when viewing the spreadsheets and presentation. And for size concern, at least 12 or 14 inches screen laptop is recommended, because it allows you to see small text in a PowerPoint presentation, and what's being clicked on the GoTo meeting.
Most businesspeople desire something that can be easily fit into their suitcase or bag. But you should try to compromise in this case. No one wants to squint in the skype call or software demo, so make sure find a display that has at least Full HD resolution or higher.
3. Long Battery Life
This is also an important factor that you should put a lot of consideration into. Purchase a laptop that has at least six or seven hours of battery backup. However, conference rooms tend to have power outlets, but it's always a good idea to keep the backup for those situations when you don't have the external source.
According to my recommendation, eight hours of battery backup is sufficient. This will give you the whole day juice when you can't find any power source in any situation.
4. Portability
As we mentioned in A Good Display section, try to choose the at least 12/14 inches screen's laptop. But along with the big screen, you should also consider the laptop weight. Try to find a light and slim device as possible, especially if you travel a lot. Around three-pound laptop is good in many conditions, that will not feel uncomfortable in your hand or in carrying bag.
For video conferencing, you don't need a heavy processor or graphics card, you can easily find a suitable machine, that will be nice and easy to carry.
5. Connectivity Options
Some laptops come with built-in 3G or 4G compatibility, so that is very helpful to take video calls from anywhere. But Personally, I think, it is not the major requirements. Because nowadays all people carry a smartphone and so it is very easy to tether your smartphone connection with your laptop for 4G LTE level of speed.
For this, you should have a great Wi-Fi inside your laptop so that will provide you a stable connection when you have a signal.
I would prefer a laptop with 802.11ac Wi-Fi (Also mentioned Wi-Fi a/c sometimes) or at least with b/g/n-type. But remember along with the type of the Wi-Fi technology the antenna design and hardware quality plays the most important role in real life Wi-Fi speed.
This is not the harder thing, you can easily find this in the specs of the products or by googling.
6. Other Recommendations
As we said earlier for video conferencing, you don't need any heavy configuration machine. But if you are doing more that the that, you might consider the other component as well.
There are many processors, memory, graphics and hard drive types available. Below here's a breakdown that what I consider for a good level of business users.
Processor – at least Intel Core i5 processor is recommended
RAM – At least 4GB or more
Graphics – there is no need for heavy graphics, integrated Intel graphics will work fine.
Hard Drives – I prefer at least 500 GB, but if you choose SSD that will provide more portability along with high storage.
I hope, it should be easy for you to pick the right laptop for video calling.
I just want to tell you:
If you are just looking for a laptop only for video calling then you don't need to spend a lot of money. A cheap Chromebook will be sufficient for you.
However, you want to do some other office related task on your notebook, I would recommend avoiding the Chromebook. You should choose either Windows or Mac according to your budget and requirements. You can find many good laptops in my rundown.
Ok, if you have any question regarding these best video conferencing laptops then let me know in the comment below, I'll back to you shortly.
Thank you very much!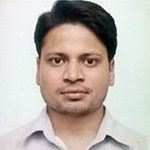 Nootan Kumar is a 24-years-old Blogger from India. He is a Cisco certified network engineer and currently doing the job in a reputed company. He is very enthusiastic about Computer gadgets and technology. Read more about him
Affiliate Disclosure
10HotDeals.com is a participant in the Amazon Services LLC Associates Program, an affiliate advertising program designed to provide a means for sites to earn advertising fees by advertising and linking to amazon.com.