Choosing an inappropriate monitor can cause a bad reading experience and eye strain. If you spend a lot of time in front of the monitor, especially in the night, then picking the right monitor is become even more important that will help to reduce some eye fatigue.
If you're in a hurry, check out our top choice BENQ PD3200U a href="https://amzn.to/2SavWBi" target="_blank" rel="nofollow noopener noreferrer">View at Amazon.
Yes, some monitors come with many health-friendly features like E-Ink display, anti-glare screen, low blue light filtering which can provide a pleasant user experience.
Also, reading: best monitor for coders in 2022.
Nowadays, the market is highly saturated with tons of options; therefore, it becomes a bit confusing too in finding the perfect monitor.
But don't worry, this post will tell you exactly that which you should keep in mind before choosing the best monitors for reading text in 2022, also you will get my hand-picked recommendations.
If you're in a hurry, you can check my best recommendation here.
So, let's jump right into the important points that will help to choose the best monitor to reduce the eyes strain.
Best Comfortable Monitors for Eyes – Buyer's Guide
What are the important points that should be considered before purchasing the best monitor for text reading?
Which type of display is the best for reading text or more suitable for eyes?
Without any doubt, the E Ink displays are the best for reading, as well as they are highly convenient for eyes. These displays provide the real paper-like reading experience, without any glare on the screen.
Basically, E Ink is an electronic paper display technology characterized by high contrast and visibility, that consume less power compared to the other display technologies. But there are only a few manufacturers that are bringing this technology into a computer monitor. Moreover, this display only available in black and white color, and comparatively is more expensive. We will also include some best product from E Ink display in our product review section. If you can work with black and white display, then trust me, no display can compete with them in terms of contrast ratio, view angles, and comfort level.
But what if I don't want to use a black and white display, is any other options are available?
Absolutely yes! There are also other great technologies are available which can provide an amazing reading experience. After the E-Ink display, I would like to suggest the IPS (In-Plane-Switching) display for a reading monitor. This display technology is well-known for the highest color accuracy and widest view angles, also used by many professional photographers. with the natural and vivid color-production and broad view angles, it can provide a pleasant user experience.
Also, keep in mind all IPS monitors are not the same, there are many factors that affect the screen quality like, backlight technology, contrast ratio, color gamut.
Probably, you might have heard about the LED displays. Basically, it is a Backlit technology in computer monitors, so don't get confused. The main advantages of this LED display are, they consume less power, provides the brighter light on the display and make the monitor slimmer.
Another considerable display technology which can be used for an appealing reading experience, which is VA (vertical alignment). Basically, this panel is known for a higher contrast ratio, good color quality, good view angle, better refresh rate, and bright display; therefore, it could be the best bet for a text reading. But these panels are not being widely used like the IPS panel and has limited availability.
Apart from these, you can find many monitors with TN panels, but I would not recommend them as reading displays. These displays are better for gamers, that provide the fastest response times and refresh rate, instead of the good image quality.
I don't need to tell you, a bigger size display is always a better choice for reading, and the size depends on your requirement and budget. Usually, 24" – 27" monitors are the most popular for readers and programmers.
Along with size, the resolution is also a critical factor that affects the readability and image quality of a monitor.
But what is the best monitor resolution for reading text or comfortable for the eyes?
There is no standard resolution for every display, the resolution should be chosen according to the size of the display.
What does it mean?
First of all, we have to know, what is the resolution. Basically, the resolution is the number of distinct pixels in each dimension, that can be displayed. And usually it is quoted as width x height, for example: "1920 x 1080" means the width is 1920 pixels and height is 1080 pixels.
As you can see, as much higher the resolution, the more pixels will be in the display, means more clarity or sharpness.
But the question is still the same, what is the good resolution?
Usually, for 24-27″ monitors a 1440p (2560 x 1440) resolution works best. You can get some more detail from the below infographic. Going with more above these resolutions for the respective display size, and spending more doesn't make any sense. Because your eyes likely won't able to see the difference between a 27-inch 2K and 27-inch 4K monitors.
Do you know? Staring in the wrong direction or continuously in the same direction, can cause stretch or neck pain. And we do it all day when we work on our computer. There is a nice article on Spine Universe for neck pain. Well, if you have read that article, then you definitely know, there are 4 out of 8 reasons that are pointing only to the monitor positioning. Those are:
How far away your screen is?
Make the screen high enough.
Place the monitor directly front and facing you.
Adjust screen position for your corrective eyewear.
And rest of them are talking about the display quality (we have covered that in previous topics).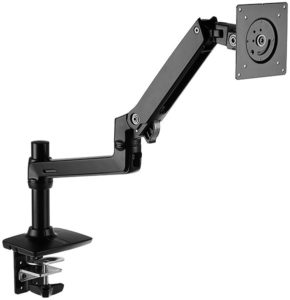 So, the essence of the story is, if it is the matter of height, angle or rotation positioning of the monitor, the monitor's stand should be able to do the same. There are many monitors that offer inbuilt adjustable stand, however, you can purchase a nice separately, that will allow doing even more.
Which type of monitor is best for the eyes?
Usually, a monitor with a matte finish, wide view angle, high contrast ratio, accurate colors, big size, and higher sharpness is good for the eyes.
Which monitor is best for eyes, LCD or LED?
LED monitor means the LCD panel is backed with the LED backlighting. On the other hand, the older LCD uses the CCFL for the backlight, which emits the fluorescent UV light as well. With that out the way, the LED monitors are the best for the eyes.
Is a 4k monitor good for eyes?
According to experts, the 4K monitors are more viable to focus on and good for the eyes.
Are IPS monitors better for eyes?
IPS monitors provide the highest view angles along with the most accurate colors as compared to the TN or VA panels. Therefore, they are best for the eyes?
Is a bigger screen better for the eyes?
The bigger screen is better for the eyes, but it should have a sufficient resolution for clarity. A large screen provides more working area along with text clarity.
Is glossy screen bad for eyes?
Arguably, the glossy screen can cause eye strain for many people, especially when working with longer sessions.
Is retina display better for the eyes?
Retina display is also an IPS panel with quite higher resolution and excellent brightness and could be better for eyes, as we said earlier.
How far should your eyes be from the monitor?
A monitor's position shouldn't be closer than 20 inches from your eyes. Usually, an arm's distance is suitable in most cases.
QUICK OVERVIEW
Top Rated Monitors for Reading Text
Dasung Paperlike

Editor's Choice for E-Ink

4.35 lbs
13.3″, E-Ink
2200 x 1650
Micro HDMI

View at Amazon
BOOX Max2

1.21lbs
13.3″, E-Ink
1650 × 2200
Micro HDMI

View at Amazon
ASUS VZ239H-W

6.0 lbs
23″, IPS
1920 x 1080
HDMI, VGA

View at Amazon
BenQ GW2760HL

9.92 lbs
27″, VA
1920 x 1080
HDMI, DVI, VGA

View at Amazon

Dell S3219D

Best in Budget

25.05 lbs
32″, VA
2560 x 1440
2c HDMI, 1x DisplayPort

View at Amazon

BenQ PD2710QC

Best in Mid-Range

16.53 lbs
27″, IPS
2560 x 1440
1x HDMI, 2x DisplayPort

View at Amazon

BenQ PD3200U

Editor's Choice

27.6 lbs
32″, IPS
3840 x 2160
2 x HDMI, 1x DisplayPort, 1x mini DP

View at Amazon
Best Monitors for Reading Text – Reviews
Best E-Ink Monitors for Comfortable Reading
In this section, I will only discuss the E-Ink monitors, they provide the outstanding reading experience just like real paper. However, if you are not interested in the black and white displays, then you can skip this section.
 1. Dasung E-Ink Paperlike 3 (Best E-Ink Display to Reduce Eye Fatigue)
4.35 lbs | 13.3-inch | 2200 x 1650 | E Ink
As I promised above, I will review an E Ink monitor, and here it is. The Dasung Paperlike 3 is the first monitor that features an E Ink display panel. According to its characteristics, it provides the widest view angle and glare-free reading experience. This is probably the best monitor for text clarity and most convenient for eyes.
This is a real Paperlike display, which is totally glare-free. Moreover, it comes with 2000 x 1650 of resolution which is the highest resolution till yet for E Ink display. Unlike other monitors, this doesn't emit a harsh backlight that can lead to eye issue, headaches, and insomnia. If you are very health conscious then this E Ink display is the perfect replacement for your ordinary monitor.
When we talk about the setup, you can easily do that. You just need to connect two cables with your laptop/computer – HDMI cable for display, USB for powering the monitor.
Additionally, there are four different display modes are given, that will help you to choose the right display setting for you.
The Dasung Paperlike 3 is one of the best monitors for reading text, reducing eye fatigue, and this it is probably the single monitor which is offering an E-Ink display. If you are can accept the black and white display then trust me it is the ultimate choice for a reading monitor.
PROS
Widest view angle and contrast ratio for optimum reading convenience
Lowest energy consumption – even can be powered by a USB port
High-resolution display with natural backlighting
Lightweight and portable
CONS
Very expensive
Only black and white color supports
 2. BOOX Max2 (13.3″ E Ink Tablet with Monitor Support)
1.21 lbs | 13.3-inch | 1650 × 2200 | E Ink | 32 GB | 4100 mAh
The BOOX Max 2 is our second choice for E-Ink display in our list, which is a touch-enabled E-reader. Probably, you might be wondering what is the use of this tablet or E-Reader here. I want to tell you, it is not only a tablet you can use it as an external monitor with HDMI port.
As you know it is an e-reader, therefore, it is running on Android OS; therefore, it can be used for reading or drawing independently. It is coming with a stylus, and you can directly work on the screen for drawing or taking notes. Moreover, with 2048 of pressure sensitivity, you are allowed to draw more creative strokes like thick or thin lines according to the applied pressure.
This android tablet is coming with 4100 mAH battery with will allow to use it separately for reading or drawing. Moreover, with the inbuilt 32 GB of storage capacity, you can store your favorite eBooks or magazines for later reading.
Also, keep in mind it is an E-Ink based display; therefore, you will be only getting the black and white display. However, it is still a solid deal, you're getting both tablet and monitor facility in one room.
If you want to use it as a monitor then you might need to additionally purchase a stand to hold it properly.
As we said earlier, it is the E Ink display, means you will widest view angle, highest contrast ratio and 100% glare-free screen, which is just perfect for an immersive reading experience.
BOOX Max 2 is one of the best monitors for eyes, which is a fully functional tablet first. Overall, if you are looking for the best computer monitor for reading text in 2022, then BOOX Max 2 is could be a great choice, which is cheaper than the Dasung E-Ink monitor and offering many other great features.
PROS
An outstanding real paper-like display provides the highest contrast ratio with the widest view angle
Lightweight and portable
Can be used as a tablet and provides flexibility
Stylus with 2048 pressure sensitivity allow to take notes or drawing
CONS
Only black and white color available
Price is not for everyone
Best IPS and VA Monitors for Convenient Reading
In facts, the E-Ink display technology is the best when it comes to reading tablets for monitors, and it is being used in the most E-readers. But due to the lack of colors, limited availability and higher price it has a lower number of users, especially in the computer monitors. As I said in the buyer's guide, IPS and VA technologies are also the brilliant choices for text reading, and in this section will only contain IPS and VA monitors.
 3. ASUS VZ239H-W (Most Affordable Monitor for Reading Text)
6.0 lbs | 23-inch | 1920×1080 | IPS
If you are looking for an inexpensive monitor for some general tasks like browsing and reading, the Asus VZ239H-W could be a nice choice. With the 23-inch full HD (1920 X 1080) IPS display and Asus Eye Care technology, it can provide a smoother viewing experience.
First of all, the Asus VZ239H-W is offering an IPS panel; therefore, it can be viewed from up to 178-degree view angle without any color shifting. Moreover, Flicker-Free technology provides a more comfortable viewing experience without any eye fatigue, it is very useful especially if you spend long hours with your monitor.
Because it is a full HD monitor, so it is offering an HDMI port with VGA port which makes it compatible with older devices. Additionally, this unit is offering 1.5-watt inbuilt stereo speakers for your listening to music or watching videos.
In fact, it is a small monitor; therefore, if you're looking for a big one then you need to scroll down.
When it comes to design, this monitor is offering narrow bezel, thin design with the lightweight body, which provides an immersive viewing experience.
Overall, the Asus VZ23H-W is the best monitor for reading documents at the cheapest price, if you're not ready to invest in the expensive monitor it could be a nice deal for you.
PROS
Budget oriented monitor
Good picture quality with 23-inch full HD IPS display
Thin and beautiful design with narrow bezel
Asus Eye Care and Flicker-Free technologies for comfortable viewing
CONS
Smaller size
Speakers sound is terrible, however, some monitors don't even offer speakers
 4. BenQ GW2760HL (Another Great Monitor with 27-inch Screen)
9.92 lbs | 27-inch | 1920×1080 | VA |  300 cd/m2
Have you heard about the BenQ GL2760H monitor? Which is a quite popular monitor for the 27-inch screen, but unfortunately it has a TN panel. While the BenQ GW2760HL is offering the VA panel, that's why it becomes a nice choice for convenient reading.
If you don't know, the TN panel provides the highest refresh rate and lower response time regardless of color accuracy and view angles, so it is strongly recommended for the gamers. And, The the VA panel (this monitor) is just the opposite of that, it provides the higher contrast ratio with good color quality and view angle, and ideal for reading or longer working. However, the view angles still not as great as the IPS panel but it is quite identical.
As I said above the BenQ GW2760HL is offering a 27-inch VA panel with full HD resolution. Moreover, with the Low Blue Light Plus, and ZeroFlicker technology, it will be loved by your eyes; because it will eliminate the blue-violet radiation (harmful for eyes) from the monitor light without affecting the blue turquoise light.
As I said above the VA panel offers the higher contrast ratio, in this case, you're getting the 3000:1 Ultra-High Native contrast ratio, which is really amazing for this price point.
If we talk about the connectivity options, this monitor is offering the HDMI, DVI, and VGA port which provides flexibility to work with different devices. Additionally, the BenQ has equipped the speakers into the body, in facts they don't provide very impressive sound, not bad for general purpose though.
This monitor having the thinner bezel design, which looks outstanding and could be ideal for a multi-monitor setup.
If you need a bit big size display without shaking your bank account, the BenQ GW2760HL could be a solid choice, which is offering a good image quality while considering your eye's health.
PROS
Affordable price
The VA panel with full HD resolution provides a high contrast ratio and ensures the good picture quality
Low Blue Light filter and flicker-free technology provides a smooth view experience
A wide range of connectivity options
Beautiful and thin design
CONS
Inbuilt speakers are having somewhat poor sound quality
 5. Dell S3219D (32-inch Monitor with ComfortView Feature for Eyes)
25.05 lbs | 32-inch | 2560 x 1440 | VA | 99% sRGB
For better reading, the larger displays are always a good choice, which will make the characters larger. So, this makes sense with go with the larger screen if your budget allows it. But, choosing the big screen, not an only solution, for maintaining the quality of image the resolution should be sufficient. That's why I have listed the Dell S3219D monitor here, it is one of the most popular 32-inch monitors on the market which is offering the QHD resolution with many outstanding features.
First of all, Dell S3219D is equipped with the VA panel technology which makes it capable to deliver higher contrast ratio and better refresh rate. Moreover, with 99% sRGB and AMD FreeSync technology, this monitor will be equally loved by professional photographers and gamers. If you're going to purchase this monitor, then you're hitting two birds with the same bullet.
For health-conscious users, Dell is offering the ComfortView feature which will minimize the bad effect of harmful blue light. Moreover, the flicker-free and the low-haze screen will enhance the eye comfort with reducing the distractions.
As I said above this monitor is offering the 99% sRGB color gamut, it means it can deliver the acceptable color accuracy according to the printing standard.
In the bottom side, the Dell is offering the 2x HDMI 1.4, 1x DisplayPort (1.2) and USB 3.0 port with 2x 5W speakers; therefore, it can be used with different type of devices. With the Waves MaxxAudio support and 10W speakers, this monitor can deliver a brilliant sound quality.
Overall, the Dell S3219D is a perfect monitor for those who are looking for a bigger display without an expensive price. It is a versatile monitor, along with delightful reading experience, this monitor also can be used for photo editing or gaming.
PROS
Bigger VA panel with good color accuracy and QHD resolution
Flicker-Free and ComfortView ensure the pleasing reading experience
Brilliant sound quality with Waves MaxxAudio and 10W stereo speakers
Extensive connectivity options
CONS
View angles are not as great as the IPS, not very bad though
 6. BenQ PD2710QC (Best Choice for Mid-Range)
16.53 lbs | 27-inch | 2560×1440 | IPS | 1.07B, 100% sRGB | 350 cd/㎡ |USB Type-C
If you can spend a bit extra on your monitor then BenQ PD2710QC could be a great choice. In facts, it is a 27-inch monitor and if you need a bigger display for the budget price then I have already listed a monitor for you.
But why this monitor is still costly even though having small screen size?
First of all, this monitor is offering the higher color accuracy with 100% sRGB color gamut, it means it can deliver life-like color. Additionally, the QHD resolution within the 27-inch panel can provide an outstanding sharpness.
The best thing about this monitor is, it is coming with a USB Type-C port. Therefore, a single cable would be enough to transfer the video signal and charging your device simultaneously. Additionally, this monitor is offering the Daisy-Chain feature as well. For those who don't know what Daisy-Chain is, basically, this feature allows connecting multiple displays with a single DisplayPort cable, and this monitor supports up to 4 daisy-chaining.
The monitor adjustability plays a significant role in the comfortable user experience, and this monitor is offering a fully adjustable stand for that. You're allowed to tilt, pivot and height adjustment as per your requirements.
As I said above this monitor can deliver outstanding color accuracy with 100% s RGB color gamut; therefore, it would be perfect for delightful reading experience with natural colors. Moreover, the Low Blue Light and flicker-free technology can make your reading more comfortable with eliminating the risk of eye fatigue or strain.
In terms of design, the BenQ PD2710QC is offering very professional clean and minimal design with narrow bezel which looks just marvelous and provides immersive viewing experience.
If you're looking for a monitor with higher color accuracy and sharpness without spending the premium price the BenQ PD2710QC could be a solid choice, which is also offering the USB Type-C support, Low Blue Light Filter, and Flicker-Free technology.
PROS
Outstanding color quality with optimal brightness soothing for eyes
Professional and beautiful design with narrow bezel
USB Type-C provide a single cable connection for charging and video transmitting
Eye-Care technology for peaceful reading
CONS
27-inch size might be small for some people
 7. BenQ PD3200U (Overall Best Choice)
27.6 lbs | 32-inch | 3840×2160 | IPS | 100% Rec. 709 and sRGB | 350 cd/㎡
While my previous BenQ monitor is just amazing but it has a somewhat small size. This monitor that I am going to discuss here is just perfect in all aspect, whether it's about the size, design, display quality or even stand features. But, keep in mind it is an expensive monitor, if you're looking for a budget-oriented device then Dell S3219D could be the best bet for you. However, if you can spend on this expensive monitor, I can say with confidence it can deliver the best reading experience without any eye fatigue or strain even longer use.
There are some reasons behind the costliness of this monitor.
First and foremost, it is a designer monitor which is having higher color accuracy (100%sRGB) and 4K resolution within the 32-inch IPS panel, which is the perfect blend to ensure the real life-like colors with higher sharpness. With that out the way, it can provide a soothing experience to our eyes. If you remember my first pick for E-Ink display on the top, which is very expensive despite the black and white display, however, that looks like a real paper display and provide the smoothest reading experience. On the other hand, this monitor is offering a highly accurate color display with outstanding features even in less price, which is admirable.
I don't recommend the E-Ink display until you're not going to use your display solely for reading purpose.
Unlike all monitors of our list, the BenQ PD3200 U is offering the KVM (Keyboard Video Mouse) feature which allows controlling two computers with a single set of keyboard and mouse.
Because it is an IPS panel; therefore, you'll get the widest view angle without any color shifting, and the 4ms response time makes it capable for gaming. Additionally, the Low Blue Light Filter and Flicker-Free technology make this monitor ideal for longer working sessions without any eye fatigue.
In terms of connectivity, this monitor is equipped with 2x HDMI (2.0), 1x DP (1.2), mini DP (1.2) x1, 3.5mm, and 5x USB ports which serves flexibility connectivity. Moreover, with the inbuilt ergonomic stand, you can set monitor's orientation according to your need.
Overall, the BenQ 3200U is probably the best monitor for eyes after the Dasung (E-Ink display) which is offering the higher color accuracy, sharper image quality with a bigger screen, and Eye-Care technology.
PROS
Outstanding image quality with accurate colors and sharpness
Eye-Care technology reduce the harmful light for better user experience
KVM feature to controlling two monitors with same keyboard and mouse
Ergonomic stand and a wide range of connectivity options
CONS
Price is not for everyone
USB Type-C is not available
Wrapping it up
Until you don't have any serious health problem like a migraine, then you don't need to worry about too much. You can go with any monitor which have either IPS or VA panel, both technologies are good for the optimal viewing experience. If you're looking for the most budget-oriented option then Asus VZ239H-W is right for you, which is offering a 23-inch IPS screen with full HD resolution. And if you can raise your budget a bit then BenQ's GW2760HL is something better option with big display and other features.
The Dell S3219D is my top choice in the budget displays for 32-inch screen size. If you prefer the clarity over size then you might like the BenQ PD2710QC monitor which is offering 100% color accuracy with higher sharpness.
Finally, the BenQ PD3200U is probably the best monitor for reading purpose which provides the maximum eye-comfort with the real life-like colors and higher accuracy.
While if you're looking for the something serious health conscious monitor, then I would like to recommend the E-Ink panel because there is no display technology which can provide the widest view angle, higher contrast ratio compared to the E-Ink. If you can read a book then you can read the E-Ink monitor too, it is almost a real paper-like display. For example, If you looking for the best monitor for migraine sufferers then the E-Ink display will be my only recommendation. There are only a few monitors like Dasung or BOOX Max 2 are available which are offering the E-Ink technology. But, keep in mind this display is only available with black and white color.
What do you think about these monitors or have you any questions regarding them? Leave a comment below for me, I will get back to you shortly.