By Nootan Kumar | Last updated January 14, 2019
Choosing an inappropriate monitor can cause the bad reading experience and eye strain. If you spend a lot of time in front of the monitor, then picking the right monitor is become recommended, so that could reduce some eye fatigue.
But before choosing the best monitors for eyes or reading text, you should consider some important factors, that will make your decision accurate.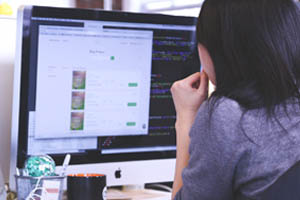 If you read this entire article then you will find the best monitors for reading text or at least you will be aware of those main things that are most important.
So, without wasting time let's get started.
What are the important points that should be considered before purchasing the best monitor for text clarity?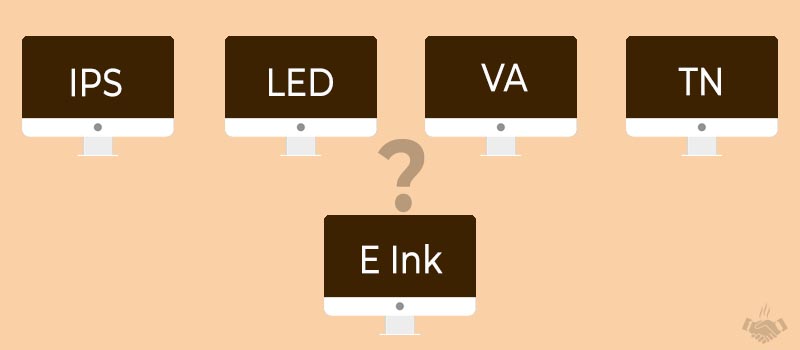 Which type of display is the best for reading text or more suitable for eyes?
1. E Ink:- Without any doubt, the E Ink displays are the best for reading, as well as they are more convenient for eyes. These displays provide the real paper-like reading experience, without any glare on the screen. Basically, E Ink is an electronic paper display technology characterized by high contrast and visibility, that consume less power compared to the other display technologies.
But unfortunately, there are only a few manufacturers, those are bringing this technology into a computer monitor. Moreover, this display only available in black and white color, and comparatively is more expensive.
In our product review section, we will also include some best product from E Ink display. If you are comfortable without color display, then trust me, no display can compete with them in terms of contrast ratio, view angles, and comfort level.
But, what if I don't want to use a black and white display, then is there no any option for me?
Well, there are also other great technologies that can provide the amazing reading experience, but you will have to accept some glare on the screen, then you can find tons of options.
2. IPS:- Second, the most common technology that is used in the great quality monitor is the IPS. This display is well known for color accuracy and mostly used by professionals. The natural and vivid color production can provide comfort to your eyes. When we talk about text reading, this display is perfect that also provide wide view angles.
3. LED:- The third display technology (Backlit) that takes place into monitors is the LED. I will not discuss the sub-type of this technology here. I just want to tell the main difference, this technologies display provides great contrast ratio than IPS display, and have the brightest light. So, that could be a good choice for reading display.
4. VA and TN:-  Apart from these, there are some other displays available like VA and TN, but I would not recommend them as reading displays. These displays are better for gamers, that provide faster response times and refresh rate, instead of the good image quality.
I don't need to tell you, a bigger size display is always a better choice for reading, and the size depends on your requirement and budget. Usually, 24" – 27" monitors are the most popular for readers and programmers. However, you can go with larger size, if your budget allows it, that will ease you reading even more.
Along with size, the resolution is also a critical factor that affects the readability and image quality of a monitor.
But which is the best monitor resolution for reading text or that suite the eyes?
There is no standard resolution for every display, the resolution should be chosen according to the size of the display.
What does it mean?
First of all, we have to know, what is the resolution. Basically, the resolution is the number of distinct pixels in each dimension, that can be displayed. And usually it is quoted as width x height, for example: "1920 x 1080" means the width is 1920 pixels and height is 1080 pixels.
As you can see, as much higher the resolution, the more pixels will be in the display, means more clarity or sharpness.
But the question is still the same, what is the good resolution?
Usually, for 24-27″ monitors a 1440p (2560 x 1440) resolution works best. You can get some more detail with below infographic. Going with more above these resolutions for the respective display size doesn't make any sense. Because your eyes can't able to see the difference.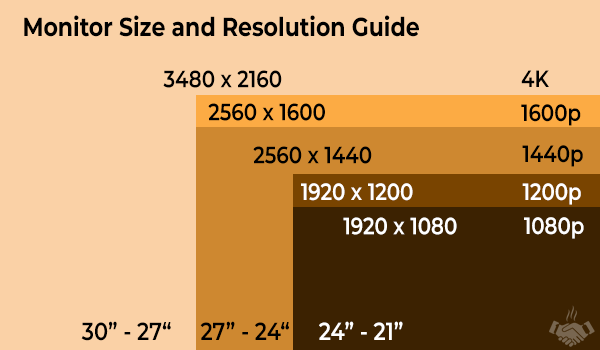 Do you know? Staring in the wrong direction or continuously in the same direction, can cause stretch or neck pain. And we do it all day when we work on our computer. There is a nice article on Spine Universe for neck pain. Well, if you have read that article, then you definitely know, there are 4 out of 8 reasons that are pointing only to the monitor positioning. Those are:
How far away your screen is?
Make the screen high enough.
Place the monitor directly front and facing you.
Adjust screen position for your corrective eyewear.
And rest of them are talking about the display quality (we have covered that in previous topics)
So, the essence of the story is, if it is the matter of height, angle or rotation positioning of the monitor, the monitor's stand should be great for convenient reading. There are many monitors that offer inbuilt adjustable stand, however, you can purchase a nice separately, that will allow doing even more.
Table of Best Monitors for Reading Text
Best Monitors for Reading Text – Reviews
As we promise above, we will review an E Ink monitor, and here it is. The Dasung Paperlike 3 is the first monitor that features an E Ink display panel. According to its characteristics, it provides the widest view angle and glare-free reading experience. This is one of the best monitors for the reading text and most convenient for eyes.
This is a real Paperlike display, which is totally glare-free. Moreover, it comes with 2000 x 1650 of resolution which is the highest resolution till yet for E Ink display. Unlike other monitors, this doesn't emit a harsh backlight that can lead to eye issue, headaches, and insomnia. If you are very health conscious then this E Ink display is the perfect replacement for your ordinary monitor.
When we talk about the setup, you can easily do that. You just need to connect two cables with your laptop/computer – HDMI cable for display, USB for powering the monitor.
Additionally, there are four different display modes are given, that will help you to choose the right display setting for you.
The Dasung Paperlike 3 is one of the best monitors for reading text, and it is the only one monitor that offers E Ink technology. If you are comfortable with the non-color screen, and when we talk about the eye comfort, then this monitor is the Ultimate choice.
BOOX Max 2 is another device in our list, which is a touch-supported Ereader. Probably, you might be thinking, that why this tablet is placed in monitor's list. Here, I want to tell you, it is not only a tablet, it can be used as a monitor also. You just need to connect it with HDMI port to your pc or laptop.
As an e-reader, it runs on Android OS, and you can use it separately for reading or drawing. Moreover, with the help of the stylus, you can directly work on the screen and 2048 of pressure sensitivity allows you to draw more creative strokes like thick or thin lines according to the applied pressure.
If you want to use it as a monitor then you might need to purchase a stand to hold it properly. Honestly, this is really a cool deal, because you are getting a full featured tablet with external monitor feature.
As we said earlier, it is the E Ink display, means you will get an amazing reading experience without any eyes problem.
BOOX Max 2 is one of the best monitors for eyes, which is a tablet also. Overall, if you are looking for the best tablet for reading text, then BOOX Max 2 is definitely a great choice, which can save some money compared to the Dasung.
As you know, E Ink displays are very expensive and have less availability. Nowadays, only a few manufacturers are making E Ink monitors. Moreover, E Ink only available in black and white version only, resulting we will have to think about other technology.
As we said in buyer's guide that, E Ink provides wide view angle and highest contrast ratio and glare-free screen. Some features, you can find in other screen types, accepting the anti-glare screen.
IPS panels are capable to provide a wide view angle and great color accuracy and they are ideal for reading the text.
HP Pavilion 22CWA monitor comes 21.5″ with an IPS panel with full HD resolution. This is the most popular entry-level monitor for text clarity. Moreover, for connectivity, there is VGA, HDMI ports are available.
If you are looking for a budget display for reading and general use, then HP Pavilion 22CWA is the best monitor for reading documents, which is having a great user rating too.
After adding few more bucks, you can get a medium size display. The ASUS VS 248H-P monitors offer 24″ IPS panel with Back-lit LED. So, it will provide the great contrast ratio of 50,000,000:1, that is amazing. Means, there will be a huge difference between black and white in color, the image quality will be better.
There are HDMI, DVI and VGA ports are given, that provides adaptability with different devices. Moreover, it supports the VESA mount, you can hang it on the wall or connect a most adjustable stand. Compared to the previous monitor, you are getting a better refresh rate of 2ms. If you play games then you think about that otherwise, it is not important at all.
Overall, Asus is also a great monitor for eyes, and for reading the text. Because it offers large display along with decent image quality and contrast ratio.
If you are looking for a medium size budget display, then this monitor is a perfect choice. Moreover, it has been chosen bestselling device on Amazon numerous times.
For better reading, the larger displays are always a good choice, that will make the characters larger. So, this makes sense with go with the larger screen if your budget allows it. But, choosing the big screen, not an only solution, for maintaining the quality of image the resolution should be sufficient.
After our research, the LG 32UD59 is the one and only monitors that provides the 4K resolution with 32″ display in the commendable price. Along with the huge size, you won't find any compromise in the image quality.
If we compare the price with the E Ink monitor then around 400$ is not the higher. Besides that, you are getting a huge panel with 4K color resolution too.
When we talk about the stand, that allows you to adjust the height only, however, you can attach the third party stands for more adjustability.
Overall, the LG 32UD59 is the perfect choice for reading that also compatible the AMD FreeSync technology, that will support even more high-frequency sync and refresh rate.
If you are looking for an ideal display for reading, then LG is the ultimate choice that offers big UHD IPS LED-Lit panel for greater color accuracy and high contrast ratio.
If you don't have any serious health problem like a migraine, then you don't need to worry about too much. You can purchase any monitors from our list according to your budget, all of them are picked with consideration of maximum reading comfort.
But the E Ink panel is the best monitor for migraine sufferers because there is no display technology that offers a wider view angle, contrast ration or anti-glare screen than the E Ink. So, E ink displays are more recommended to ensure the maximum comfort during computer usage.
What do you think about these monitors? if you a have any question regarding them, leave a comment below, I will get back to you shortly.
Nootan Kumar is a 24-years-old Blogger from India. He is a Cisco certified network engineer and currently doing the job in a reputed company. He is very enthusiastic about Computer gadgets and technology. Read more about him
Affiliate Disclosure
10HotDeals.com is a participant in the Amazon Services LLC Associates Program, an affiliate advertising program designed to provide a means for sites to earn advertising fees by advertising and linking to amazon.com.